Consolidated NY Video - Picture
Consolidated NY Aircraft Information
Consolidated NY
NY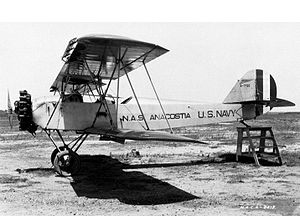 Picture - A Consolidated NY-2 in 1928
Role: Trainer
Manufacturer: Consolidated
First flight: November 1925
Introduced: May 1926
Retired: 1939
Primary user: United States Navy
Number built: 302
Developed from: Dayton-Wright TW-3
Variants: Consolidated PT-3

The Consolidated Model 2 was a PT-1 biplane trainer diverted to the United States Navy for a trainer competition in 1925. It beat out 14 other designs, and was ordered into production as the NY-1.
Development
The NY-1 was essentially a PT-1 with provisions for the wheeled landing gear to be replaced by a single large float under the fuselage and two stabilising floats under the tips of the lower wing. A larger vertical tail was added to counter the effect of the floats. The NY-2 had a longer span wing fitted to overcome the high wing-loading issue of the seaplane version. Tested with complete success during October 1926, the Navy ordered 181 with the uprated R-790-8 Wright Whirlwind J-5 engine of 220 hp (164 kW). The NY-3 aircraft were similar to the NY-2 but had 240 hp (179 kW) Wright R-760-94 engines.
Operational history
The NY-1's first flight was November 1925, with deliveries starting May 1926. The NY-2's first flight was October 1926. The Navy had 108 in active use in 1929, with 35 more assigned to reserve squadrons. The NY-3 was delivered in 1929. The NY series was being phased out in the mid 1930s, with 15 in service in 1937, and one in service in 1939.
Variants
NY-1 wingspan 34 ft 6 in, 200 hp (149 kW) Wright J-4 Whirlwind engine, 76 built
NY-1A a number of NY-1 aircraft modified for gunnery training with one 0.3 in (7.62 mm) trainable machine-gun in the rear cockpit
NY-1B a number of retrofitted NY-1 aircraft with the long-span wings of the NY-2 and the 220 hp Wright J-5 Whirlwind engine
NY-2 wingspan increased to 40 ft (12.19 m), 220 hp (164 kW) Wright J-5 Whirlwind engine, 181 built
NY-2A NY-2 aircraft armed for gunnery training, 25 built
NY-3 similar to the NY-2 with a 240 hp (179 kW) Wright R-760-94 Whirlwind engine, 20 built
XN3Y-1 a single NY-2 tested with a Wright R-790-A Whirlwind engine
Operators
United States
United States Navy
United States Marine Corps

Specifications (NY-2 floatplane)
Data from "The Complete Encyclopedia of World Aircraft" Editors: Paul Eden & Soph Moeng, 2002, ISBN 0-7607-3432-1), page 478.
General characteristics
Crew: 2
Length: 31 ft 4.25 in (9.56 m)
Wingspan: 40 ft (12.19 m)
Height: 11 ft 10 in (3.61 m)
Wing area: 370 ft² (34.37 m²)
Empty weight: 2,145 lb (973 kg)
Max takeoff weight: 2,843 lb (1,290 kg)
Powerplant: 1x— Wright R-760-8 Whirlwind radial, 220 hp (164 kW)

Performance
Maximum speed: 78 knots at sea level (90 mph, 145 km/h)
Cruise speed: 65 knots (75 mph, 121 km/h)
Range: 182.5 nm (210 mi, 338 km)
Service ceiling: 11,000 ft (3,355 m)
Rate of climb: 865 ft/min (4.4 m/s)

Armament
none
Consolidated NY Pictures
Living Warbirds: The best warbirds DVD series.
Source: WikiPedia