Consolidated O-17 Courier Video - Picture
Consolidated O-17 Courier Aircraft Information
Consolidated O-17 Courier
O-17 Courier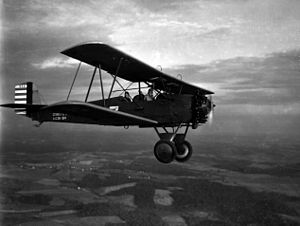 Picture - A Maryland National Guard Consolidated O-17
Role: Observation
Manufacturer: Consolidated Aircraft Company
First flight: April 1927
Primary users: United States National Guard Royal Canadian Air Force
Produced: 1928
Number built: 35
Variants: Consolidated PT-3

The Consolidated Model 2 Courier was an observation and training airplane used by the United States National Guard, under the designation O-17.
Development
A parallel development to the PT-3 series, the XO-17 was a converted PT-3 with such refinements as improved fuselage streamlining, oleo shock absorbers, wheel brakes, balanced elevators and increased fuel capacity.
Used almost exclusively as a cross country flying, gunnery, photographic and radio trainer. The O-17 had a removable fairing (carrying a Scarff ring mounting for one .30 cal (7.62 mm) trainable Browning machine gun.
The Royal Canadian Air Force purchased three generally similar aircraft, two Model 7 landplanes and one Model 8 floatplane, the latter with the same float gear as the NY series.
The sole XO-17A was converted from the PT-3 as a demonstrator that failed to secure any orders. It was later fitted with the experimental Packard DR-980 Diesel engine of 225 hp (168 kW).
The Model 15 was also an O-17 type airframe fitted with a Pratt & Whitney R-1340 engine. It too failed to win any contracts.
Variants
XO-17 (prototype)
Consolidated PT-3 Conversion with a 225 hp (168 kW) Wright R-790-1 engine, streamlined fuselage, modified undercarriage, increased fuel capacity, provision for dual controls and a dorsal 0.3 in (7.62 mm) gun, one conversion.
O-17 Model 2 Courier
Production version for United States National Guard use, 29 built.
XO-17A (prototype)
One Consolidated PT-3 converted with a Wright R-790-3 engine intended for export.
Model 7 (RCAF landplane)
Royal Canadian Air Force, two built.
Model 8 (RCAF floatplane)
Royal Canadian Air Force, one built.
XPT-8 (demonstrator)
The airframe of the XO-17A prototype fitted with a Packard DR-980 Diesel engine of 225 hp (168 kw), scrapped in 1932.
Model 15 (demonstrator)
Conversion with a Pratt & Whitney R-1340 engine.
Operators
Canada
Royal Canadian Air Force

United States
United States National Guard

Specifications (O-17)
Data from Eden & Moeng (2002)
General characteristics
Crew: Two
Length: 27 ft 11 in (8.51 m)
Wingspan: 34 ft 5.5 in (10.5 m)
Height: 9 ft 9 in (2.97 m)
Wing area: 296 ft (27.5 m)
Empty weight: 1,881 lb (853 kg)
Max takeoff weight: 2,723 lb (1235 kg)
Powerplant: 1x— Wright R-790-1 radial, 225 hp (168 kW)

Performance
Maximum speed: 118 mph (190 km/h)
Cruise speed: 100 mph (161 km/h)
Range: 550 miles (885 km)
Service ceiling: 12,000' (3660 m)
Rate of climb: 865 ft/min (264 m/min)

Armament
1 x— .30 cal (7.62 mm) M1919 Browning machine gun

Consolidated PT-1 "Trusty"
Consolidated PT-3
Consolidated PT-11

Consolidated O-17 Courier Pictures
Living Warbirds: The best warbirds DVD series.
Source: WikiPedia