Consolidated P2Y Video - Flying Boat Picture
Consolidated P2Y Aircraft Information
Consolidated P2Y
Consolidated P2Y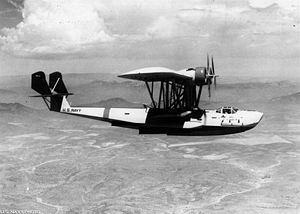 Picture - Consolidated Model 22 (P2Y)
Role: Flying Boat
Manufacturer: Consolidated Aircraft
First flight: 10 January 1929
Retired: 1941
Status: retired
Primary user: United States Navy
Number built: 78

The Consolidated P2Y is a patrol flying-boat aircraft. The plane was a parasol monoplane with a fabric covered wing and aluminum hull.
Development
Initially created to compete for a United States Navy contract dated February 28, 1928, the prototype Model 9, XPY-1, was designed by Captain Dick Richardson and Isaac M. 'Mac' Laddon. Beginning construction in March 1928, the plane was ready for its first flight by the end of the year. Lieutenant A. W. Gorton made the first flight out of Anacostia NAS, Washington, D.C..
The production contract was opened to other bidders, and the Glenn L. Martin Company undercut and was awarded the contract to construct the plane as the Martin P3M-1 and P3M-2.
A new contract was placed by the US Navy on May 26, 1931, for a prototype of a developed version of the Model 9, XPY-1, designated the Model 22 Ranger by Consolidated. Incorporating features of the Model 16 Commodore such as the enclosed flight deck, designated the XP2Y-1 by the Navy, this new prototype had the same 100 ft parasol wing, but became a sesquiplane with a smaller wing mounted lower, at the top of the hull, replacing the booms that had supported the stabilizing pontoons on the XPY-1. Two Wright R-1820-E1 Cyclone engines, were located close below the top wing and had narrow-chord cowlings. A third similar engine was mounted on a strut along the centerline above the wing, but removed after the first test in April 1932.
The Navy ordered 23 P2Y-3s as production models similar to the P2Y-2s that were modified from the original batch of P2Y-1.
Operational history
The Navy ordered 23 P2Y-1s on July 7, 1931. They were serving by mid-1933 with VP-10F and VP-5F squadrons which made a number of classic long-range formation flights. At least 21 P2Y-1s were modified to P2Y-2s in 1936 and flown by VP-5F and VP-10F until 1938, when they were transferred to VP-14 (later VP-52) and VP-15.
The first P2Y-3s reached VP-7F in 1935, and this version was flown by VP-4F at Pearl Harbor and in 1939 was in operation with VP-19, VP-20, and VP-21 (these three squadrons being redesignated VP-43, VP-44, and VP-14 respectively). By the end of 1941 all the P2Y-2s and P2Y-3s had been withdrawn from operational use and were at Pensacola Naval Air Station.
The Colombian Air Force used one Commodore P2Y as a bomber in the Colombia-Peru War in 1932-1933.
The Imperial Japanese Navy Air Service evaluated the Consolidated P2y as the "Consolidated Navy Experimental Type C Flying-Boat"
Variants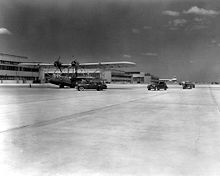 Picture - A P2Y-3 of VP-43 at NAS Jacksonville in 1941
XP2Y-1
one prototype
P2Y-1
Navy version of the Commodore. 23 were ordered on 7 July 1931, and were delivered to Patrol Squadron 10 (VP-10) at Norfolk, Virginia on 1 February 1933
P2Y-1C
one aircraft delivered to Colombia in December 1932
P2Y-1J
one aircraft delivered to Japan in January 1935
XP2Y-2
one prototype
P2Y-2
was a -1 with more powerful R-1820-88 engines faired into the leading edges of the wing. Other -1s were converted in 1936
P2Y-3
was the production version of the -2. 23 were ordered on 27 December 1933, and entered service with VP-7 in early 1935
HXC
Shortened designation for the Consolidated P2Y evaluated by the Imperial Japanese Navy Air service.
Consolidated Navy Experimental Type C Flying Boat
The full designation of the Consolidated P2Y evaluated by the Imperial Japanese Navy Air Service.
Operators
Argentina
six P2Y-3A

Colombia
Colombian Air Force (one P2Y-1C).

Japan
one P2Y-1J as HXC

United States
United States Navy

Specifications (P2Y-3)
Data from "The Complete Encyclopedia of World Aircraft"
General characteristics
Crew: 5
Length: 61 ft 9 in (18.82 m)
Wingspan: 100 ft 0 in (30.48 m)
Height: 19 ft 1 in (5.82 m)
Wing area: 1514.0 ft² (140.65 m²)
Empty weight: 12769 lb (5792 kg)
Gross weight: 25266 lb (11460 kg)
Powerplant: 2 x— Wright R-1820-90 Cyclone radial piston, 750 hp (559 kW) each

Performance
Maximum speed: 149 mph (240 km/h)
Cruise speed: 118 mph (189 km/h)
Range: 2650 miles (1899 km)
Service ceiling: 16100 ft (4265 m)
Rate of climb: 650 ft/min (3.3 m/s)

Armament
1 flexible bow-mounted 7.62-mm (0.3-in) M1919 Browning machine gun
2 flexible dorsal-mounted 7.62-mm (0.3-in) Browning machine guns
907-kg (2000-lb) bombload

Consolidated P2Y Pictures and Consolidated P2Y for Sale.
Living Warbirds: The best warbirds DVD series.
Source: WikiPedia