Consolidated PB4Y-2 Privateer Video - Newsreel - Jet Assisted Takeoff
Consolidated PB4Y-2 Privateer Video - N2872G Tanker 124
Consolidated PB4Y-2 Privateer Aircraft Information
Consolidated PB4Y-2 Privateer
PB4Y-2/P4Y-2 Privateer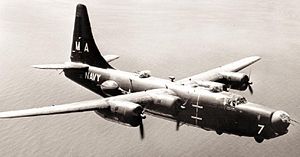 Picture - U.S. Navy PB4Y-2 from VP-23 in flight.
Role: Maritime patrol bomber
Manufacturer: Consolidated Aircraft
Introduced: 1943
Retired: 1954, U.S. Navy 1958, U.S. Coast Guard
Primary users: United States Navy United States Coast Guard
Produced: 1943 - 1945
Number built: 739
Developed from: B-24 Liberator

The Consolidated PB4Y-2 Privateer was a World War II and Korean War era patrol bomber of the United States Navy derived from the Consolidated B-24 Liberator. The Navy had been using unmodified B-24s as the PB4Y-1 Liberator, and the type was considered very successful. A fully navalized design was desired, and Consolidated developed a dedicated long-range patrol bomber in 1943, designated PB4Y-2 Privateer. In 1951, the series was redesignated P4Y-2 Privateer.
Design and development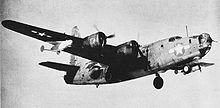 Picture - A PB4Y-2 carrying ASM-N-2 Bat glide bombs.
The Privateer was externally similar to the Liberator, but the fuselage was longer to accommodate a flight engineer's station, and had a tall single vertical stabilizer rather than the B-24's twin tail configuration. The defensive armament was also increased to 12 .50 in (12.7 mm) M2 Browning machine guns in six turrets (two dorsal, two waist, nose and tail), with the B-24's belly turret being omitted. Turbosuperchargers were not fitted to the engines since maritime patrol missions were not usually flown at high altitude.
The Ford Motor Company (which produced B-24s for the United States Army Air Forces) had earlier built an experimental variant (B-24K) using the single tail of a B-23 Dragon. Aircraft handling was improved, and the Air Corps' proposed B-24N production model was to be built by Ford, but the order was canceled on 31 May 1945 and the B-24N never entered production. The Navy's desire for substantial redesigns, however, had sustained interest in the new tail assembly.
The Navy eventually took delivery of 739 Privateers, the majority after the end of the war, although several squadrons saw service in the Pacific theater in the reconnaissance, search and rescue, electronic countermeasures, communication relay and anti-shipping roles (the latter with the "Bat" guided bomb.)
Operational history
The Privateer entered Navy service during late 1944. Squadrons VPB-118 and VPB-119 were the first Fleet squadrons to equip with the Privateer. The first overseas deployment began on 6 January 1945, when VPB-118 left for operations in the Marianas. On 2 March 1945 VPB-119 began "offensive search" missions out of Clark Field, Luzon in the Philippines, flying sectored searches of the seas and coastlines extending from the Gulf of Tonkin in the south, along the Chinese coast, and beyond Okinawa in the North.
The Privateer was used as a typhoon/hurricane hunter from 1945 to the mid-1950s. One aircraft, designated BuNo 59415 of VPB-119 went down when it experienced mechanical trouble when investigating a Category 1 typhoon near Batan Island in the Philippines. It attempted to land on the island, but was unable to do so and crashed. It was one of the only six hurricane hunter flights ever lost, and the only one found.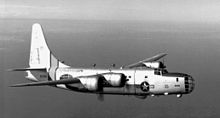 Picture - U.S. Coast Guard PB4Y-2G.
Privateers were also used during the Korean War to fly "Firefly" night illumination missions dropping parachute flares to detect North Korean and Chinese seaborne infiltrators.
All Navy PB4Y-2s were retired by 1954, though unarmed PB4Y-2G Privateers served until 1958 with the Coast Guard before being auctioned off for salvage.
The family was redesignated P4Y-2 Privateer in 1951. The earlier XP4Y-1 Corregidor was a completely different design, based on the Consolidated Model 31 twin-engine flying boat.
PB4Y-2 were still being used as drones in the 1950s/early 1960s, designated PB4Y-2K initially and then P4Y-2 based names after 1951. They were then redesignated QP-4B under the 1962 United States Tri-Service aircraft designation system, part of the new patrol series, between the P-3 Orion and the P-5 Marlin.
Privateers in aerial firefighting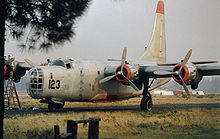 Picture - P4Y-2 Tanker 123 BuNo 66260 (N7620C), in service with the CDF, at Chester Air Attack Base in the late '1990s - crashed 18 July 2002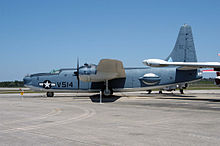 Picture - PB4Y-2 BuNo 66261 (marked as BuNo 66304) in the collection of the National Museum of Naval Aviation at NAS Pensacola, Florida.
A limited number of refitted PB4Ys continued in civilian service as airtankers, dropping fire retardant on forest fires throughout the Western United States. On 18 July 2002, one such refitted PB4Y, BuNo 66260 (seen in picture to right) operated by Hawkins and Powers Aviation of Wyoming, broke up in flight while fighting a wildfire near Rocky Mountain National Park. Both crew members were killed in the accident, and the Federal Aviation Administration temporarily grounded all large air tankers in the region. Following the accident, all remaining Privateers were retired. (See 2002 airtanker crashes.)
Variants
PB4Y-2 :
P4Y-2 :
P4Y-2K :
QP-4B :

Operators
Canada Republic of China France Honduras United States
United States Navy
United States Coast Guard

Survivors
Several airframes exist in flyable condition as well as in museum collections worldwide.
Tanker 121 Left Casa Grand, AZ for San Diego on Thursday February 11th 2011
Specifications (PB4Y-2)
Data from Jane's Fighting Aircraft of World War II
General characteristics
Crew: 11: two pilots, navigator, bombardier, five gunners, two radio operators
Length: 74 ft 7 in (22.73 m)
Wingspan: 110 ft 0 in (33.53 m)
Height: 30 ft 1 in (9.17 m)
Wing area: 1,048 ft˛ (97.4 m˛)
Empty weight: 27,485 lb (12,467 kg)
Max takeoff weight: 65,000 lb (29,500 kg)
Powerplant: 4x— Pratt & Whitney R-1830-94 radial engines, 1,350 hp (1,007 kW) each

Performance
Maximum speed: 237 mph (206 kn, 382 km/h)
Cruise speed: 175 mph (121 kn, 224 km/h)
Range: 2,820 mi (2,450 nmi, 4,540 km)
Service ceiling: 21,000 ft (6,400 m)
Wing loading: 62 lb/ft˛ (300 kg/m˛)

Armament
Guns: 12 x— .50 in (12.7 mm) M2 Browning machine guns in six turrets
Bombs: Up to 12,800 lb (5,800 kg) of bombs, mines, or torpedoes

Related development
B-24 Liberator
C-87 Liberator Express
Consolidated R2Y
B-32 Dominator

Comparable aircraft
Focke-Wulf Fw 200
Vickers Warwick
Avro Shackleton

Bibliography
Bridgeman, Leonard. "The Consolidated Vultee Privateer." Jane's Fighting Aircraft of World War II. London: Studio, 1946.'ISBN 1-85170-493-0.

Consolidated PB4Y-2 Privateer Pictures
Living Warbirds: The best warbirds DVD series.
Source: WikiPedia