Consolidated R2Y Video - Picture
Consolidated R2Y Aircraft Information
Consolidated R2Y
Consolidated R2Y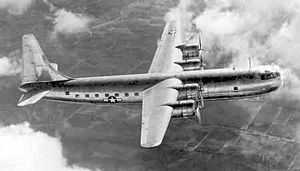 Picture - A Consolidated R2Y-1 in Navy markings.
Role: Prototype military transport aircraft Prototype Cargo aircraft
Manufacturer: Consolidated Aircraft
Status: Did not enter mass-production
Primary users: United States Navy American Airlines
Number built: 1

The Consolidated R2Y "Liberator Liner" (Consolidated Model 39) was an airliner derivative of the B-24 Liberator built for the United States Navy by Consolidated Aircraft.
Development and service
The XR2Y-1, as the single prototype was known in Navy service, used the high-aspect wing and tricycle landing gear of the Liberator. The fuselage was an entirely new design, and the vertical stabilizer was taken from the PB4Y Privateer. The final design looked much like a smaller, high-wing B-29 Superfortress, but with windows for passengers.
Meant to carry passengers or cargo to distant Navy bases, but after a brief evaluation the prototype was demilitarized in the mid-1940s, returned to Convair, and sold to American Airlines as a freighter.
Specifications (R2Y-1)
Data from Jane's Fighting Aircraft of World War II
General characteristics
Crew: unknown
Capacity:
48 passengers
Their baggage
1,200 lb (550 kg) of mail
Payload: 12,000 lb (5,500 kg) of cargo (after refit)
Length: 90 ft 0 in (27.45 m)
Wingspan: 110 ft 0 in (33.55 m)
Height: ft in (m)
Airfoil: Davis (22% at root to 9.3% at wingtip)
Loaded weight: 56,000 lb (25,000 kg)
Max takeoff weight: 64,000 lb (29,000 kg)
Powerplant: 4x— Pratt & Whitney R-1830-94 radial engines, 1,200 hp (900 kW) each

Performance
Cruise speed: 240 mph (210 knots, 380 km/h)
Range: 4,000 mi (3,500 nm, 6,400 km) at 200 mph (322 km/h)

Related development
B-24 Liberator
PB4Y Privateer

Comparable aircraft
Boeing 307
Boeing 377
C-87 Liberator Express

Consolidated R2Y Pictures
Living Warbirds: The best warbirds DVD series.
Source: WikiPedia