Curtiss BF2C Goshawk Video - Ernst Udet - from "Wunder des Fliegens"
Curtiss BF2C Goshawk Aircraft Information
Curtiss BF2C Goshawk
BF2C-1 Goshawk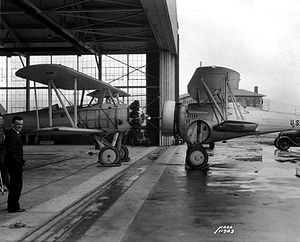 Picture - Curtiss BF2C-1 - Model 67A (on the right)
Role: Carrierborne Fighter & Fighter-Bomber
Manufacturer: Curtiss Aeroplane and Motor Company
Introduced: 1933
Retired: 1949
Primary users: Republic of China United States Navy Royal Thai Air Force Argentine Air Force
Produced: October 1934
Number built: 164 plus 2 prototypes
Variants: F11C Goshawk

For other uses of Goshawk, see Goshawk (disambiguation)
The Curtiss Model 67 BF2C-1 Goshawk & Model 68 Hawk III were United States 1930s naval biplane aircraft that saw limited success but were part of a long line of Hawk Series airplanes made by the Curtiss Aeroplane and Motor Company for the American military, and for export.
Design and development
The United States Navy and Curtiss felt the F11C-2 possessed development potential. The Navy decided to procure a variant with retractable landing gear. This variant, which still had the F11C-2's classic "Hawk" wood wing with its flat-bottomed Clark Y airfoil, was designated XF11C-3 by the Navy and Model 67 by Curtiss. The gear retraction system was inspired by the Grumman XFF-1 prototype, and was manually operated.
The XF11C-3 was delivered to the USN in May 1933, with a Wright R-1820-80 radial engine rated at 700 hp (522 kW). Trials revealed a 17 mph (28 km/h) increase in speed over the F11C-2, and the extra weight caused a decrease in maneuverability. The Navy felt the handling degradation was more than offset by the increase in speed. During testing the XF11C-3 had its wood wing replaced by the metal-structured, biconvex, NACA 2212 airfoil wing used in production and soon after was redesignated XBF2C-1 (Model 67A) in keeping with the new Bomber-Fighter category.
Operational history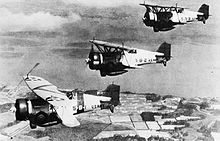 Picture - Three BF2C-1s of VB-5 from the USS Ranger (CV-4) in 1934.
27 BF2C-1 were ordered by the US Navy, with a raised rear turtledeck, a semi-enclosed cockpit, and a metal-framed lower wing. It was armed with two Browning machine guns and three hardpoints for 500 lb (227 kg) of external stores. Delivered in October 1934 they were assigned to VB-5 on the aircraft carrier USS Ranger, but served only a few months before difficulties with the landing gear led to their withdrawal. In spite of its short service run many of the innovations developed for the Goshawk line found wide use in Navy aircraft for years to follow. They were the last Curtiss fighter accepted for service with the U.S. Navy.
The export version Model 68 or Hawk III reverted to the classic wood/Clark Y wings and had an 770 hp (574 kW) R-1820-F53 engine. Chinese Hawk IIIs served multipurpose roles when air combat operations against the Imperial Japanese Army and Navy Air Forces began in earnest in August of 1937, and were considered the Nationalist Chinese Air Force's frontline fighter-pursuit aircraft along with their inventory of Hawk IIs, Boeing Model 281 "Peashooters" and Fiat CR.32. These aircraft were used against both the Imperial Japanese Army and Navy Air Forces and both ground and naval targets with considerable success through the end of 1937, before being superseded by the better-armed and faster Polikarpov I-15 and I-16 fighters. In the summer of 1940, nine surviving Hawk-III fighters, the F11C exported to the Nationalist Chinese Air Force served as night fighters to defend the Chinese wartime capital Chongqing from Japanese night bombing runs with the 22nd Squadron of the 4th Group.
In early 1935, Thailand placed an order for 24 Curtiss Hawk IIIs at a cost of 63,900 Baht each, and a manufacturing license was also bought. The first 12 Hawk IIIs were shipped to Thailand in August and the remaining dozen arrived in late 1935, which were named Fighter Type 10. A total of 50 Hawk IIIs were locally built during 1937 and 1939. The type was used against the French and the Japanese, then relegated for use as trainers. Some of these aircraft were still active in 1949 and one airframe (KH-10) survives in the Royal Thai Air Force Museum.
The Model 79 Hawk IV demonstrator had a fully enclosed cockpit and an 790 hp (589 kW) R-1820-F56 engine.
Operators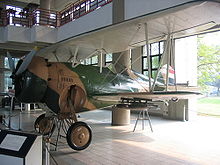 Picture - Curtiss BF2C Goshawk at the Royal Thai Air Force Museum
Argentina
Argentine Air Force operated 10 Model 68A Hawk III and 1 Model 79 Hawk IV.

China
Republic of China Air Force operated 102 Model 68C Hawk III

Thailand
Royal Thai Air Force operated 24 Model 68B Hawk III

Turkey
Turkish Air Force operated 1 Model 68B Hawk III

United States
United States Navy operated 27 Model 67 BF2C-1

Specifications (BF2C-1)
Data from "The Complete Encyclopedia of World Aircraft" Editors: Paul Eden & Soph Moeng, 2002, ISBN 0-7607-3432-1, page 515.
General characteristics
Crew: one, pilot
Length: 23 ft 6.25 in (7.17 m)
Wingspan: 31 ft 6 in (9.6 m)
Height: 9 ft 11.5 in (3.03 m)
Wing area: 262 ft² (24.34 m²)
Empty weight: 3,326 lb (1,509 kg)
Max takeoff weight: 4,552 lb (2,065 kg)
Powerplant: 1x— Wright R-1820-04 "Cyclone" air-cooled radial engine, 770 hp (574 kW)

Performance
Maximum speed: 225 mph (362 km/h)
Cruise speed: 157 mph (253 km/h)
Range: 725 mi (1,167 km)
Service ceiling: 27,000 ft (8,230 m)
Rate of climb: 2,150 ft/min (655 m/min)

Armament
2 x— .30 in (7.62 mm) Browning machine guns
215 kg bomb on an under-fuselage hardpoint or two 53 kg bombs carried one under each lower wing

Curtiss BF2C Goshawk Pictures
More aircraft.
Source: WikiPedia