Curtiss NC Video - Picture
Curtiss NC Aircraft Information
Curtiss NC
Curtiss NC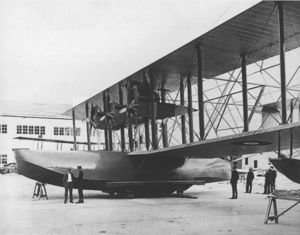 Picture - "NC-1" after completion, in three-engine configuration, 3 October 1918.
Role: long-range patrol
National origin: United States
Manufacturer: Curtiss Aeroplane and Motor Company
First flight: 4 October 1918
Primary user: United States Navy
Number built: 10
Variants: NC-4

The Curtiss NC (Navy Curtiss, nicknamed "Nancy boat" or "Nancy") was a flying boat built by Curtiss Aeroplane and Motor Company and used by the United States Navy from 1918 through the early 1920s. Ten of these aircraft were built, the most famous of which is the NC-4, the first airplane to make a transatlantic flight. The NC-4 is preserved in the National Museum of Naval Aviation, at NAS Pensacola, Florida.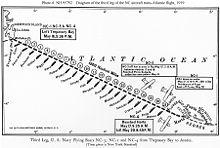 Picture - Schematic of flight path, showing 21 United States Navy destroyers along the way.
Development
Manufacture of the "NCs" began in 1918 during World War I. The U.S. Navy wished for an aircraft capable of long ocean flights, both for Anti-submarine warfare patrol, and if possible with capability to fly across the Atlantic Ocean under their own power to avoid having to be shipped through ocean waters menaced by German submarines. This was very ambitious given the state of aviation at the time. The Navy and Curtiss came up with one of the largest biplane designs yet produced, equipped with sleeping quarters and a wireless transmitter/receiver. It was originally powered by three V12 Liberty engines, of 400 hp (298 kW) each; during the testing phase a fourth engine was added, arranged as three tractors and one pusher. Maximum speed was 90 mph (144 km/h) the estimated maximum range was 1,500 mi (2,400 km).
In service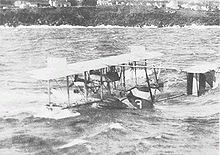 Picture - NC-3 off the Azores, 1919.
On 4 October 1918, the first of these planes, the NC-1, made its first test flight with the early three-engine configuration. On 25 November, it flew again, with a world record 51 people on board. Armistice Day, signaling the end of the war in Europe, came before testing of the first NC and construction of the other three of the Navy's initial order had been completed.
The NC-2 suffered damage during the testing phase and was cannibalized for spare parts.
The other three NCs, NC-1, NC-3, and NC-4, set out on what was intended as the first demonstration of transatlantic flight, via Newfoundland and the Azores, on 8 May 1919, with Marc Mitscher in the NC-1 in command. The group encountered severe weather off the Azores, and only the NC-4 made it through. The crew of NC-1 was rescued at sea and attempts to tow the aircraft to the Azores failed; NC-3 was forced to land some 205 mi (330 km) distance from the Azores, but the crew, led by Commander John Henry Towers, managed to sail her to Ponta Delgada unaided. See the NC-4 article for more details of that expedition.
The Navy had two more sets of NCs constructed, numbered NC-5 through NC-8, and NC-9 and NC-10, through 1921.
Operators
United States
United States Navy

Specifications (NC-4)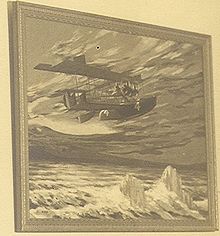 Picture - Painting of the NC-4 flying over the icy North Atlantic
Data from Holmes, 2005. p 63.
General characteristics
Crew: six
Length: 68 ft 3 in (20.8 m)
Wingspan: 126 ft 0 in (38.40 m)
Height: 24 ft 6 in (7.49 m)
Wing area: 2,380 ft² (221 m²)
Empty weight: 15,874 lb (7,260 kg)
Loaded weight: 21,500 lb (9,772 kg)
Max takeoff weight: 27,386 lb (12,422 kg)
Powerplant: 4x— Liberty L-12 400 hp (300 kW) water-cooled V-12 engines, 400 hp (298 kW) each

Performance
Maximum speed: 90 mph (78 kn, 152 km/h)
Stall speed: 62 mph (54 kn, 100 km/h)
Range: 1,470 mi (1,278 nmi, 2,352 km)
Service ceiling: 4,500 ft (1,370 m)
Wing loading: 11.5 lb/ft² (56.3 kg/m²)
Power/mass: 0.06 hp/lb (10 W/kg)

Armament
Machine guns in bow and rear cockpits
Bibliography
Holmes, Tony. Jane's Vintage Aircraft Recognition Guide. London: Harper Collins, 2005. ISBN 0-0071-9292-4.
Steirman, Hy and Glenn D. Kittler. The First Transatlantic Flight, 1919, (originally "Triumph"). New York: Richardson & Sterman, 1986. ISBN 0-931933-19-0.
Wagner, Ray. American Combat Planes. New York: Doubleday, 1982, ISBN 0-385-13120-8.

Curtiss NC Pictures
More aircraft.
Source: WikiPedia