Curtiss R3C Video - Picture
Curtiss R3C Aircraft Information
Curtiss R3C
Curtiss R3C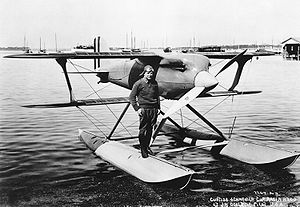 Picture - Curtiss R3C-2
Role: R3C
Manufacturer: Curtiss Aeroplane and Motor Company
Introduction: 1925
Primary user: US Army

The Curtiss R3C was an US-American racing aircraft built in landplane and seaplane form. It was a single-seated biplane built by the Curtiss Aeroplane and Motor Company.
The R3C-1 was the landplane version and won the Pulitzer Trophy Race in 12 October 1925 with a speed of 248.9 mph (406.5 km/h).
The R3C-2 was a twin-float seaplane built for the Schneider Trophy race. In 1925, it took place at Chesapeake Bay in Baltimore, Maryland. With 232.57 mph (374.274 km/h), pilot Jimmy Doolittle won the trophy with a Curtiss R3C-2. The other two R3C-2, piloted by George Cuddihy and Ralph Oftsie, did not reach the finish line. The next day, with the same plane on a straight course, Doolittle reached 245.7 mph (395.4 km/h), a new world record. For the next Schneider Trophy, that took place on 13 November 1926, the R3C-2's engine was further improved, and pilot Christian Franck Schilt won the second place with 231.364 mph (372.34 km/h).
Operators
United States
United States Army Air Service

Specifications (R3C-2)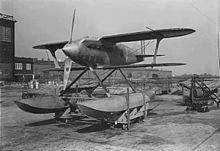 Picture - An R3C-2 at the Naval Aircraft Factory in 1926.
Data from Curtiss Aircraft 1907-1947
General characteristics
Crew: 1
Length: 22 ft (6.71 m)
Wingspan: 22.0 ft (6.71 m)
Height: 10 ft 4 in (3.14 m)
Wing area: 144 sq ft (13.4m²)
Airfoil: Curtiss C-80
Empty weight: 2,135 lb (968 kg)
Max takeoff weight: 2,738 lb (1,242 kg)
Powerplant: 1x— Curtiss V-1400, 565 hp (421 kW)

Performance
Maximum speed: 245 mph (213 knots, 394 km/h)
Range: 290 mi (252 nmi, 467 km)

Curtiss R3C Pictures
More aircraft.
Source: WikiPedia