Curtiss SBC Helldiver Video - Picture
Curtiss SBC Helldiver Aircraft Information
Curtiss SBC Helldiver
SBC Helldiver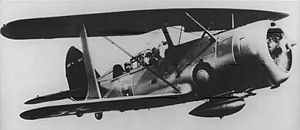 Role: Dive bomber
Manufacturer: Curtiss-Wright
First flight: 9 December 1935
Introduced: 1938
Retired: 1943
Primary users: United States Navy United States Marine Corps Royal Air Force French Navy
Number built: 257

The Curtiss SBC Helldiver was a two-place scout bomber built by the Curtiss-Wright Corporation. It was the last military biplane procured by the United States Navy.
Design and development
In 1932, the United States Navy gave Curtiss a contract to design a parasol two-seat monoplane with retractable undercarriage and powered by a Wright R-1510 Whirlwind, intended to be used as a carrier based fighter. The resulting aircraft, designated the XF12C-1, flew in 1933. Its chosen role was changed first to a scout, and then to a scout-bomber (being redesignated XS4C-1 and XSBC-1 respectively), but the XSBC-1's parasol wing was unsuitable for dive bombing. A revised design was produced for a biplane, with the prototype, designated the XSBC-2, first flying on 9 December 1935.
The SBC-3 the initial production model was powered by a radial Pratt & Whitney Twin Wasp Junior R-1535 engine. The SBC-3 began operational service in 1938. A total of 83 SBC-3s were built.
The SBC-4 was powered by a radial Wright R-1820 Cyclone 9 engine. The SBC-4 entered service in 1939.
Operational history
The Navy took deliveries of the new aircraft in mid-1937 with the first batch of carrier based aircraft going to the USS Yorktown, but time and technology caught up to the advanced biplane. It was relegated to hack duties and service as an advanced trainer for training units in Florida. The last aircraft was stricken from the Navy roster in October 1944.
Foreign interest for the concept of a dive bomber led to orders abroad. 174 SBC-4s were built including 50 SBC-4s that were delivered to the French Navy. Five of the French order were delivered to the British Royal Air Force who named them the Curtiss Cleveland Mk.I. The Junkers Ju 87 design was influenced by aircraft such as the SBC Helldiver.
The SBC Helldiver was not destined to have a long US service life, but its impact was felt as the type made a lasting contribution by serving as the key platform in developing dive bombing tactics and honing aircrew skills crucial to winning the war in the Pacific.
French SBC-4s
The 50 SBC-4s delivered to France were actually aircraft already in service with the United States Navy. On 6 June 1940, Naval reservists received orders to immediately fly 50 SBC-4s to the Curtiss factory at Buffalo, New York. At Buffalo, a Bureau of Aeronautics inspector informed the pilots their aircraft were to be flown to Halifax, Nova Scotia to be loaded aboard the French aircraft carrier Béarn. From Buffalo to Halifax, the reserve pilots were officially employees of Curtiss. Curtiss paid each pilot $250 plus return rail fare from Halifax to Buffalo. All navy insignia were removed from their uniforms or taped over. Upon return to Buffalo, the pilots went back on Navy orders for return to their home bases.
Curtiss employees worked overtime to remove and replace all gear and instruments marked BUAERO, BUSHIPS or BUORD. The Navy .30 in (7.62 mm) machine guns were replaced by .50 in (12.7 mm) guns and the aircraft were repainted in camouflage colors with the French tricolor on the rudders. The hasty conversion did not allow time for adequate checkout of replacement instruments. Weather deteriorated with rain and fog over most of the route from Buffalo to Halifax. The Bureau of Aeronautics inspector temporarily halted flights after one of the first pilots was killed in a crash between Buffalo and Albany.
When the weather improved, sections of three aircraft were dispatched from Buffalo to Burlington, Vermont, then over the White Mountains (New Hampshire) to Augusta, Maine, and then to Houlton, Maine. After landing at Houlton, the aircraft were towed down a road across the Canadian border for takeoff from a New Brunswick farm pasture to avoid legal implications of flying over the border. The surviving 49 aircraft flew over the Bay of Fundy and were loaded aboard Béarn at Dartmouth, Nova Scotia. France surrendered while Béarn was crossing the Atlantic; so Béarn turned south to Martinique where the SBC-4s corroded in the humid Caribbean climate while waiting on a hillside near Fort-de-France.
Variants
XF12C-1
Prototype parsol-wing fighter powered by a 625 hp R-1510-92 engine, one built later converted into biplane as the XS4C-1.
XS4C-1
Prototype was re-designated in the Scout category before being re-designated again as the XSBC-1.
XSBC-1
Prototype re-designated from XS4C-1, a biplane with a R-1820-80 engine.
XSBC-2
Redesigned biplane based on XSBC-1 and powered by a 700 hp XR-1510-12, one built.
XSBC-3
XSBC-2 re-engined with a 750 hp R-1535-82 engine.
SBC-3
Production variant with a 825 hp R-1534-94, 83 built.
XSBC-4
SBC-3 re-engined with a 950 hp R-1820-22, one conversion.
SBC-4
Production variant with a 950 hp R-1820-34, 174 built including 50 transferred to the French Navy.
Cleveland I
British designation for five SBC-4s.
Operators
France
French Navy

United Kingdom
Royal Air Force

United States
United States Marine Corps
United States Navy

Specifications (SBC-4)
Data from Curtiss Aircraft 1907-1947
General characteristics
Crew: 2: pilot and gunner
Length: 28 ft 1⅝ in (8.57 m)
Wingspan: 34 ft 0 in (10.36 m)
Height: 10 ft 5 in (3.17 m)
Wing area: 317 ft² (29.4 m²)
Empty weight: 4,552 lb (2,065 kg)
Loaded weight: 7,080 lb (3,211 kg)
Max takeoff weight: 7,632 lb (3,462 kg)
Powerplant: 1x— Wright R-1820-34 radial engine, 850 hp (634 kW)

Performance
Maximum speed: 234 mph (203 knots, 377 km/h) at 15,200 ft (4,600 m)
Cruise speed: 175 mph (152 knots, 282 km/h)
Range: 405 mi (352 nmi, 652 km)
Service ceiling: 24,000 ft (7,320 m)
Rate of climb: 1,630 ft/min (8.28 m/s)

Armament
Guns:
1x— 0.30 in (7.62 mm) forward-firing M1919 Browning machine gun machine gun
1 x— 0.30 in (7.62 mm) flexible rearward-firing machine gun
Bombs: 1x— bomb of up to 1,000 lb (450 kg)

Related development
SB2C Helldiver

Comparable aircraft
Henschel Hs 123

Bibliography
Andrade, John. U.S. Military Aircraft Designations and Serials since 1909. Hinckley, UK: Midland Counties Publications, 1979. ISBN 0-904597-22-9.
Bowers, Peter M. Curtiss Aircraft, 1907-1947. London, UK: Putnam & Company, 1979. ISBN 0-370-10029-8.
Doll, Thomas E. SBC Helldiver in Action, Aircraft Number 151. Carrollton, TX: Squadron/Signal Publications, Inc., 1995. ISBN 0-89747-331-0.
Green, William and Gordon Swanborough. "Uncle Sam's Last Combat Biplane". AirEnthusiast Five, November 1977-February 1978. Bromley, Kent, UK: Pilot Press Ltd., 1978.
Larned, W.E., RADM USNR. "Comment and Discussion." United States Naval Institute Proceedings, October 1976.
Swanborough, Gordon and Peter M. Bowers. United States Navy Aircraft since 1911. London: Putnam, 1976. ISBN 0-370-10054-9.

Curtiss SBC Helldiver Pictures
More aircraft.
Source: WikiPedia