Curtiss SC Seahawk Video - Animation
Curtiss SC Seahawk Aircraft Information
Curtiss SC Seahawk
SC Seahawk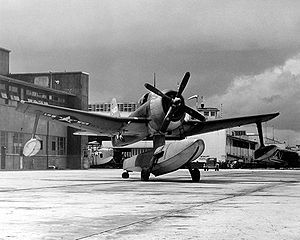 Picture - A U.S. Navy SC-1 at Naval Air Station Jacksonville, Florida, in 1946
Role: Scout seaplane
Manufacturer: Curtiss Aeroplane and Motor Company
First flight: 16 February 1944
Introduced: 1944
Retired: 1949
Primary user: United States Navy
Number built: 577

The Curtiss SC Seahawk was a scout seaplane designed by the Curtiss Aeroplane and Motor Company for the United States Navy. The existing Curtiss SO3C Seamew and the Vought OS2U Kingfisher were 1937 designs that, by 1942 needed to be replaced.
Design and development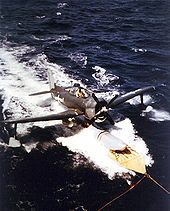 Picture - The USS Alaska (CB-1) recovering a SC-1 in March 1945, during the Iwo Jima operation. The aircraft is awaiting pickup by the ship's crane after taxiing onto a landing mat.
Work began in June 1942, following a US Navy Bureau of Aeronautics request for scout seaplane proposals. Curtiss submitted the Seahawk design on 1 August 1942, with a contract for two prototypes and five service test aircraft awarded on 25 August. A production order for 500 SC-1s followed in June 1943, prior to the first flight of the prototypes.
While only intended to seat the pilot, a bunk was provided in the aft fuselage for rescue or personnel transfer. Two 0.5 in (12.7 mm) M2 Browning machine guns were fitted in the wings, and two underwing hardpoints allowed carriage of 250 lb (113 kg) bombs or, on the right wing, surface-scan radar. The main float, designed to incorporate a bomb bay, suffered substantial leaks when used in that fashion, and was modified to carry an auxiliary fuel tank.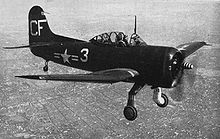 Picture - A U.S. Navy SC-1 from the USS Duluth (CL-87) over Shanghai, China in 1948
The first flight of a prototype XSC-1 took place 16 February 1944 at the Columbus, Ohio Curtiss plant. Flight testing continued through 28 April, when the last of the seven pre-production aircraft took to the air. Nine further prototypes were later built, with a second seat and modified cockpit, designated SC-2; series production was not undertaken.
Operational history
The first serial production Seahawks were delivered on 22 October 1944, to the USS Guam. All 577 aircraft eventually produced for the Navy were delivered on conventional landing gear and flown to the appropriate Naval Air Station, where floats were fitted for service as needed.
Capable of being fitted with either float or wheeled landing gear, the Seahawk was arguably America's best floatplane scout of World War II. However, its protracted development time meant it entered service too late to see significant action in the war. It was not until June 1945, during the pre-invasion bombardment of Borneo, that the Seahawk was involved in military action. By the end of the war, seaplanes were becoming less desirable, with the Seahawk being replaced soon afterward by helicopters.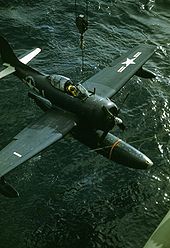 Picture - An SC-1 Seahawk being hoisted aboard the USS Manchester (CL-83) during a deployment to the Mediterranean Sea from in 1947/1948
Tri-color camouflage and markings on the Seahawk were in accordance with US Navy regulations from 1944, 1945 and later postwar regulations.
Variants
XSC-1 SC-1 SC-2
Specifications (SC-1, float-equipped)
Data from Dave's Warbirds and The Virtual Aviation Museum
General characteristics
Crew: One pilot
Length: 36 ft 4.5 in (11 m)
Wingspan: 41 ft (12.5 m)
Height: 18 ft (5.48 m)
Wing area: 280 ft˛ (26 m˛)
Empty weight: 6,320 lb (2,867 kg)
Loaded weight: 9,000 lb (4,082 kg)
Max takeoff weight: 9,000 lb (4,082 kg)
Powerplant: 1x— Wright R-1820-62 Cyclone supercharged 9-cylinder radial engine, 1,350 hp (1,007 kW)

Performance
Maximum speed: 313 mph (272 kn, 504 km/h)
Cruise speed: 125 mph (113 kn, 210 km/h)
Range: 625 mi (543 nmi, 1,000 km)
Service ceiling: 37,400 ft (11,400 m)
Wing loading: 32.19 lb/ft˛ (157 kg/m˛)

Armament
2 x— .50 M2 Browning machine guns, 200 rpg
750 lb (340 kg) of external ordnance

Comparable aircraft
OS2U Kingfisher
Nakajima A6M2-N

Bibliography
Bridgeman, Leonard. "The Curtiss Seahawk." Jane's Fighting Aircraft of World War II. London: Studio, 1946. ISBN 1-85170-493-0.
Green, William. War Planes of the Second World War: Volume Six: Floatplanes. London: Macdonald, 1962.
Mondey, David. American Aircraft of World War II (Hamlyn Concise Guide). London: Bounty Books, 2006. ISBN 978-0-7537-1461-4.
Swanborough, Gordon and Peter M. Bowers. United States Navy Aircraft since 1911. London: Putnam, Second Edition 1976. ISBN 0-37010-054-9.

Curtiss SC Seahawk Pictures
More aircraft.
Source: WikiPedia