Curtiss SO3C Seamew Video - Picture
Curtiss SO3C Seamew Aircraft Information
Curtiss SO3C Seamew
SO3C Seamew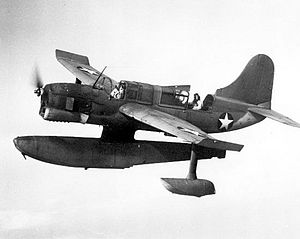 Role: Observation floatplane
Manufacturer: Curtiss
First flight: 6 October 1939
Introduction: 1942
Retired: 1945
Primary users: United States Navy Fleet Air Arm
Number built: 795

The Curtiss SO3C Seamew was developed by the Curtiss-Wright Corporation as a replacement for the SOC Seagull as the United States Navy's standard floatplane scout. Curtiss named the SO3C the Seamew but in 1941 the US Navy began calling it by the name Seagull, the same name as the aircraft it replaced (the Curtiss SOC a biplane type), causing some confusion. The British Royal Navy kept the Curtiss name, (Seamew), for the SO3C that they ordered. One of the US Navy's main design requirements was that the SOC Seagull's replacement had to be able to operate both from ocean vessels with a single center float and from land bases with the float replaced by a wheeled landing gear.
Design and development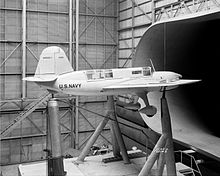 Picture - The Curtiss XSO3C in a wind tunnel, 1940
From the time it entered service the SO3C suffered two serious flaws: in-flight stability problems and problems with the unique Ranger air-cooled V-shaped inline engine. The stability problem was mostly resolved with the introduction of upturned wing tips and a larger rear tail surface that extended over the rear observer's cockpit. The additional tail surface was attached to the rear observer's sliding canopy and pilots claimed there were still stability problems when the canopy was open. The canopy was often open because the aircraft's main role was spotting. While the in-flight stability problem was eventually addressed (although not fully solved), the Ranger XV-770 engine proved a dismal failure even after many attempted modifications. Poor flight performance and a poor maintenance record led to the SO3C being withdrawn from US Navy first line units by 1944. The older biplane SOC was taken from state-side training units and restored to first-line service on many US Navy warships until the end of World War Two.
Operational history
Royal Navy service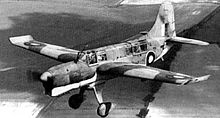 Picture - A Royal Navy Seamew Mk I.
A number of the SO3C-1s, not a floatplane, but a fixed undercarriage version, were ordered by the Royal Navy Fleet Air Arm under the terms of Lend-Lease. In RN service the SO3C was given the designation "Seamew", a name used again in the 1950s for the Short Seamew. Crews gave it the more appropriate name "Sea Cow".
The first batch for the RN was to have a centreline bomb rack and arrestor gear. Later versions, known as the Seamew Mk.I, were the SO3-2C variant. 250 Seamews were allocated and some 100 actually delivered, the last batch was refused in favour of additional Vought Kingfishers. Deliveries to the RN started in January 1944. It was declared obsolete in September the same year and completey removed from service in 1945.
The SO3-1K was to have been taken into service as the Queen Seamew, but an order of 30 was cancelled.
Seamews served with No. 744 NAS and No. 745 NAS at RCAF Yarmouth, Nova Scotia Canada, and with No. 755 NAS based in Hampshire, UK.
Operators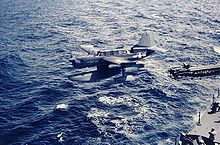 Picture - An SO3C-3 is catapulted from the USS Biloxi, October 1943.
United States
United States Navy

United Kingdom
Royal Navy, Fleet Air Arm

Specifications (SO3C-2)
Data from American Warplanes of World War II
General characteristics
Crew: 2
Length: 36 ft 10 in (11.23 m)
Wingspan: 38 ft 0 in (11.58 m)
Height: 15 ft 0 in (4.57 m)
Wing area: 290 ft² (26.9 m²)
Empty weight: 4,284 lb (1,943 kg)
Max takeoff weight: 5,729 lb (2,599 kg)
Powerplant: 1x— Ranger XV-770-8 inline liquid-cooled inverted V12 engine, 600 hp (447 kW)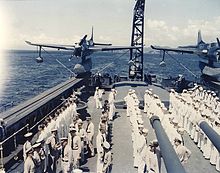 Picture - Two SO3C-3s aboard USS Biloxi, October 1943.
Performance
Maximum speed: 172 mph (150 kn, 277 km/h)
Cruise speed: 123 mph (107 kn, 210 km/h)
Range: 1,150 mi (1,000 nmi, 1,851 km)
Endurance: 8 hours
Service ceiling: 15,800 ft (4,815 m)
Wing loading: 19.8 lb/ft² (9.66 kg/m²)
Power/mass: 0.10 hp/lb (0.17 kW/kg)
Endurance:

Armament
1x— 0.30 in (7.62 mm) forward firing M1919 Browning machine gun and 1x— 0.50 in (12.7 mm) M2 Browning machine gun in rear cockpit
2x— 100 lb (45 kg) bombs or 325 lb (147 kg) depth charges underwing

Comparable aircraft
Vought OS2U Kingfisher
Arado Ar 196
Mitsubishi F1M
SOC Seagull
Supermarine Walrus

Bibliography
Bowers, Peter M. Curtis Aircraft, 1907-1947. London: Putnam & Company Ltd., 1979. ISBN 0-370-10029-8.
Donald, David. The Complete Encyclopedia of World Aircraft. Orbis Publishing Ltd., 1997. ISBN 0-7607-0592-5.
Donald, David. American Warplanes of World War II. London: Aerospace Publishing, 1995. ISBN 1-874023-72-7.
Ginter, Steve. The Reluctant Dragon - The Curtiss SO3C Seagull/Seamew (Naval Fighters No.47). Simi Valley, CA: Ginter Books, 1999. ISBN 0-942612-47-7.
Green, William. War Planes of the Second World War, Volume Six: Floatplanes. London: Macdonald & Co. (Publishers) Ltd., 1962.
Larkins, William T. Battleship and Cruiser Aircraft of the United States Navy. Atglen, PA: Schiffer Books, Inc., 1996. ISBN 0-7643-0088-1. OCLC 35720248.
Mondey, David. The Hamlyn Concise Guide to American Aircraft of World War II. London: Chancellor Press, 1996. ISBN 1-85152-706-0.
Swanborough, Gordon and Peter M. Bowers. United States Navy Aircraft since 1911. London: Putnam & Company Ltd., Second edition, 1976. ISBN 0-370-10054-9.
Thetford, Owen. British Naval Aircraft since 1912 London: Putnam & Company Ltd., 1994. ISBN 0-85177-861-5.

Curtiss SO3C Seamew Pictures
More aircraft.
Source: WikiPedia