Curtiss-Wright CW-12 Video - Picture
Curtiss-Wright CW-12 Aircraft Information
Curtiss-Wright CW-12
CW-12 Sport Trainer and CW-16 Light Sport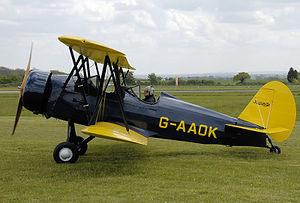 Picture - Curtiss-Wright Travel Air CW-12Q (built 2009)
Role: Civil trainer
Manufacturer: Curtiss-Wright
First flight: 1931
Status: Some airworthy in 2009
Primary user: Private owners
Number built: 63

The Curtiss-Wright CW-12 Sport Trainer and CW-16 Light Sport (also marketed under the Travel Air brand that Curtiss-Wright had recently acquired) were high-performance training aircraft designed by Herbert Rawdon and Ted Wells and built in the United States in the early 1930s.
Development
The CW-12 and CW-16 shared the same basic design as conventional single-bay biplanes with staggered wings braced with N-struts. The pilot and instructor sat in tandem, open cockpits, the forward cockpit of the CW-12 having a single seat, while the CW-16's forward cockpit could seat two passengers side-by-side. Both versions of the aircraft were available in a variety of engine choices, and some CW-16s were exported as trainers to the air forces of Bolivia and Ecuador.
Variants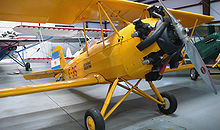 Picture - Curtiss Travel Air 16E at the Historic Aircraft Restoration Museum
CW-12
CW-12K - version powered by Kinner K-5 engine (2 built)
CW-12Q - version powered by Wright-built de Havilland Gipsy (27 built)
CW-12W - version powered by Warner Scarab (12 built)

CW-16
CW-16E - version powered by Wright J-6 Whirlwind 5 engine (10 built)
CW-16K - version powered by Kinner B-5 engine (11 built)
CW-16W - version powered by Warner Scarab engine (1 built)

Operators
Civil owners in USA and United Kingdom
Bolivia
Bolivian Air Force

Ecuador
Ecuadorian Air Force

Specifications (CW-12Q)
Data from Curtiss Aircraft 1907-1947
General characteristics
Crew: Two, pilot and instructor
Length: 21 ft 5 in (6.52 m)
Wingspan: 28 ft 10 in (8.78 m)
Height: 8 ft 10 in (2.69 m)
Wing area: 206 ft² (19.1 m²)
Empty weight: 1,017 lb (486 kg)
Gross weight: 1,725 lb (782 kg)
Powerplant: 1 x— Curtiss-Wright licence-built de Havilland Gipsy, 90 hp (67 kW) each

Performance
Maximum speed: 105 mph (169 km/h)
Cruise speed: 88 mph (142 km/h)
Range: 390 miles (628 km)
Service ceiling: 12,000 ft (3,660 m)
Rate of climb: 600 ft/min (3.0 m/s)

Bowers, Peter M. (1979). Curtiss Aircraft 1907-1947. London: Putnam. ISBN 0 370 10029 8.
Taylor, Michael J. H. (1989). Jane's Encyclopedia of Aviation. London: Studio Editions. pp. 288.
World Aircraft Information Files. London: Bright Star Publishing. pp. File 891 Sheet 54.

Curtiss-Wright CW-12 Pictures
More aircraft.
Source: WikiPedia