Curtiss-Wright X-19 Video - Overview
Curtiss-Wright X-19 Aircraft Information
Curtiss-Wright X-19
X-19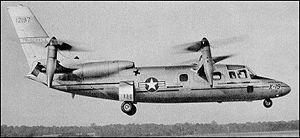 Picture - X-19 in hovering flight
Role: Experimental VTOL Transporter
Manufacturer: Curtiss-Wright
First flight: November 1963
Status: Cancelled
Number built: 2

The Curtiss-Wright X-19 was an American experimental VTOL tiltrotor airplane of the early 1960s.
Design and development
In March 1960 the Curtiss-Wright Corporation developed the X-100, a prototype for a new, vertical take-off transport aircraft. The X-100 had a single turboshaft engine, which propelled two tilting-rotors, while at the tail swivelling nozzles used the engine's exhaust gases to give additional control in hovering or slow flight.
From the X-100 Curtiss-Wright developed the larger X-200, of which the United States Air Force ordered two prototypes designated the X-19A.
The X-19 was a high-wing monoplane with two sets of wings. Each wing mounted a 13 ft (4 m) propeller that could be rotated through 90 degrees allowing the aircraft to take off and land like a helicopter. The propellers were driven by twin Avco Lycoming T55-L-5 turboshaft engines mounted in the fuselage.
Operational history
The first flight of the X-19 took place in November 1963 (other sources give 26 June 1964). It was intended that the X-19 would be developed into a VTOL transport aircraft. However the first X-19 was destroyed in a crash on 25 August 1965, and the program was subsequently cancelled. The second prototype is currently being stored in the restoration facilities at the National Museum of the United States Air Force in Dayton, Ohio.
Specifications (X-19)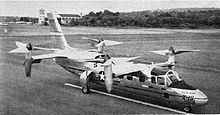 Picture - The X-19 in 1963.
General characteristics
Crew: Two
Payload: 1,200 lb (544 kg)
Length: 42.08 ft (12.83 m)
Wingspan: 19.5 ft (forward) / 21.5 ft (aft) (5.94 m / 6.55 m)
Height: 17.17 ft (5.2 m)
Max takeoff weight: 13,660 lb (6,196 kg)
Powerplant: 2x— Avco Lycoming T55-L-5 turboshaft, 2,200 shp (1,640 kW) each

Performance
Maximum speed: 454 mph (730 km/h)
Range: 325 miles (523 km)

Comparable aircraft
V-22 Osprey
Bell XV-15
Bell/Agusta BA609

Curtiss-Wright X-19 Pictures
More aircraft.
Source: WikiPedia