Curtiss XBTC Video - Picture
Curtiss XBTC Aircraft Information
Curtiss XBTC
XBTC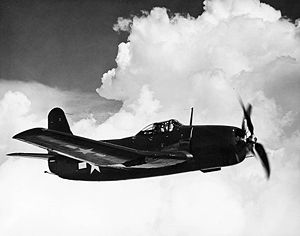 Picture - A Curtiss XBTC-2 "Model B" in 1946
Role: Attack aircraft
National origin: United States
Manufacturer: Curtiss Aeroplane and Motor Company
First flight: January 1945 (XBTC-2)
Number built: 2

The Curtiss XBTC was an experimental single-seat, single-engine torpedo bomber aircraft developed during World War II.
Design and development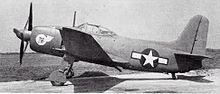 Picture - The XBTC-2 "Model A" had a conventional wing.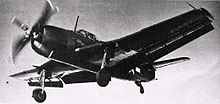 Picture - The XBTC-2 "Model B" showing the Duplex flaps.
The Curtiss XBTC-1 (Model 96) was a low-wing monoplane with retractable tailwheel landing gear which used a 2,200 hp (1,641 kW) Wright R-3350 radial engine. It was entered in a 1943 United States Navy competition against the Douglas XBTD-1 Destroyer II, Martin XBTM-1 Mauler, and Kaiser-Fleetwings XBTK-1. The BTC-2 should have used the Pratt & Whitney R-4360 engine, but problems with the Wright engine led to the further development of the BTC-2. Despite its power and "first-class performance and weapon-carrying capacity", it lost to the XBT2D-1 (redesignated as the AD-1 Skyraider) and the BTM-1 (similarly redesignated AM-1) Mauler, which were already building. Two VBTC-2s were built, each having a different wing. The "Model A" had a standard wing and flaps; the "Model B" featured a full span Duplex flap wing with a straight trailing edge and a swept-back leading edge. Both had the 3,000 hp (2,237 kW) Pratt & Whitney XR-4360-8A equipped with contrarotating propellers. The planes were delivered to the Naval Air Test Center at Patuxent River, Maryland (USA), in July 1946. One plane crashed in February 1947 the other in August 1947.
The United States Army Air Force assigned the designation A-40 to a proposed 'de-navalised' version of the XBTC; however, the USAAF decided not to acquire any further single-engine attack aircraft and the project was cancelled.
Variants
Curtiss XBTC-1 (Model 96) :
Curtiss XBTC-2 (Model 98) :

Operators
United States
United States Navy

Specifications (XBT2C-1)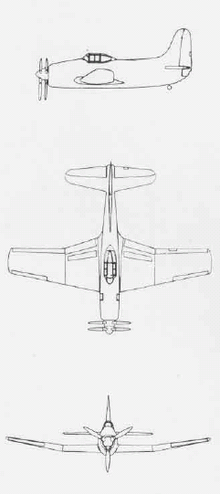 Picture - 3-side view of the XBTC-2.
Data from David Donald, ed (1997). The Complete Encyclopedia of World Aircraft. Orbis Publishing Ltd. p. 293. ISBN 0760705925.
General characteristics
Crew: 2
Length: 39 ft 2 in (11.94 m)
Wingspan: 47 ft 7 in (14.50 m)
Height: 12 ft 1 in (3.68 m)
Wing area: 416 sq ft (38.6 m)
Empty weight: 12,268 lb (5,565 kg)
Max takeoff weight: 19,000 lb (8,618 kg)
Powerplant: 1 x— Wright R-3350-24 Radial piston engine, 2,500 hp (1,900 kW)

Performance
Maximum speed: 330 mph (530 km/h; 290 kn)
Range: 1,310 mi (1,138 nmi; 2,108 km)
Service ceiling: 26,300 ft (8,016 m)

Armament
Guns: Two 20mm cannon
Missiles: One torpedo
Bombs: Up to 2,000 pounds (910 kg)

Related development
Curtiss XBT2C

Comparable aircraft
AD Skyraider
AM Mauler
Kaiser-Fleetwings XBTK

Donald, David, general editor. Encyclopedia of World Aircraft. Etobicoke, Ontario: Prospero Books, 1997. ISBN 1-85605-375-X.

Curtiss XBTC Pictures
More aircraft.
Source: WikiPedia