Curtiss XF13C Video - Picture
Curtiss XF13C Aircraft Information
Curtiss XF13C
XF13C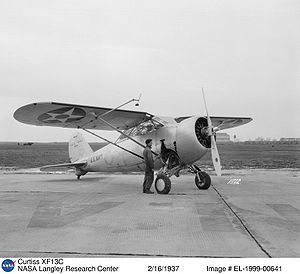 Picture - Curtiss XF13C in 1937
Role: fighter
National origin: United States
Manufacturer: Curtiss Aeroplane and Motor Company
First flight: 7 January 1934

The Curtis XF13C (Model 70) was a carrier-based biplane fighter aircraft built by Curtiss Aeroplane and Motor Company.
Development and design
The XF13C was an all-metal construction, with a semi-monocoque fuselage, manually retractable landing gear and an enclosed cockpit. The aircraft was design to facilitate conversions from biplane to monoplane and vice-versa. The United States Navy bought a prototype, designated XF13C-1 when in monoplane configuration, and XF13C-2 when a biplane.
The Xf13C first flew in 1934 with good results. In 1935, the plane received a more powerful engine and modifications to the overly tall tailplanes. The designation was changed to XF13C-3 for more flight testing. No production orders were received, but he aircraft flew for NACA experiments, and by VWJ-1 Squadron at Quantico.
Specifications (XF13C-3)
Data from Angelucci, 1987. pp. 152-153.
General characteristics
Crew: 1
Length: 25 ft 0 in (7.62 m)
Wingspan: 35 ft 0 in (10.66 m)
Height: 8 ft 9.5 in (2.66 m)
Wing area: 205 ft² (19.04 m²)
Empty weight: 3.412 lb (1,548 kg)
Gross weight: 4,634 lb (2,102 kg)
Powerplant: 1 x— Wright SGR-1510-12, 700 hp ( kW)

Performance
Maximum speed: 246 mph (396 km/h)
Range: 726 miles (1,168 km)
Service ceiling: 25,250 ft (7,696 m)
Rate of climb: 2000 ft/min (10.16 m/s)

Armament
1 x— .50 in (12.7 mm) machine gun
1 x— .30 in (7.62 mm) machine gun

Bibliography
Angelucci, Enzo (1987). The American Fighter from 1917 to the present. New York: Orion Books.

Curtiss XF13C Pictures
More aircraft.
Source: WikiPedia