Curtiss XP-31 Video - Picture
Curtiss XP-31 Aircraft Information
Curtiss XP-31
XP-31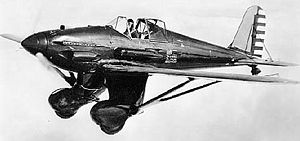 Role: fighter
National origin: United States
Manufacturer: Curtiss Aeroplane and Motor Company
First flight: July 1932
Status: Abandoned project
Number built: 1

The Curtiss XP-31 was an American monoplane fighter aircraft produced by Curtiss Aeroplane and Motor Company.
Development
The XP-31 was a private venture of the Curtiss company, their first monoplane fighter design. It was an all metal low wing monoplane. The wings were externally braced on the underside, and had leading edge slats and trailing edge flaps. The XP-31 was inspired by the XA-8 aircraft, and was tested with both a Wright Cyclone and Pratt & Whitney Wasp engine before switching to the Curtiss V-1570. At the conclusion of flight testing the USAAC did not order any production aircraft. The designation was changed to ZXP-31 (Z for obsolete).
Specifications
Data from Angelucci, 1987. p. 147.
General characteristics
Crew: 1
Length: 26 ft 3 in (8.00 m)
Wingspan: 36 ft 0 in (10.97 m)
Height: 7 ft 9 in (2.36 m)
Wing area: 203 ft² (18.85 m²)
Empty weight: 3,334 lb (1,512 kg)
Gross weight: 4,143 lb (1,879 kg)
Powerplant: 1 x— Curtiss V-1570, 600 hp ( kW)

Performance
Maximum speed: 215 mph (346 km/h)
Cruise speed: 184 mph (296 km/h)
Range: 396 miles (637 km)
Service ceiling: 25,600 ft (7,803 m)
Rate of climb: 1,923 ft/min (9.77 m/s)

Armament
4 x— .30 in (7.62 mm) machine guns

Bibliography
Angelucci, Enzo (1987). The American Fighter from 1917 to the present. New York: Orion Books.

Curtiss XP-31 Pictures
More aircraft.
Source: WikiPedia