Curtiss YA-10 Shrike Video - Picture
Curtiss YA-10 Shrike Aircraft Information
Curtiss YA-10 Shrike
YA-10 Shrike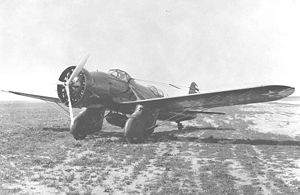 Role: Ground attack
Manufacturer: Curtiss
First flight: 1932
Introduced: 1933
Retired: 1939
Status: Out of service
Primary users: United States Army Air Corps United States Navy
Number built: 2
Developed from: A-8 Shrike
Variants: A-12 Shrike

The Curtiss Aeroplane and Motor Company Model 59B YA-10 was a 1930s United States test and development version of the A-8 Shrike ground-attack aircraft using various radial engines in place of the inline Vee.
Development
The Curtiss YA-10 Shrike was the first YA-8 fitted with a Pratt & Whitney R-1690-9 (R-1690D) Hornet radial engine. The conversion was done in September 1932, and it was found that the aircraft's performance was not degraded by the change of engine, and low-level maneuverability was improved due to lower mass moment of inertia with the short radial engine. The USAAC preferred radials to inline engines for the ground attack role, due to the vulnerability of the latter's cooling system to anti-aircraft fire. The US Navy preferred radials for carrier-borne operations. Upon completion of testing the Army changed an order for 46 A-8B aircraft to the production version of the YA-10, the A-12 Shrike.
Operational history
Following completion of testing, the YA-10 was assigned to the 3rd Attack Group for operational service, then in 1934 it was assigned to the Command and General Staff School. The YA-10 was scrapped in early 1939.
The XS2C-1 was the Navy's first two-seat warplane. Since it was not equipped for carrier operations, it remained a prototype.
Variants
YA-10
Model 59B, one U.S. Army Air Corps prototype
XS2C-1
Model 69, one U.S. Navy prototype with a 625 hp (466 kW) Wright R-1510-28 Whirlwind engine, delivered December 1932
Operators
United States
United States Army Air Corps

Specifications (XA-10)
General characteristics
Crew: 2, pilot & observer-rear gunner
Length: 32.5 ft (9.9 m)
Wingspan: 44.25 ft (13.5 m)
Height: 9.0 ft (2.75 m)
Max takeoff weight: 6,135 lb (2,783 kg)
Powerplant: 1x— Pratt & Whitney R-1690-9 (R-1690D) "Hornet" radial, 630 hp (470 kW)

Performance
Maximum speed: 174 mph (280 km/h)
Cruise speed: 148 mph (238 km/h)
Range: 500 mi (800 km)
Service ceiling: ~15,000 ft (~4,570 m)

Armament
Guns

4 x— forward .30 in (7.62 mm) M1919 Browning machine guns
1 x— rear .30 in (7.62 mm) machine gun

Bombs

4 x— 122 lb (55 kg) bombs mounted on wing racks

Curtiss Aeroplane and Motor Company (1916 - 1929)
Curtiss-Wright Corporation (1929 - )

Related development
Curtiss A-8
A-12 Shrike

Comparable aircraft
Hawker Osprey

Curtiss YA-10 Shrike Pictures
More aircraft.
Source: WikiPedia