Dassault Etendard IV Video - From Discovery Channel Wings
Dassault Etendard IV Aircraft Information
Dassault Etendard IV
Etendard IV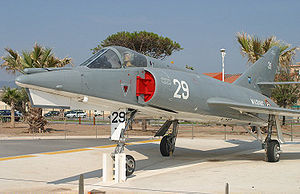 Role: Strike fighter
National origin: France
Manufacturer: Dassault Aviation
First flight: 1958
Introduced: 1962
Retired: 1991
Status: Some IVPs still in service
Primary user: French Navy
Number built: 90
Variants: Dassault-Breguet Super Etendard

The Dassault Etendard IV is a supersonic carrier-borne "strike" fighter aircraft designed for service with the French Navy.
Design and development
The Etendard's history begins with two design requirements in the early 1950s. One was for a light jet fighter for the French Air Force, the other for a light fighter to serve as standard equipment with NATO air forces. Dassault used variations of the same basic design to produce prototypes for both these specifications, designated the Etendard II and Etendard VI respectively, neither of which led to any orders. At the same time, the company evolved a larger and more powerful variant (originally designated Mystx¨re XXIV) as a private venture.
Able to generate interest from the Navy, Dassault built a prototype navalised version, first demonstrated to the service in 1958 and which resulted in an order for 69 fighter aircraft, designated Etendard IVM and 21 reconnaissance versions designated Etendard IVP. From 1962, these began to be deployed aboard the new French Clemenceau class aircraft carriers.
Performance of the Etendard IV was never spectacular, in the low supersonic range at altitude. It could reach Mach 1.3 at 11,000 meters and Mach 0.97 at low altitude. In the 1970s it was clear that a replacement should be sought. For some time, this was hoped to be a navalised version of the SEPECAT Jaguar, the Jaguar M, but as the various political problems of the joint Anglo-French effort dragged out development, Dassault stepped in with an uprated version of the Etendard, dubbed Super Etendard. The last of the original Etendard IVMs were withdrawn in 1991, although a handful of IVPs remain operational in 2004.
Variants
Etendard IVB : One prototype fitted with an Atar 51 engine and blown flaps.
Etendard IVM : Single-seat strike fighter aircraft for the French Navy.
Etendard IVP : Single-seat reconnaissance aircraft for the French Navy.

Operators
France
French Navy Aviation Navale

Specifications (Dassault Etendard IVM)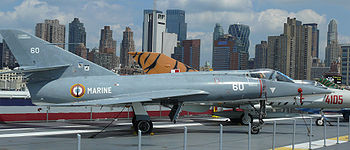 Picture - Etendard IVM on display at the Intrepid Sea-Air-Space Museum
General characteristics
Crew: 1
Length: 14.40 m (47 ft 3 in)
Wingspan: 9.60 m (31 ft 6 in)
Height: 3.79 m (12 ft 6 in)
Wing area: 29 m² (312 ft²)
Empty weight: 5,900 kg (13,000 lb)
Loaded weight: 8,170 kg (18,010 lb)
Max takeoff weight: 10,200 kg (22,500 lb)
Powerplant: 1x— SNECMA Atar 8B turbojet, 43.16 kN (9,703 lbf)

Performance
Maximum speed: 1,099 km/h (593 knots, 683 mph)
Range: 3,300 km (1,800 NM, 2,100 mi)
Service ceiling: 15,500 m (50,900 ft)
Rate of climb: 100 m/s (19,700 ft/min)
Wing loading: 282 kg/m² (57 lb/ft²)
Thrust/weight: 0.54

Armament
Guns: 2x— 30 mm (1.18 in) DEFA 552 cannons with 150 rounds per gun
Rockets: 2x— Matra rocket pods with 18x— SNEB 68 mm rockets each
Bombs: 1,360 kg (3,000 lb) of payload on four external hardpoints, including a variety of bombs or Drop tanks

Dassault Etendard
Dassault Mystx¨re

Related development
Dassault Etendard II
Dassault Etendard VI
Dassault Super Etendard

Comparable aircraft
A-7 Corsair II
Blackburn Buccaneer

Dassault Etendard IV Pictures and Dassault Etendard IV for Sale.
Living Warbirds: The best warbirds DVD series.
Source: WikiPedia