Dassault Falcon 20 Video - Landing
Dassault Falcon 20 Video - Pictures and video
Dassault Falcon 20 Aircraft Information
Dassault Falcon 20
Falcon 20 (Mystère 20) HU-25 Guardian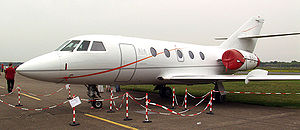 Picture - Civilian Falcon 20
Role: Business jet
Manufacturer: Dassault Aviation
First flight: 1963
Introduction: 1965
Primary users: Federal Express French Navy United States Coast Guard Cobham Aviation
Number built: 508
Variants: Dassault Falcon 10 Dassault Falcon 50

The Dassault Falcon 20 is a French business jet and was the first of a family of business jets built by Dassault Aviation.
Design and development
Marcel Dassault gave the go-ahead for production of an eight or ten seat executive jet or military liaison aircraft the Dassault-Breguet Mystx¨re 20 in December 1961. The Mystx¨re 20 was a low-wing monoplane with two rear-mounted Pratt & Whitney JT12A-8 engines. The prototype, registered F-WLKB, first flew on the 4 May 1963 at Bordeaux-Merignac. Under the influence of Pan American the aircraft was re-engined with two General Electric CF700 engines and some dimensions were increased. Pan American signed a contract to distribute the Mystx¨re 20 in the western hemisphere and ordered 40 aircraft with options on 120. The re-engined aircraft first flew on 10 July 1964. The first production aircraft flew on 1 January 1965 and both French and American certification was awarded in June 1965. Deliveries began to the Pan American outfitting facility at Burbank Airport, California. In 1966 the company re-designated the American-delivered aircraft as the Fan Jet Falcon, this later became the Falcon 20. Military orders from Australia and Canada were received. All non-American aircraft were fitted out before delivery at Bordeaux-Merignac. In 1967 Pan American Business Jets Division increased their firm orders to 160 aircraft.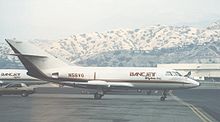 Picture - Falcon 20DC freighter of Bancjet Systems at Burbank airport near Los Angeles in September 1986. Note deleted cabin windows
The improved Falcon 200 featured more advanced jet engines and other major improvements to increase range, capacity and comfort. The aircraft proved to be so popular that production did not end until 1988, being superseded by more advanced developments of the Falcon family. The United States Coast Guard operates a model called the HU-25 Guardian which is used as a high-speed spotter aircraft to locate shipwreck survivors and direct slower-moving aircraft and rescue vessels, and interdict aerial and shipborne drug trafficking.
A total of 473 Falcon 20s and 35 Falcon 200s were built by the time production ended in 1988.
Later developments of the Falcon 20 include the smaller Falcon 10, the larger 30-seat Falcon 30 (not developed) and Falcon 50, an improved three-engined development.
Variants
Mystere/Falcon 20
Prototype, one built.
Mystere/Falcon 20C
Initial production version. known originally as the Standard Falcon 20 both examples converted to D model.
Falcon 20CC
One aircraft similar to the Falcon 20C, equipped with low-pressure tyres.
Mystere/Falcon 20D
Higher thrust engines (GE CF700-2D) and lower fuel consumption and more fuel capacity.
Mystere/Falcon 20E
Higher thrust engines (GE CF700-2D-2), higher zero fuel weight.
Mystere/Falcon 20F
Full leading edge slats and more fuel capacity.
Falcon 20FH
This was the original designation of the Falcon 200 prototype.
Falcon 20G
Maritime patrol and surveillance version, equipped with two Garrett AiResearch ATF3-6-2C turbofan engines.
Falcon 20H
This was the original designation of the Falcon 200.
Falcon 200
Improved variant, powered by two 2360-kg (5,200-lb) Garrett ATF3-6A-4C turbofan engines and with more fuel. First flown 30 April 1980.
Falcon ST
This designation was given to two Falcon 20s used by the French Air Force as systems training aircraft. The aircraft were equipped with the combat radar and navigation systems of the Mirage IIIE.
HU-25A Guardian
United States Coast Guard version of the Falcon 20G. 41 built.
HU-25B Guardian
Pollution control version for the US Coast Guard equipped with side-looking airborne radar (SLAR) under fuselage. Seven converted from HU-25As.
HU-25C Guardian
Drug interdiction version for the US Coast Guard, equipped with a Westinghouse APG-66 search radar and WF-360 Forward looking infrared turret. Nine HU-25As converted.
HU-25C+ Guardian
Upgrade of HU-25C, with improved APG-66(V)2 radar and new FLIR turret. All nine HU-25Cs converted.
HU-25D Guardian
Upgraded HU-25A, with AN/APS-143B(V)3 Inverse synthetic aperture radar (ISAR) and same FLIR as HU-25C+. 15 upgraded.
Guardian 2
Maritime patrol and surveillance version of the Falcon 200. Never put into production.
CC-117
Canadian military designation of Falcon 20C from 1970.
Fan Jet Falcon
The Falcon 20 was marketed in North America under this name.
Falcon Cargo Jet
Conversion of Falcon 20 to light cargo aircraft. Large numbers purchased/converted by Federal Express for overnight courier service.
Falcon 20-C5, -D5, -E5, -F5
Falcon 20 aircraft equipped with Garrett TFE-731-5AR-2C or TFE-731-5BR-2C engines. Also includes adaptation of bleed air, anti-ice, hydraulic, fuel, electrical and engine control systems and installation of ATTCS (automatic takeoff thrust control system).
Operators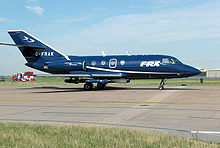 Picture - Dassault Falcon 20
Military operators
Algeria Angola Australia
Royal Australian Air Force - Three in service from 1967 to 1989.
No. 34 Squadron RAAF

Belgium
Belgian Air Component (2 x 20E operated from 1973)

Canada
Royal Canadian Air Force
Canadian Forces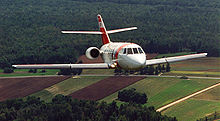 Picture - A USCG HU-25 Guardian
Central African Republic Chile Djibouti Egypt France
French Air Force
French Navy

Guinea-Bissau Iran
Imperial Iranian Air Force
Imperial Iranian Navy

Cx´te d'Ivoire Jordan
Royal Jordanian Air Force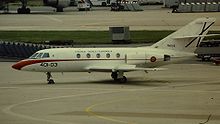 Picture - Spanish Air Force Falcon 20D in 1981
Lebanon
Lebanese Air Force

Libya
Libyan Air Force (Mirage Weapons Trainer)

Morocco Norway
Royal Norwegian Air Force

Oman Pakistan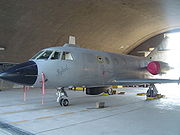 Picture - A Pakistan Air Force electronic warfare aircraft.
Pakistan Air Force - Two aircraft in service fitted with electronic warfare equipment.
No. 24 Squadron Blinders

Peru Portugal Spain Sudan
Sudanese Air Force

Syria
Syrian Air Force

Tunisia United States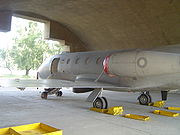 Picture - Falcon 20 Pakistan Air Force
United States Coast Guard

Venezuela
Specifications (Falcon 20F)
Data from Janes's All The World's Aircraft 1980-81
General characteristics
Crew: 2
Capacity: 8-14 passengers
Length: 17.15 m (56 ft 3 in)
Wingspan: 16.30 m (53 ft 6 in)
Height: 5.32 m (17 ft 7 in)
Wing area: 41.0 m² (440 ft²)
Empty weight: 7,530 kg (16,600 lb)
Max takeoff weight: 13,000 kg (28,660 lb)
Powerplant: 2x— General Electric CF700-2D-2 turbofan, 20 kN (4,500 lbf) each

Performance
Maximum speed: 862 km/h (465 knots, 536 mph) (max cruise) at 7,620 m (20,000 ft)
Cruise speed: 750 km/h (405 knots, 466 mph) (econ cruise) at 12,200m (40,000 ft)
Stall speed: 152 km/h (82 knots, 95 mph)
Range: 3,350 km (1,808 naut mi, 2,080 mi)
Service ceiling: 12,800 m (42,000 ft) (absolute)

Related development
Dassault Falcon 10
Dassault Falcon 50

Comparable aircraft
Raytheon Hawker 800

"HU-25 "Guardian" Medium Range Surveillance Aircraft". Aircraft and Cutters. U.S. Coast Guard. 2007-02-16. http://www.uscg.mil/datasheet/hu-25.asp. Retrieved 2007-08-01.
Gates, Brian (1978). Falcon Mystere 20 Production History. Leicester, England: Midland Counties Publications. ISBN 0 904597 12 1.
Kaminski, Tom (2007). "Dassault HU-25: The Coast Guard's Guardian". International Air Power Review (Westport, Connecticut, USA: AIRtime Publishing) (Volume 22): pp. 102-115. ISBN 188058879X. ISSN 1473-9917.
Michell, Simon (1994). Jane's Civil and Military Aircraft Upgrades 1994-95. Coulsdon, UK: Jane's Information Group. ISBN 0 7106 1208 7.
Taylor, John W.R. (1980). Jane's All The World's Aircraft 1980-81. London: Jane's Publishing. ISBN 0 7106-0705-9.
Taylor, John W.R. (1988). Jane's All The World's Aircraft 1988-89. Coulsdon, UK: Jane's Defence Data. ISBN 0 7106-0867-5.

Dassault Falcon 20 Pictures and Dassault Falcon 20 for Sale.
Living Warbirds: The best warbirds DVD series.
Source: WikiPedia