Dassault Mirage 4000 Video - Overview
Dassault Mirage 4000 Video - Le Bourget
Dassault Mirage 4000 Aircraft Information
Dassault Mirage 4000
Mirage 4000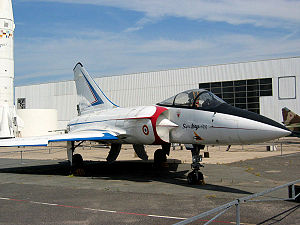 Picture - Mirage 4000 prototype displayed at the Musée de l'Air et de l'Espace at Le Bourget, France.
Role: Prototype fighter aircraft
National origin: France
Manufacturer: Dassault-Breguet
First flight: 9 March 1979
Status: Program cancelled in the 1980s
Primary user: French Air Force
Number built: 1
Developed from: Dassault Mirage 2000

The Dassault Mirage 4000 (sometimes called the Super Mirage 4000) was a French prototype jet fighter aircraft developed by Dassault-Breguet from their Mirage 2000.
Design and development
The Mirage 4000 was noticeably larger and heavier than the single-engined Mirage 2000, the 4000 having two SNECMA M53-2 turbofans. It also featured small canards above the engine air intakes. Despite the changes the two aircraft remained similar, sharing the delta wing design, semi-circular air intakes and general configuration.
The Mirage 4000 first flew in 1979. It was financed as a private venture by Dassault. The Mirage 4000 was comparable in size to the United States F-15 Eagle, and was designed to be both a long-range interceptor and a capable fighter-bomber.
In the early 1980s Dassault ended the program shortly after the Saudis chose the F-15 as their preferred aircraft. The French Air Force preferred to concentrate on the Mirage 2000, leaving Dassault with no customers. Some of the expertise thus gained would later influence the Dassault Rafale. The only prototype moved to its final residence at the Musée de l'Air et de l'Espace (Paris Air and Space Museum) in 1995.
Specifications (Mirage 4000)
Data from Dassault Aviation
General characteristics
Crew: 1
Length: 18.70 m (61 ft 4 in)
Wingspan: 12.00 m (39 ft 4 in)
Height: 5.80 m (19 ft 0 in)
Wing area: 73.0 m² (785 ft²)
Empty weight: 13,000 kg (29,000 lb)
Powerplant: 2x— SNECMA M53-2 afterburning turbofans, 95 kN (22,000 lbf) each

Performance
Maximum speed: 2,445 km/h (1,320 kn, 1,519 mph)
Range: 2,000 km (1,100 NM, 1,200 mi)
Service ceiling: 20,000 m (66,000 ft)

Related development
Dassault Mirage 2000
Dassault Mirage 2000N/2000D

Comparable aircraft
F-15E Strike Eagle

Related lists
List of fighter aircraft
List of military aircraft of France

Dassault Mirage 4000 Pictures and Dassault Mirage 4000 for Sale.
Living Warbirds: The best warbirds DVD series.
Source: WikiPedia