Dassault Mirage F1 Videos
Dassault Mirage F1 Video - Low level flyby
Dassault Mirage F1 Aircraft Information
Dassault Mirage F1
Mirage F1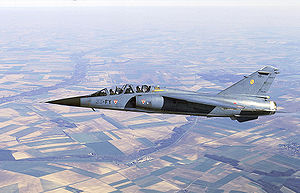 Role: Fighter aircraft
Manufacturer: Dassault Aviation
First flight: 23 December 1966
Introduced: 1973
Primary users: French Air Force Iraqi Air Force Spanish Air Force Royal Moroccan Air Force
Number built: ;720
Developed from: Dassault Mirage III

The Dassault Mirage F1 is a French air-superiority fighter and attack aircraft designed and built by Dassault Aviation as a successor of the Mirage III family. The Mirage F1 entered service in the French Air Force in the early seventies. Powered by a single SNECMA Atar turbojet providing about 7 tonnes-force (69 kN; 15,000 lbf) of thrust, the F1 has been used as a light multipurpose fighter and has been exported to about a dozen nations. More than 700 F1s have been produced. Among the second generation European supersonic fighter (i.e., among those built in the sixties and early seventies) the F1 was the most successful, most significantly because almost all of its users have used it in wars and regional conflicts.
Design and development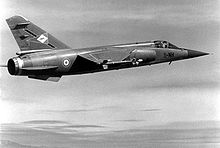 Picture - French Air Force Mirage F1
Dassault designed the Mirage F1 as a private venture, using its own funds, as a successor to its Mirage III and Mirage 5 fighters, with the F1 being a smaller version of the Mirage F2 being developed for the French Air Force. It was of similar size to the delta-winged Mirage III and V, and was powered by a SNECMA Atar 9K turbojet as used in the Dassault Mirage IV, but unlike its predesscors, it shared the layout of a swept wing mounted high on the fuselage and a conventional tail surface as used by the F2.
The first prototype made its maiden flight on 23 December 1966. Despite the prototype crashing on 18 May 1967 due to flutter, killing its pilot, an order for three prototypes was placed on 26 May 1967, the larger and more expensive F2 being abandoned.
Although it has a smaller wingspan than the Mirage III, the F1 nevertheless proved to be clearly superior to its predecessor. It can carry up to 43% more fuel, has a shorter take-off run and better maneuverability.
In order to comply with the French Air Force's requirement for an all-weather interceptor, the first production Mirage F1C was equipped with a Thomson-CSF Cyrano IV monopulse radar. The later Cyrano IV-1 version added a limited look-down capability. However Mirage F1 pilots reported that the radar can easily overheat, reducing its efficiency. First deliveries to the French Air Force took place in May 1973, entering squadron service with EC 2/30 Normandie-Niemen in December that year. Initially, the aircraft was armed with two internal 30 mm cannons, and a single Matra R530 medium-range air-to-air missiles carried under the fuselage. It was replaced after 1979, when the improved Matra Super 530 F entered into service with the French Air Force. In 1977, the R550 Magic was released. The F1 has these missiles mounted on rails on the wingtips. Around the same time, the American AIM-9 Sidewinder became part of the Mirage F1's armament, after the Spanish and Hellenic Air Forces requested integration of the Sidewinder on their own Mirage F1CE and CG fighters.
The 79 aircraft of the next production run were delivered during the period March 1977 to December 1983. These were of the Mirage F1C-200 version with a fixed refuelling probe, which required an extension of the fuselage by 7 cm.
The Mirage F1 served as the main interceptor of the French Air Force until the Dassault Mirage 2000 entered service.
Variants
Mirage F1CE : Export version of the Mirage F1C for Spain. 45 built.
Mirage F1CG : Export version of the Mirage F1C for Greece. 40 built.
Mirage F1CH : Export version of the Mirage F1C for Morocco. 30 built.
Mirage F1CJ : Export version of the Mirage F1C for Jordan. 17 built.
Mirage F1CK : Export version of the Mirage F1C for Kuwait. 18 built.
Mirage F1CK-2 : Nine F1Cs were sold to Kuwait as part of a follow up order.
Mirage F1CZ : Export version of the Mirage F1C for South Africa. 16 built.

Mirage F1B
The French Air Force also ordered 20 Mirage F1B, a two-seat operational conversion trainer; these were delivered between October 1980 and March 1983. The extra seat and controls added only 30 cm to the length of the fuselage, but at the cost of less internal fuel capacity and the loss of the internal cannon.
The empty weight increased by 200 kg, partly due to the addition of two Martin-Baker Mk 10 zero-zero ejection seats, in place of the Mk 4 used in the F1C, which had a forward speed limitation.
In all other aspects the F1B is a combat-capable aircraft and it can compensate for the lack of internal space by carrying external cannon pods and fuel tanks.
Mirage F1BE : Export version of the Mirage F1B for Spain. Six built.
Mirage F1BJ : Export version of the Mirage F1B for Jordan. Two built.
Mirage F1BK : Export version of the Mirage F1B for Kuwait. Two built.
Mirage F1BK-2 : Four sold to Kuwait as part of a follow on order.
Mirage F1BQ : Export version of the Mirage F1B for Iraq.

Mirage F1A
Single-seat ground-attack fighter aircraft, with laser-range finder, and limited Air-to-Air attack capability. Developed in concert between the SAAF and Dassault.
Mirage F1AD : Export version of the Mirage F1A for Libya. 16 built.

Mirage F1AZ
Mirage F1AZ : Export version of the Mirage F1A for South Africa. 32 built. (See below for more information)

Mirage F1E
Single-seat all-weather multi-role fighter and ground-attack aircraft.
Mirage F1JA : Export version of the Mirage F1E for Ecuador. 16 built.
Mirage F1ED : Export version of the Mirage F1E for Libya. 14 built.
Mirage F1EE : Export version of the Mirage F1E for Spain. 22 built.
Mirage F1EH : Export version of the Mirage F1E for Morocco. 14 built.
Mirage F1EH-200 : Morocco aircraft fitted with a flight refuelling probe. Six built.
Mirage F1EJ : Export version of the Mirage F1E for Jordan. 17 built.
Mirage F1EQ : Export version of the Mirage F1E for Iraq. 16 built.
Mirage F1EQ-2 : Single-seat air defence fighter version for Iraq. 16 built.
Mirage F1EQ-4 : Single-seat multi-role fighter, ground-attack, reconnaissance version for Iraq. 28 built.
Mirage F1EQ-5 : Single-seat anti-shipping version for Iraq. 20 built.
Mirage F1EQ-6 : Single-seat anti-shipping version for Iraq. Built in small numbers.
Mirage F1EDA : Export version of the Mirage F1E for Qatar. 12 built.

Mirage F1D
Two-seat training version, based on the Mirage F1E multi-role fighter, ground-attack aircraft.
Mirage F1JE : Export version of the Mirage F1D for Ecuador. Two built.
Mirage F1DD : Export version of the Mirage F1D for Libya. Six built.
Mirage F1DDA : Export version of the Mirage F1D for Qatar. Two built.

Mirage F1CR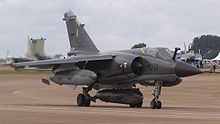 Picture - French Air Force F1CR in 2009
When it became clear that the Mirage F1 was becoming a successful production aircraft, Dassault began investigating the possibility of a dedicated reconnaissance version for its most important client, the French Air Force. However, the escalating cost of fighter aircraft meant that add-on pods for this purpose were a more economical alternative.
Many French Air Force aircraft, as well as those of some export clients (such as Iraq's Mirage F1EQ), did indeed have a variety of reconnaissance pods available, which were attached to the underside of the main fuselage.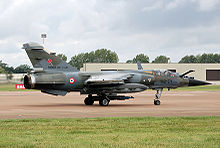 Picture - French Air Force Mirage F1 at RIAT 2009
However, the development of a tactical reconnaissance aircraft for the French Air Force continued, and the first Mirage F1CR-200 flew on 20 November 1981.
The Mirage F1CR carries reconnaissance equipment, internally and externally:
A SAT SCM2400 Super Cyclone infrared linescan unit is installed in the space previously occupied by the cannon.
A space under the nose can be used for a Thomson-TRT 40 panoramic camera or a Thomson-TRT 33 vertical camera.
The Cyrano IVM-R radar has extra ground- and contour-mapping modules.
Additional optical and electronic sensors can be carried on the hardpoints under the fuselage and wings.

A total of 64 units of the Mirage F1CR were ordered by the French Air Force, the first of which flew on 10 November 1982. The first airforce unit which used the aircraft became operational in July 1983.
Mirage F1CT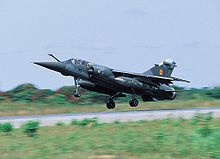 Picture - Mirage F1CT "30-QS" from 2/30
The Mirage F1CT is the tactical ground attack version of the Mirage F1C-200. The first two prototypes were conversions. The first flew on 3 May 1991. Another 55 examples followed up to 1995, all being conversions carried out by the workshops of the French Air Force.
The Mirage F1CT program brought the avionics of the F1C up to the standard of the F1CR:
The Cyrano IV radar was replaced by the Cyrano IVM-R.
The navigation/attack system was upgraded and included a laser rangefinder.
Mk 10 ejection seats were added.
Improved radar detection and warning devices, chaff/flare dispensers, and secure radios were also added.
Facilities for a variety of new weapons were added.

Mirage F1AZ and F1CZ
The South African Air Force (SAAF) flew both the Mirage F1AZ ground-attack version as well as the radar-equipped Mirage F1CZ fighter.
The first two examples of the first order (48 aircraft, comprising 32 F1AZ and 16 F1CZ) were delivered on 5 April 1975. Both of these F1CZs were transported under a blanket of secrecy by a SAAF C-130 Hercules. In July of the same year, the remainder of the F1CZs were delivered, and 3 Squadron was re-commissioned to operate the aircraft from AFB Waterkloof. In 1975 the F1CZs also appeared at a South African airshow, but the public wasn't informed that the aircraft were already operational in the SAAF.
The F1AZ was developed in conjunction with Dassault and the SAAF as a dedicated ground attack variant. Paramount Group, a South African based company owns the intellectual property for the Mirage F1AZ. The AZ variant has a laser-based rangefinder, permitting extremely accurate fusing and aiming of unguided munitions, which consist of bombs and rockets. Optical design was by ARMSCOR in South Africa, by the Optics (later ELOPTRO) division of that company. Despite their retirement in 1997, the accuracy of the F1AZ's armament delivery is still considered classified information by the SAAF, but observer analysis by informed news services (e.g., Jane's Defence Weekly) and pilot reports (e.g., Commandant Dick Lord, 'Vlamgat', 1999) conclude that the AZ variant has accuracies within the order disclosed by the USAF for their F-15E Strike Eagle in unguided ballistic mode.
The F1AZs were delivered between November 1975 and October 1976. They were assigned to 1 Squadron, stationed at AFB Waterkloof. This acquisition was also kept secret from the rest of the world - 1 Squadron was not allowed to display its new aircraft until February 1980.
The SAAF retired the F1CZs in 1992, followed by the F1AZs in 1997. In 1998, the University of Stellenbosch acquired and retains F1CZ for its Mechanical (Aeronautical) Engineering department, for the education of engineering students in supersonic alloy structures.

Picture - Aerosud Mirage F1 AAD2006
As an upgrade program for the SAAF, Aerosud, a South African aero-engineering concern, equipped a Mirage F1 with a Klimov RD-33 engine, the same engine used in the MiG-29. This development was dubbed the "SuperMirage" F1, and held the distinction of being the first Western aircraft to perform a display at the MAKS Airshow in Moscow.
In 2004 up to 21 F1AZs were reported in storage at AFB Hoedspruit, awaiting a possible buyer. In April 2006, it was reported that Aerosud had purchased the surviving Mirage F1AZs and spares. On 17 August 2006, French news agency Agence France-Presse (AFP) reported that two upgraded ex-South African F1AZs had taken part in a fly-past over Libreville earlier that day in celebration of Gabon's independence day. The refurbishment and upgrade of the aircraft was carried out by Aerosud. Aerosud Group managing director Dr. Paul Potgieter confirmed his company's involvement, but declined to give numbers or cite figures. It was also reported at that time that Gabon had only bought 3 Mirage F1's from South Africa. However it was later noted that the Gabonese government bought 4 Mirage F1AZ's in total.
The F1AZ features an integrated ground-attack system, comprising two on-board computers that enable the pilot to identify targets at a distance of 5 km. These computers are connected to a laser range finder, situated below its conical nose. This device provides the computers - and the pilot - with target info without the emission of radar signals. After identifying the target and obtaining the necessary information, bombs are automatically released at the right moment.
While the range-finding ability of the aircraft's EMD AIDA 2 radar unit permits it to operate combat and visual interception missiles, the helmet-mounted sight element enables the pilot to make bore attacks, without having to wait until he has reached the best firing position.
The F1AZ is equipped with two internal DEFA 30mm cannons with 125 rounds each, and carries a wide variety of external ordnance, which includes various types of bombs, cluster munitions, missiles, and rocket launchers. The most common configuration is however six MK81 or MK82 bombs, together with two Kentron Kukri V3b or V3c missiles on the wingtip rails.
Mirage F1CG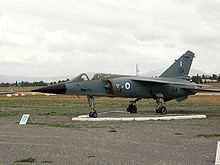 Picture - Hellenic Air Force Mirage F1CG
Greece operated 40 Dassault Mirage F1CG single seat aircraft. F1CG was first ordered in 1974 and entered service with the Hellenic Air Force in 1975 The aircraft were used by 334 Squadron and 342 Squadron. Mirage F1CG was armed with the Sidewinder AIM-9P missile, rather than the most commonly used Matra Magic II, and it could carry four AIM-9Ps, rather than just two.
The Hellenic Air Force retired the remaining 27 Mirage F1CGs on June 30, 2003 after 28 years of service and 160 000 flying hours. A number of F1CG aircraft have been preserved in non-flying condition for display. At least four are preserved in Tanagra (LGTG), Greece (115, 124, 129 and 140). One more (134) is preserved at HAF History Department, Delta Falirou.
Mirage F1M-53
Developed for the participation in the "European" NATO fighter competition of early seventies, seeking to replace the F-104G. It was equipped with a more powerful engine, the SNECMA M-53, and other improvements. Failed to succeed, the contest was eventually won by the General Dynamics F-16. The Mirage F.1 came in second place
Operational history
Due to the success of the Mirage F1 in the export market, the airplane has seen combat with a number of air forces in various places around the world.
France
French Air Force Mirage F1s saw their first operational deployment in 1984 during Operation Manta, the French intervention in the Chad, to counter growing Libyan encroachment. Four Mirage F1C-200s provided air cover for a force of four Jaguars, and took part in skirmishes against the pro-Libyan GUNT rebels.
In 1986, French Mirage F1s returned to Chad, as part of Operation Epervier, with four F1C-200s providing fighter cover for a strike package of eight Jaguars during the air raid against the Libyan airbase at Ouadi Doum, on February 16. Two F1CRs also flew pre and post-strike reconnaissance missions.
More recently, in October 2007, three Mirage 2000s and three Mirage F1s have been deployed at Kandahar Air Force Base, where they fly close air support and tactical reconnaissance missions in support of international forces in Southern Afghanistan.
Mirage F1C Armée de l'Air
Mirage F1B Armée de l'Air
Mirage F1CT Armée de l'Air
Mirage F1CR Armée de l'Air
Ecuador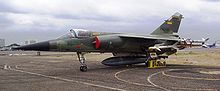 Picture - Mirage F-1 registration Ecuadorian FAE-806
The Ecuadorian Air Force's (FAE) squadron of Mirage F1JAs (Escuadrx³n de Caza 2112) first entered combat in January-February 1981 during the brief Paquisha War between Ecuador and Peru, less than two years after the aircraft had been delivered to the FAE. At that time, the Ecuadorians decided against directly challenging the Peruvian Air Force (abbreviated FAP), whose Mirage 5Ps and Sukhoi Su-22Ms were providing air cover to the Peruvian heliborne operations in the combat zone. Instead, the Mirages were kept at a distance, performing combat air patrols (CAPs) on the fringes of the combat area, in case the border clashes gave way to open hostilities. Peruvian Sukhoi Su-22 were spotted once, and an air-to-air missile was lauched, but failed to strike the Sukhoi.
In 1995, during the Cenepa War, the Ecuadorian Mirages went back into action against Peru. This time, while the bulk of the squadron was kept back at Taura AFB, a small detachment of Mirage F1s and Kfir C.2s was deployed to a forward air base to dissuade Peruvian attack aircraft from entering the combat zone. On 10 February 1995, two Mirage F1JAs, piloted by Maj. R. Banderas and Capt. C. Uzcx¡tegui and armed with Matra R550 Magic AAMs, were directed over five targets crossing the border from Peru toward the Cenepa valley. After making visual contact, the Mirages fired their missiles, claiming two Peruvian Su-22Ms shot down, while a Kfir claimed a further A-37B Dragonfly. Peru, however, denied that the two Sukhois were shot down by Mirages, stating that one was lost due to being struck by Ecuadorian anti-aircraft artillery during a low flying ground-attack mission, with the second Sukhoi Su-22A Fitter-F was lost because of an engine fire.
Greece
At least one incident was reported over the Aegean Sea between 2 Mirage F1-CG weaponless aircraft and two Turkish F-16C assault fighters. Unfortunately, the pilot of the higher experience base aircraft, Lieutenant Nikos Sialmas, lost his life in an unsuccessful attempt to outmanouvre and pursue the Turkish aircraft out of Hellenic airspace due to the Mirage F1-CG having traded the in-built weapons capacity for increased fuel and a light chassis/equipment total tonnage to the specifications of the Hellenic Air Force to maximize range benefits over the F16 units employed by neighbouring countries that were more capable of employing efficient, high-fuel configurations.
Since this, all Hellenic aircraft without exception fly with a weapon load.
Iraq
During the Iran-Iraq war, Iraq's Mirage F1EQs were used intensively for interception, ground attack and anti-shipping missions. In November 1981, an Iraqi Mirage F1 accounted for the first Iranian F-14 to be shot down, followed by several more in the following months, giving the previously timid Iraqi Airforce new confidence in air-to-air combat engagements with the Iranians.
On 17 May 1987, an Iraqi Air Force pilot flying an F1EQ fired two Exocet anti-ship missiles into the U.S. guided missile frigate USS Stark (FFG-31) in the Persian Gulf.
In the opening minutes of the Gulf War on January 17, 1991, an unarmed USAF EF-111, crewed by Captain James A. Denton and Captain Brent D. Brandon scored a kill against an Iraqi Dassault Mirage F1EQ, which they managed to maneuver into the ground, making it the only F-111 to achieve an aerial victory over another aircraft.
Coalition forces shot down several Iraq Mirages during the 1991 Gulf War. Two F1EQs preparing to carry out an Beluga cluster bomb attack on Saudi oil facilities were shot down by a Royal Saudi Air Force F-15C.
Morocco
30 Mirage F1CHs and 20 Mirage F1EHs were ordered from Dassault by the Royal Moroccan Air Force(RMAF) in 1975, with the first deliveries taking place in 1978. They were engaged in combat as soon as 1979 against the forces of the Polisario Front operating in Western Sahara.
South Africa
Both the F1CZ and F1AZ variants of the SAAF saw action during operations in the Border War.
F1CZs of 3 Squadron downed two Angolan MiG-21s in 1981 and 1982. On 6 November 1981, during Operation Daisy, two F1CZs were vectored by GCI to intercept two MiG-21s heading south. Major Johan Rankin shot down the wingman using cannons. On 5 October 1982, while escorting a Canberra of 12 Squadron on a photo-reconnaissance sortie, Major Rankin and his wingman engaged two MiG-21s on an intercept course. He fired two Magic AAMs at one of the MiGs, damaging the aircraft with the second missile. The MiG was able to recover back to base but sustained additional damage in a belly landing. Rankin then attacked the second MiG and destroyed it with cannon fire.
Two F1AZs of 1 Squadron were lost over Angola. On 20 February 1988, while flying an interdiction sortie against a road convoy during Operation Hooper, Major Ed Every was shot down by a SA-13 Gopher SAM. Almost a month later, on 19 March, Captain Willie van Coppenhagen flew into the ground when returning from a diversionary strike at night. The Board of Inquiry was unable to determine the causes of the crash.
Two F1AZs and a single F1CZ were damaged by enemy action but were able to return to base. On 7 June 1980, while attacking SWAPO's Tobias Haneko Training Camp during Operation Sceptic (Smokeshell), Major Frans Pretorius and Captain IC du Plessis were both hit by SA-3 Goa SAMs. Du Plessis' aircraft was hit in a fuel line and he had to perform a deadstick landing at AFB Ondangwa. Pretorius's aircraft sustained heavier damage and had to divert to Ruacana forward airstrip, were he landed with only the main undercarriage extended. Both aircraft were repaired and returned to service.
On 27 September 1987, during Operation Moduler, an attempt was mounted to intercept two Cuban FAR MiG-23MLs. Captain Arthur Piercy's F1CZ was damaged by either an AA-7 Apex or AA-8 Aphid AAM fired head-on by Major Alberto Ley Rivas. The explosion destroyed the aircraft's drag chute and damaged the hydraulics. Piercy was able to recover to AFB Rundu, but the aircraft overshot the runway. The impact with the rough terrain caused Piercy's ejection seat to fire, but he failed to separate from the seat and suffered major spinal injuries.
The SAAF lost an additional six F1AZs and three F1CZs to various mishaps. F1CZ 205 caught on fire after landing and was repaired using the tail section of F1CZ 206 (Piercy's aircraft).
Spain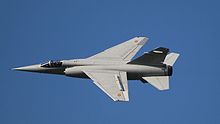 Picture - Spanish Air Force F.1M at Kecskeméti Repx¼lÅ'nap 2010.
With 33 years of first-line service since 1975 within the Spanish Air Force and earning itself ever since the role of primary interceptor for Early Warning missions due to its great performance (reaching mach 2.2), the Mirage F1 is a seasoned but still perfectly capable and reliable veteran that has been updated to the newest available standards but is unavoidably coming closer to the end of its active duty lifespan, and will eventually be replaced by the Eurofighter Typhoon (C-16 in the Spanish Air Force code).
The Mirage F1 is currently flown by the Ala 14 (14th Wing) based in Albacete, and has been flown in the past by the Ala 11 (11th Wing) based in Manises, Valencia and by the Ala 46 (46th Wing) based in Gando, Canary Islands.
The Wing operating the type now, Ala 14, is (as of February 2009) composed by 38 aircraft of the F1M model divided in Escuadrx³n 141 (141st Squadron) "Patanes" and Escuadrx³n 142 (142nd Squadron) "Tigres". Ala 14 reached 180,000 flight hours with the F1 model in late 2007, which gives an idea of the unit's familiarization with the Abuela ("Grandma"), as it is dubbed by its pilots. The features of the existing F1M's of the Ala 14 include intelligent 26" HUDs with integrated radar, HOTAS system, modernized Cyrano IVM radar for accurate ground-attack capability in four different modes, Night Vision Goggles compatibility, inertial navigator Sagem ULISS 47 and AIM-9 JULI Sidewinder compatibility among others.
A total of 90 units of the Mirage F1's different versions have served with the Spanish Air Force over the years.
These Mirage F1 have been deployed in Lithuania, during NATO Baltic Air Policing from July 2006 to November 2006, being scrambled twice to intercept undisclosed intruders.
On 20 January 2009 two Spanish F1s from the 14th Wing crashed near their base, in Spain's south-eastern province of Albacete, during a routine Spanish Air Force dogfight training mission, killing all three crew members. The wreckage of the two jets, including the remains of the aircrew, was found about 3 km (1.9 mi) apart.
This accident has caused some sectors of the non-specialized media to broadcast allegedly misleading information about the Mirage F1's capabilities and claim for the substitution of the Mirage F1's based mostly on its age and in the existence of previous negotiations already initiated to sell the F1's to several foreign nations, ignoring the facts that the F1's will meet at 100% the NATO requirements for several more years and that collisions during mock dogfights/engagements are relatively common and inconsistent with the aircraft's age, as indicated by experts, who have also expressed to be reluctant to jump to conclusions before the accident investigation's findings by the JIAAC are finished and released to the public.(Source: Avion Revue magazine #321, March 2009)
Operators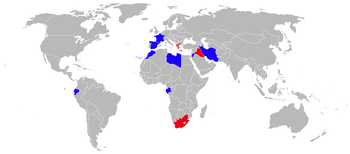 Picture - F1 operators, current (blue) and former (red)
Dassault Mirage F1 has been used by 13 airforces, with 8 of them still using it (including France). Out of these, 3 airforces have been European (2 still operating F1), 1 South American (still using it), 5 Middle Eastern (with 2 still flying the aircraft), and 4 African (3 still operating it).
Current operators
Ecuador
Ecuadorian Air Force received 16 F1JA & 3 F1JE. At least three of these aircraft have been confirmed as lost in accidents. By 2009 most of the remaining fleet of Ecuadorian Mirage F.1s was grounded due to maintenance issues.

France
French Air Force received 250 aircraft. Currently only three squadrons are flying the remaining aircraft.

Gabon
Gabonese Air Force received 4 F1AZ.

Iran
Islamic Republic of Iran Air Force seized over 24 F1EQ and F1BQ flown over from Iraq during the 1991 Gulf War.

Jordan
Royal Jordanian Air Force received 17 F1CJ, 17 F1EJ, 2 F1BJ & 2 F1DJ.

Libya
Libyan Air Force received 16 F1AD, 16 F1ED & 6 F1DD aircraft. All were grounded currently but some (12) refurbished and returned back to service.

Morocco
Royal Moroccan Air Force received 30 F1CH & 20 F1EH. 50 still operational and 27 will be upgraded to ASTRAC.

Spain
Spanish Air Force received originally 42 F1CE, 24 F1EE & 6 F1BE. Also acquired 24 second-handed examples from France and Qatar in the early 90s. Spanish F1s were recently deployed for Baltic Air Policing mission.

Former operators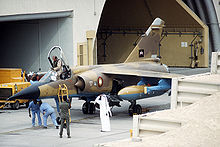 Picture - Qatari Air Force Mirage F1EDA
Greece
Hellenic Air Force operated 40 F1CG.

Iraq
Iraqi Air Force received 93 F1EQ & 15 F1BQ between 1980 and 1989, with a further 17 EQs and three trainers undelivered due to Iraqs inability to pay and the UN arms embargo imposed following the 1990 invasion of Kuwait.( However, in begin 2010 the Iraqi and French government has agreed to update and refurbish 18 former Iraqi F1 mirages and hand them over to the Iraqi Air Force, there has also been interest of the French to sell Mirage 2000 or Dassault Rafale Omni fighters to Iraq )

Kuwait
Kuwait Air Force operated 27 F1CK & 6 F1BK.

Qatar
Qatar Air Force operated 13 F1EDA & 2 F1DDA.

South Africa
South African Air Force operated 32 F1AZ & 16 F1CZ.

Specifications (Mirage F1)
Data from Jane's All The World's Aircraft 1988-89
General characteristics
Crew: 1
Length: 15.30 m (50 ft 2½ in)
Wingspan: 8.40 m (27 ft 6¾ in)
Height: 4.50 m (14 ft 9 in)
Wing area: 25.00 m² (269.1 ft²)
Empty weight: 7,400 kg (16,314 lb)
Loaded weight: 10,900 kg (24,030 lb) (clean take-off weight)
Max takeoff weight: 16,200 kg (35,715 lb)
Powerplant: 1x— SNECMA Atar 9K-50 afterburning turbojet
Dry thrust: 49.03 kN (11,023 lbf)
Thrust with afterburner: 70.6 kN (15,873 lbf)

Performance
Maximum speed: Mach 2.2 (2,338 km/h, 1,262 knots, 1,453 mph) at 11,000 m (36,090 ft)
Combat radius: 425 km (230 nm, 265 mi) hi-lo-hi at Mach 0.75/0.88 with 14 x— 250kg bombs
Ferry range: 2,150 km (1,160 nm, 1,335 mi)
Endurance: 2 hr 15 min (combat air patrol, with 2 x— Super 530 missiles and centreline drop tank)
Service ceiling: 20,000 m (65,600 ft)
Rate of climb: 242 m/s (47,815 ft/min) at high altitude

Armament
Guns: 2x— 30 mm (1.18 in) DEFA 553 cannons with 150 rounds per gun
Hardpoints: 1 centreline pylon, four underwing and two wingtip pylons with a capacity of 6,300 kg (13,900 lb) (practical maximum load 4,000 kg (8,800 lb)) and provisions to carry combinations of:
Rockets: 8x— Matra rocket pods with 18x— SNEB 68 mm rockets each
Bombs: various
Other: reconnaissance pods or Drop tanks
Missiles: 2x— AIM-9 Sidewinders OR Matra R550 Magics on wingtip pylons, 2x— Super 530Fs underwing, 1x— AM-39 Exocets anti-ship missile, 2x— AS-30L laser guided missiles

Related development
Dassault Mirage III
Dassault Mirage F2

Donald, David; Jon Lake (1996). Encyclopedia of World Military Aircraft. London: Aerospace Publishing. ISBN 1 874023 95 6.
Jackson, Paul (1994). "Dassault Mirage F1: Gallic Guadian". World Air Power Journal (Aerospace Publishing) (Volume 17 Summer 1994): pp. 46-95. ISBN 1 874023 43 3. ISSN 0959-7050.
Jackson, Paul (1985). Modern Combat Aircraft 23:Mirage. Shepperton, UK: Ian Allen. ISBN 0 7110 1512 0.
Taylor, John W. R. (1988). Jane's All The World's Aircraft 1988-89. Coulsdon, UK: Jane's Defence Data. ISBN 0 7106-0867-5.

Dassault Mirage F1 Pictures and Dassault Mirage F1 for Sale.
Living Warbirds: The best warbirds DVD series.
Source: WikiPedia