Dassault Mirage G Video - Overview
Dassault Mirage G Aircraft Information
Dassault Mirage G
Dassault Mirage G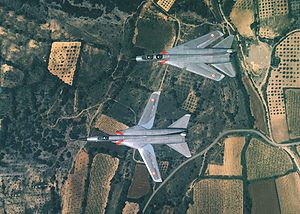 Picture - The Dassault Mirage G8-01 and G-8-02 prototypes in flight. The G8-01's wings are swept.
Role: Swing-wing multirole fighter
Manufacturer: Dassault Aviation
First flight: 18 November 1967
Status: Cancelled in the 1970s
Primary user: French Air Force
Number built: 3
Developed from: Dassault Mirage F2

The Dassault Mirage G was a French two-seat single engined variable-geometry prototype fighter, built by Dassault in the late 1960s. The aircraft was further developed into the twin-engine Mirage G4 and G8 variants as a multi-role jet fighter capable of both interception and nuclear strike missions. Although Dassault built and flew prototypes, the entire programme was terminated in the 1970s without the aircraft entering production.
Development
In 1964 the French defence ministry requested a development programme on variable-sweep wing aircraft for dual land and aircraft carrier use. An order for an experimental prototype, powered by a single Pratt & Whitney/SNECMA TF-306 turbofan, was placed in October 1965.
The first variable-sweep aircraft from Dassault emerged as the single-engined, two-seat Mirage G fighter in 1967, essentially a swept wing version of the Mirage F2. The wings were swept at 22 degrees when fully forward and 70 degrees when fully aft and featured full-span double-slotted trailing edge flaps and two-position leading edge flaps.
Flight trials were relatively successful but no production order ensued, the Mirage G programme being cancelled in 1968. Flying with the Mirage G continued however until 13 January 1971 when the sole prototype was lost in an accident.
Variants
Mirage G4
The basic Mirage G was developed into a twin-engine, two-seat nuclear strike fighter, the Mirage G4 after a separate contract was issued in 1968 for two aircraft to be built. These aircraft were intended to be powered by Snecma M53 turbojets in production. While the aircraft were under construction the requirements changed and the French military requested that the design be converted into a dedicated interceptor.
Mirage G8
Mirage G4-01 was redesignated G8-01 and remained a two-seat aircraft (first flight 8 May 1971) with the second aircraft, G4-02 becoming a single-seat version, G8-02 (first flight 13 July 1972). The G8 variants were equipped with Thomson-CSF radar and a low-altitude navigational-attack system based on that used in the SEPECAT Jaguar and Dassault Milan. As no funding was included for the Mirage G8 in the 1971-1976 French defence budget the aircraft did not enter production.
Aircraft on display
Dassault Mirage G8-01 is on public display at the Musée de l'Air et de l'Espace near Paris.
Specifications (Mirage G8-02)
General characteristics
Crew: 1
Length: 18.80 m (61 ft 8 in)
Wingspan:
Extended: 15.40 m (50 ft 6 in)
Swept: 8.70 m (28 ft 7 in)
Height: 5.35 m (17 ft 7 in)
Empty weight: 14,740 kg (32,500 lb)
Powerplant: 2x— SNECMA Atar 9K50 turbojets, 70.1 kN (15,800 lbf) each

Performance
Maximum speed: 2.2 Mach
Range: 3,850 km (2,080 nm, 2,390 mi)
Service ceiling: 18,500 m (60,700 ft)

Related development
Dassault Mirage F2

Comparable aircraft
Mikoyan-Gurevich MiG-23
Panavia Tornado
F-14 Tomcat

Bibliography
Green, William. The Observer's Book of Aircraft. London. Frederick Warne & Co. Ltd., 1968.
Green, William. The Observer's Book of Aircraft. London. Frederick Warne & Co. Ltd., 1972. ISBN 0-7232-1507-3

Dassault Mirage G Pictures and Dassault Mirage G for Sale.
Living Warbirds: The best warbirds DVD series.
Source: WikiPedia