De Havilland DH.34 Video -
De Havilland DH.34 Video -
De Havilland DH.34 Aircraft Information
De Havilland DH.34
DH.34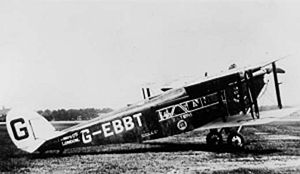 Role: Airliner
Manufacturer: de Havilland
Designed by: Geoffrey de Havilland
First flight: 1922
Introduced: 1922
Retired: 1926
Primaryusers: Imperial Airways Daimler Airway Instone Air Line
Produced: 1922
Number built: 12

The de Havilland DH.34 was a single engined British biplane airliner built by the de Havilland Aircraft Company in the 1920s. 12 were built, with the DH.34 serving with Imperial Airways and its predecessors for several years.
Design and development
By 1921, enough experience had been gained with operation of the de Havilland DH.18 to realise that aircraft needed to be more efficient to improve the economics of air travel. de Havilland therefore built the ten-passenger DH.29 monoplane, while starting work on the design of the DH.32, a biplane of similar size and capacity to the eight-passenger DH.18, but with a less powerful but more economical Rolls-Royce Eagle engine. Owing to the urgent need for more capacity, however, work on the DH.29 and DH.32 was stopped and the DH.34 biplane was designed, with a similar fuselage to the DH.29, accommodating ten passengers.
The DH.34 had a wooden, plywood-clad fuselage, with the cockpit (for two pilots) being positioned ahead of the wings and the passenger cabin. It had two-bay wooden wings and was powered by a Napier Lion engine, which was fitted for inertia starting, avoiding the necessity for hand swinging of the propellor to start the engine.. Unusually the design of the aircraft allowed an entire spare engine to carried on board across the rear of the passenger cabin. The cabin door's unusual shape was to allow the engine to be loaded and unloaded, and a specially-fitted 'porthole' on the other side of the cabin would be removed to allow the propeller boss to protrude out the side of the aircraft. Spare engines were not carried routinely (the DH.34's payload was too low to carry both passengers and a spare engine) but this facility was used by operators to quickly fly spare engines out to aircraft that had suffered breakdown.
Two DH.34s were ordered by the Daimler Airway, as part of an initial batch of nine aircraft, with the first prototype (registered G-EBBQ) flying on 26 March 1922 . The stalling speed of 63mph (101km/h) was considered high and was blamed for a fatal crash in 1923, so extensions were fitted to the upper wings, increasing the wingspan from 51.33ft (15.65m) to 54.33ft (16.56m).
Operational history
The DH.34 entered service with Daimler on 2 April 1922 on the Croyden-Paris service . Daimler operated a total of six D.H.34s, four of which were leased from the Air Council, with Instone Air Line operating a further four, all leased. One aircraft was built to the order of the Soviet airline Dobrolyot.
When Imperial Airways was formed on 1 April 1924, by the merger of Daimler Airway, Instone Air Line, Handley Page Transport and the British Marine Air Navigation Company, it inherited six D.H.34s, retaining the type in service until 1926.
The DH.34s were used heavily on the cross channel air services, with the fleet flying 8,000 hours in the first nine months of operation, and the second aircraft flying over 100,000mi (160,000km) without overhaul. Six D.H.34s were lost in accidents during the four years of their operation, of which several were fatal.
Variants
DH.34 Initial production version. 11 completed. DH.34B Modication of DH.34 with extended upper wing to improve stalling characteristics.
Operators
Soviet Union
Dobrolyot

United Kingdom
Daimler Airway
Imperial Airways
Instone Air Line

Specifications (DH.34)
Data from The Encyclopedia of World Aircraft
General characteristics
Crew: Two
Capacity: Ten passengers
Length: 39 ft 0 in (11.89 m)
Wingspan: 51 ft 4 in (15.65 m)
Height: 12 ft 0 in (3.66 m)
Wing area: 590 ft² (54.8 m²)
Empty weight: 4,574 lb (2,075 kg)
Loaded weight: 7,200 lb (3,266 kg)
Powerplant: 1x— Napier Lion 12-cylinder broad arrow, 450 hp (336 kW)

Performance
Maximum speed: 111 knots (128 mph, 206 km/h)
Cruise speed: 91 knots (105 mph, 169 km/h)
Stall speed: 55 knots (63 mph , 101 km/h)
Range: 317 nm (365 mi, 587 km)
Wing loading: 12.2 lb/ft² (59.6 kg/m²)
Power/mass: 0.063 hp/lb (0.10 kW/kg)

Related development
DH.29

Comparable aircraft
Vickers Vulcan

Living Warbirds: The best warbirds DVD series.
Source: WikiPedia