De Havilland DH.50 Video -
De Havilland DH.50 Video -
De Havilland DH.50 Aircraft Information
De Havilland DH.50
DH.50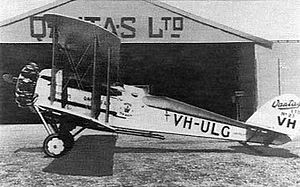 Role: Transport biplane
Manufacturer: de Havilland
First flight: 1923
Introduced: 1923
Retired: 1942
Primaryusers: QANTAS Imperial Airways
Number built: 38

The de Havilland DH.50 was a 1920s British large single-engined biplane transport built by de Havilland at Stag Lane Aerodrome, Edgware, and licence-built in Australia, Belgium and Czechoslovakia.
History
In the early 1920s, Geoffrey de Havilland realised that war surplus aircraft would need replacing, so his company designed a four-passenger-cabin biplane, the DH.50, using experience gained with the earlier de Havilland DH.9. The first DH.50 (registered G-EBFN) flew in August 1923 and was used within a few days by Alan Cobham to win a prize for reliability during trial flights between Copenhagen and Gothenburg. Only 17 aircraft were built by de Havilland; the rest were produced under licence. The different aircraft had a wide variety of engine fits.
In 1924, Cobham won the King's Cup Race air race in G-EBFN averaging 106mph (171km/h). Cobham made several long-range flights with the prototype until he replaced it with the second aircraft. The second aircraft (registered G-EBFO) was re-engined with the Armstrong Siddeley Jaguar engine and was designated the DH.50J. Cobham flew the aircraft on a 16,000mi (25,750km) flight from Croydon Airport to Cape Town between November 1925 and February 1926. The aircraft was later fitted with twin floats (produced by Short Brothers at Rochester) for a survey flight of Australia in 1926. On the outward flight from England to Australia, Cobham's engineer (A.B. Elliot) was shot and killed when they were overflying the desert between Baghdad and Basra. He was replaced by Sergeant Ward, a Royal Air Force engineer who was given permission to join the flight by his commanding officer. Also in 1926, a DH.50A floatplane was used in the first international flight made by the Royal Australian Air Force. The Chief of the Air Staff, Group Captain Richard Williams, and two crew members undertook a three-month, 10,000mi (16,093km) round trip from Point Cook, Victoria to the Pacific Islands.
Licence production
The aircraft was popular in Australia and licence production was agreed, leading to 16 aircraft being built there. QANTAS built four DH.50As and three DH.50Js, Western Australian Airlines built three DH.50As, and Larkin Aircraft Supply Company built one DH.50A. SABCA built three DH.50As in Brussels, Belgium. and Aero built seven in Prague, Czechoslovakia. One of the QANTAS-built DH.50s (G-AEUR) was the first aircraft used by the Royal Flying Doctor Service of Australia.
Variants
DH.50: Single-engined light transport biplane.
DH.50A: Built under licence in Australia and Belgium.
DH.50J: Powered by one 385hp (287kW) Armstrong-Siddeley Jaguar radial engine.

Operators
Australia
Australian Aerial Services Ltd
Holdens Air Transport
QANTAS
Rockhampton Aerial Services Ltd
Royal Australian Air Force
West Australian Airlines Ltd

Belgium
SABCA

Czechoslovakia
Czechoslovakia Government

Iraq
Iraq Petroleum Transport Company Ltd

New Zealand
Royal New Zealand Air Force

United Kingdom
Air Taxis Ltd
Brooklands School of Flying Ltd
Imperial Airways Ltd
North Sea Aerial and General Transport Company Ltd
Northern Air Lines Ltd

Specifications
Data from De Havilland Aircraft since 1909
General characteristics
Length: 29 ft 9 in (9.07 m)
Wingspan: 42 ft 9 in (13.03 m)
Height: 11 ft 0 in (3.35 m)
Wing area: 434 ft² (40.32 m²)
Empty weight: 2,253 lb (1,022 kg)
Max takeoff weight: 3,900 lb (1,769 kg)
Powerplant: 1x— Siddeley Puma inline piston engine, 230 hp (172 kw)

Performance
Maximum speed: 112 mph (97 kn, 180 km/h)
Range: 380 mi (330 nmi, 612 km)
Service ceiling: 14,600 ft (4,450 m)
Rate of climb: 605 ft/min (3.07 m/s)
Wing loading: 8.99 lb/ft² (25.3 kg/m²)
Power/mass: 0.059 hp/lb (0.097 kW/kg)

Bibliography
The Illustrated Encyclopedia of Aircraft (Part Work 1982-1985). Orbis Publishing.
Jackson, A.J. (1973). British Civil Aircraft since 1919 Volume 2. London: Putnam. ISBN0 370 10107 X.
Jackson, A.J. (1987). De Havilland Aircraft since 1909 (Second edition ed.). London: Putnam. ISBN0 85177 802 X.
Stephens, Alan (2006) [2001]. The Royal Australian Air Force: A History. London: Oxford University Press. ISBN0195555414.

Living Warbirds: The best warbirds DVD series.
Source: WikiPedia