De Havilland DH.71 Tiger Moth Video - Tiger Moth Club's Annual International Moth Rally
De Havilland DH.71 Tiger Moth Video -
De Havilland DH.71 Tiger Moth Aircraft Information
De Havilland DH.71 Tiger Moth
DH.71 Tiger Moth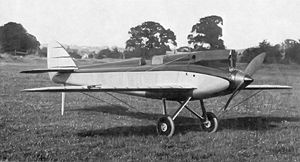 Picture - The first prototype D.H.71 Tiger Moth G-EBQU
Role: high-speed research monoplane
Manufacturer: De Havilland Aircraft Company
First flight: August 1927
Introduced: 1927
Number built: 2

The de Havilland DH.71 Tiger Moth was a single-seat monoplane, designed to research high-speed flight and test replacement engines for the Cirrus engine. The plane was designed around its test pilot, Hubert Broad, to make it as streamlined as possible.
In August, 1927, Broad flew a 62mi (100km) closed circuit record of 186.47mph (300.09km/h). Five days later he flew to 19,191ft (5,849m) without oxygen in an attempt to break the category record.
In 1930, the first DH.71 crashed in an air race in Australia. The second airframe was destroyed in an air raid in October 1940.
Specifications
General characteristics
Crew: 1
Length: 18 ft 7 in (5.66 m)
Wingspan: 22 ft 6 in (6.86 m)
Height: 7 ft 0 in (2.13 m)
Wing area: 76.5 ft² (7.11 m²)
Empty weight: 618 lb (280 kg)
Gross weight: 905 lb (411 kg)
Powerplant: 1 x— ADC Cirrus II inline piston, 85 hp (63 kW)each

Performance
Maximum speed: 166 mph (267 km/h)

Donald, David, ed (1997). The Encyclopedia of World Aircraft. Prospero Books. pp.pg 314. ISBN 1-85605-375-X.

Living Warbirds: The best warbirds DVD series.
Source: WikiPedia