De Havilland Dolphin Video -
De Havilland Dolphin Video -
De Havilland Dolphin Aircraft Information
De Havilland Dolphin
DH.92 Dolphin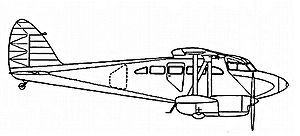 Picture - Side drawing of the D.H. 92 Dolphin.
Role: Twin-engined biplane airliner
National origin: United Kingdom
Manufacturer: de Havilland
First flight: 1936
Retired: 1936
Status: Scrapped
Number built: 1

The de Havilland DH.92 Dolphin was a 1930s British prototype light biplane airliner designed and built by de Havilland aircraft company.
Design and development
The Dolphin was designed as a modernised version of the de Havilland Dragon Rapide, incorporating ideas from the company's DH 86A and de Havilland Dragonfly but using new main assembly designs. It had a DH 86A style nose to accommodate two crew side-by-side and increased span wings of unequal span, Dragonfly-like. It first appeared with the trousered undercarriage of these earlier biplane transports, but a retractable landing gear, rather like that of the DH.88 Comet was fitted before flight. Onboard air-stairs were one of the passenger access novelties. It was powered by two 204hp (152kW) de Havilland Gipsy Six piston engines. Fuel tanks were in the wings, as in the Dragonfly, to avoid the fire hazard of the Rapide's engine nacelle tanks.
One prototype was built and first flown 9 September 1936. Geoffrey de Havilland's log shows he flew it only once more. No others were built as it proved to be too heavy structurally and the prototype was scrapped in December 1936.
In an edition of Flight magazine September 10, 1936 the decision to discontinue the type was published as follows:
The South Africa Race will be poorer by one entry, and a most interesting entry at that, for the De Havilland Company announces that the design of the - D.H. 92 is to be discontinued, and that this experimental type will not be put into production. It is stated the development of the four-engined Albatross, important contracts contributing to the expansion of the Royal Air Force, and other urgent activities impose a heavy load on certain sections of the Company's organisation, making it impossible to devote the personnel and time necessary for the early production of the Dolphin - the type-name chosen for the ninety-second De Havilland design. The manufacture and technical development of the Dragonfly, the Dragon Rapide, and the D.H.86A will, of course, be continued at any rate of output required to meet the demands air transport operators, and the development of new commercial types will follow the completion of the Albatross.
Specifications
Data from
General characteristics
Crew: 2
Capacity: 8
Length: 36 ft 0 in (10.97 m)
Wingspan: 50 ft 6 in (15.39 m)
Height: 10 ft 3 in (3.12 m)
Wing area: 393 ft² (36.5 m²)
Gross weight: 6,600 lb (2,994 kg)
Powerplant: 2 x— de Havilland Gipsy Six Series II 6-cylinder inverted air-cooled engines, 204 hp (152 kW)each

Performance
Maximum speed: estimated 161 mph (258 km/h)

Related development
de Havilland Dragon Rapide

Jackson, A.J. (1973). British Civil Aircraft since 1919 Volume 2. London: Putnam. pp.382. ISBN0 370 10010 7.
Jackson, A.J. (1978). De Havilland Aircraft since 1909. London: Putnam. ISBN0 370 30022 X.
Hayes, Paul; King, B. (2003). de Havilland biplane transports. Coulsden: Aviation Classics. ISBN0 95304132 8.

Living Warbirds: The best warbirds DVD series.
Source: WikiPedia