De Havilland Dragon Rapide Videos
De Havilland Dragon Rapide Video -
De Havilland Dragon Rapide Aircraft Information
De Havilland Dragon Rapide
DH.89 Dragon Rapide/Dominie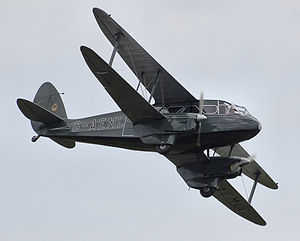 Role: Short-haul airliner
Manufacturer: de Havilland
First flight: 17 April 1934
Primaryuser: Royal Air Force
Number built: 731

The de Havilland DH.89 Dragon Rapide was a British short-haul passenger airliner of the 1930s.
Design and development
Designed by the de Havilland company in late 1933 as a faster and more comfortable successor to the DH.84 Dragon, it was in effect a twin-engined, scaled-down version of the four-engined DH.86 Express. It shared many common features with the larger aircraft including its tapered wings, streamlined fairings and the Gipsy Six engine, but it demonstrated none of the operational vices of the larger aircraft and went on to become perhaps the most successful British-built short-haul commercial passenger aircraft of the 1930s.
Prewar history
The prototype first flew on 17 April 1934 and 205 were built for owners all around the world before the outbreak of World War II. Originally designated the "Dragon Six" it was first marketed as "Dragon Rapide" although was later just called a "Rapide". With the fitting of improved trailing edge flaps from 1936, they were redesignated DH.89As.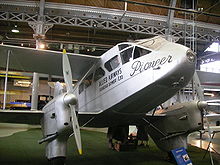 Picture - G-ADAH, built in 1935 and used by Hillmans Airways and Allied Airways until 1947. On display at the Museum of Science and Industry, Manchester, UK.
The type entered service with UK-based airlines in the summer of 1934 with Hillman Airways Ltd being first to take delivery in July. Railway Air Services (RAS) operated a fleet of Rapides from August 1934 on routes linking London, the north of England and on to Northern Ireland and Scotland. The RAS DH.89s were named after cities on the network and (eg) "Star of Lancashire".
One famous incident involving the use of a DH.89 was in July 1936 when two British MI6 intelligence agents, Cecil Bebb and Major Hugh Pollard, flew Francisco Franco in one from the Canary Islands to Spanish Morocco, at the start of the military rebellion which began the Spanish Civil War.
World War Two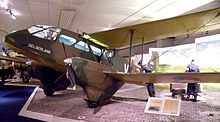 Picture - DH.89B Dominie Mark II in Dutch Air Force livery
At the start of World War II many (Dragon) Rapides were impressed by the British armed forces and served under the name de Havilland Dominie. They were used for passenger duties and radio navigation training. Over 500 more were built specifically for military purposes, powered by improved Gipsy Queen engines, to bring total production to 731. Many survivors entered commercial service after the war, and 81 were still flying on the British register in 1958. Dominie production was by both de Havilland and Brush Coachworks Ltd, the latter making the greater proportion.
Postwar operations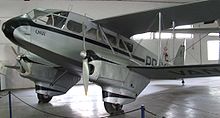 Picture - Brazilian Airliner Varig surviving example on display at Brazilian Aerospace Museum in Rio de Janeiro.
The DH.89 proved a very durable aircraft despite its relatively primitive plywood construction and many were still flying in the early 2000s. Several Rapides are still operational in the UK and several suppliers still offer pleasure flights in them. A Rapide can be seen in the Museum of Science and Industry in Manchester. Two Rapides are still airworthy in New Zealand. There is a Dragon Rapide flying with the Military Aviation Museum in Virginia Beach, Virginia, and another one based in Yolo County, California. Two are operated by classic wings for pleasure flights in UK. http://www.goliathres.com/res_website.asp?supplierCode=CLA100&page=dragon_rapide
Variants
D.H.89 Dragon Six Prototype. D.H.89 Twin engined light transport biplane. First production version.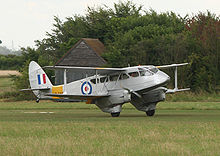 Picture - De Havilland DH-89A Dragon Rapide G-AIYR at Old Warden airfield
D.H.89A Improved version, fitted with a landing light in the nose, modified wingtips and cabin heating. D.H.89A Mk 4 One D.H. 89A aircraft, powered by two de Havilland Gipsy Queen 2 piston engines, fitted with constant speed propellers. D.H.89A Mk 5 One D.H.89A aircraft, powered by two de Havilland Gipsy Queen 3 piston engines, fitted with variable-pitch propellers. D.H.89A Mk 6 One D.H.89A aircraft fitted with Fairey X5 fixed-pitch propellers. D.H.89M Military transport version. Exported to Lithuania and Spain. D.H.89B Dominie Mk I Radio and navigation training version. D.H.89B Dominie Mk II Communications and transport version.
Operators
Civil
Argentina
Zonas Oeste y Norte de Aerolx­neas Argentinas (Z.O.N.D.A.)

Australia
Australian National Airways
Royal Flying Doctor Service of Australia

Brazil
OMTA
Varig

Canada
Canadian Pacific
Quebec Airways

Finland
Aero Oy operated two aircraft.

Iceland
Air Iceland

India
Air India
Indian National Airways
Tata Airlines

Iraq
Iraqi Airways

Ireland
Aer Lingus
Aer Turas operated one aircraft.

Latvia
Valsts Gaisa satiksme

Lebanon
Middle East Airlines

Malaysia
Borneo Airways

Netherlands
KLM

New Zealand
Air Travel (NZ) Ltd
Mount Cook Airline
National Airways Corporation
Cook Strait Airways Ltd

Palestine
Palestine Airways (British Mandate of Palestine)
Aviron

Paraguay
Aerocarga Asociados ACA

Romania
LARES

South Africa
Comair (South Africa) operated 2 aircraft.

Switzerland
Swissair

United Kingdom
Air Charter Limited
Air Atlantique Classic Flight
British European Airways
Classic Wings
British Westpoint
Crilly Airways Ltd
Hillmans Airways
Isle of Man Air Services
Jersey Airways
Lancashire Aircraft Corporation
Mayflower Air Services
Melba Airways
Olley Air Services
Railway Air Services
Scillonia Airways
Scottish Airways
Sivewright Airways
Trans European Aviation
Westward Airways (Lands End)

Yugoslavia
Aeroput

Military operators
Australia
Royal Australian Air Force

Belgium
Belgian Air Force (Seven operated from 1946)

Canada
Royal Canadian Air Force
No. 418 Squadron RCAF

Finland
Finnish Air Force

Nazi Germany
Luftwaffe operated captured aircraft.

Iran
Imperial Iranian Air Force

Israel
Israeli Air Force

Jordan
Royal Jordanian Air Force

Lithuania
Lithuanian Air Force operated two D.H.89M aircraft.

Netherlands
Royal Netherlands Air Force - four D.H.89B Mark II (transports)
No. 334 Squadron RNLAF (1944-1956)

New Zealand
Royal New Zealand Air Force
No. 4 Squadron RNZAF
No. 42 Squadron RNZAF

Peru
Peruvian Air Force

Portugal
Portuguese Air Force

Southern Rhodesia
Southern Rhodesian Air Force - Four aircraft.

South Africa
South African Air Force

Spain
Spanish Republican Air Force operated three D.H.89M.

United Kingdom
Royal Air Force
No. 24 Squadron RAF
No. 173 Squadron RAF
No. 225 Squadron RAF
No. 271 Squadron RAF
No. 510 Squadron RAF
No. 526 Squadron RAF
No. 527 Squadron RAF
No. 614 Squadron RAF
Fleet Air Arm

United States
United States Army Air Force

Popular culture
A de Havilland Dragon Rapide, the Sky Gypsy, appears in Out of Time, an episode of the BBC Science Fiction television series Torchwood, in which one is accidentally flown through a "transcendental portal" and travels from 1953 over 50 years into its passengers future. Aircraft registered as G-ACZE appears in the BBC production Agatha Christie's Poirot, Peril at End House. Dragon Rapides appear in several films including The Maggie, The Captain's Paradise, Fathom, the 1995 film adaptation of Shakespeare's Richard III, and a 1986 Spanish film, Dragon rapide.
Specifications (Dragon Rapide)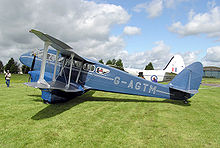 Picture - 1944 de Havilland DH89a Dragon Rapide 6
General characteristics
Crew: 1
Capacity: 8 passengers
Length: 34 ft 6 in (10.5 m)
Wingspan: 48 ft 0 in (14.6 m)
Height: 10 ft 3 in (3.1 m)
Wing area: 340 ft² (32 m²)
Empty weight: 3,230 lb (1,460 kg)
Loaded weight: 5,500 lb (2,490 kg)
Powerplant: 2x— de Havilland Gipsy Six inline engine, 200 hp (149 kW) each

Performance
Maximum speed: 157 mph (136 kn, 253 km/h) at 1,000 ft (305 m)
Range: 573 mi (498 nmi, 920 km)
Service ceiling: 16,700 ft (5,090 m)
Rate of climb: 867 ft/min (4.3 m/s)
Wing loading: 16 lb/ft² (79 kg/m²)
Power/mass: 0.036 hp/lb (60 W/kg)

Related development
de Havilland Dragon
de Havilland Express
Breda Ba.44

Bibliography
Hamlin, John F. The De Havilland Dragon Rapide Family. Tunbridge Wells, Kent, UK: Air-Britain (Historians) Ltd., 2003. ISBN 0-85130-344-7.
Jackson, A.J. De Havilland Aircraft since 1909. 1978. Putnam & Company Ltd. isbn 0-370-30022-X
Jackson, A.J. British Civil Aircraft 1919-1972: Volume II. London: Putnam(Conway Maritime Press), 1988. ISBN 0-85177-813-5

Living Warbirds: The best warbirds DVD series.
Source: WikiPedia