De Havilland Dragon Video and Pictures
De Havilland Dragon Video -
De Havilland Dragon Aircraft Information
De Havilland Dragon
DH.84 Dragon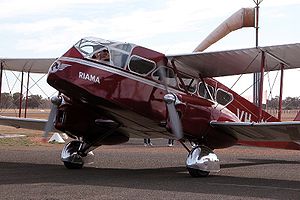 Role: Passenger and military transport / trainer
Manufacturer: de Havilland
First flight: 12 November 1932
Introduction: April 1933

The de Havilland DH.84 Dragon was a successful small commercial aircraft designed and built by the de Havilland company.
Following the commercial success of its single-engined De Havilland Fox Moth that had first flown in March 1932, that aircraft's original commercial operator Hillman Airways requested that a larger twin-engined version be built. It was a simple, light design with a plywood box fuselage using the same type of engine and similar outer wing sections of the earlier single-engined aircraft. It was originally designated the DH.84 "Dragon Moth" but marked as the "Dragon." The prototype became the first production example and entered commercial service in April 1933. It could carry 6 passengers each with 45lb (20kg) of luggage on the London-Paris route on a fuel consumption of just 13gal (49l) per hour.
The inaugural service of the Irish Airline Aer Lingus was provided by a DH Dragon, EI-ABI "Iolar", which means "Eagle" in the Irish Language. For the 50th anniversary of the airline in 1986, a replacement Dragon was acquired and restored as the "Iolar".
The "Dragon" proved very attractive as a short-haul low capacity airliner and was soon in service worldwide. From the 63rd aircraft late in 1933, the "Dragon 2" with improvements including individually framed windows and faired undercarriage struts was produced. Even though these changes were largely cosmetic the streamlining improved the aircraft's speed by about 5mph (8km/h), allowed 250lb (113kg) more payload to be carried and added 85mi (137km) of range.
British production of the DH.84 ended at the 115th aircraft, when it was replaced on the assembly line by the more powerful and elegant De Havilland Dragon Rapide. However, during World War II the DH.84 was put back into production at Bankstown, Australia as a navigational trainer for the RAAF, being preferred to the Rapide because its smaller engines were then being manufactured locally for De Havilland Tiger Moth production. A further 87 were built.
Following the end of the War, surviving DH.84s were released into commercial service and a number are still flying today.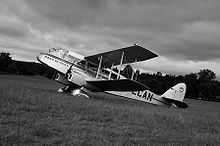 Picture - DH84 Dragon G-ECAN at Woburn Tiger Moth Rally 2007
Variants
Dragon 1: Twin-engined medium transport biplane.
Dragon 2: Improved version. Fitted with framed cabin windows and two faired main undercarriage legs.
DH.84M Dragon: Military transport version. The DH.84M was armed with two machine guns, and it could carry up to sixteen 20lb (9kg) bombs. Exported to Denmark, Iraq and Portugal.

Operators
Military operators
Australia
Royal Australian Air Force

Austria Denmark
Two DH.84 Dragons

Ethiopia
Ethiopian Air Force

Iraq
Eight DH.84M Dragons

Ireland
Irish Air Corps

New Zealand
Royal New Zealand Air Force
No. 42 Squadron RNZAF

Portugal
Portuguese Air Force - Three DH.84 Dragons

South Africa
South African Air Force

Turkey
Civil Operators
Ireland
Aer Lingus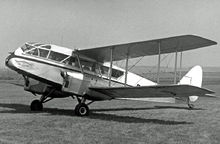 Picture - DH.84 Dragon 1 of Air Navigation & Trading (UK) in 1956
New Zealand
Air Travel (NZ) Ltd
East Coast Airways
Union Airways of N.Z. Ltd

United Kingdom
Air Navigation & Trading
Railway Air Services

Specifications (DH.84 Dragon 1)
Data from de Havilland Aircraft since 1909
General characteristics
Crew: one, pilot
Capacity: 6-10 passengers
Length: 34 ft 6 in (10.52 m)
Wingspan: 47 ft 4 in (14.43 m)
Height: 10 ft 1 in (3.07 m)
Wing area: 376 ft² (34.9 m²)
Empty weight: 2,300 lb (1,045 kg)
Loaded weight: 4,200 lb (1,909 kg)
Powerplant: 2x— de Havilland Gipsy Major 1 4-cylinder air-cooled inverted inline, 130 hp (97 kW) each

Performance
Maximum speed: 128 mph (111 knots, 206 km/h)
Cruise speed: 109 mph (95 knots, 167 km/h)
Range: 545 mi (450 nmi, 833 km)
Service ceiling: 12,500 ft (3,800 m)
Rate of climb: 612 ft/min (3.1 m/s)

Related development
de Havilland Dragon Rapide
de Havilland Express

Jackson, A.J. (1987). De Havilland Aircraft since 1909 (Third ed.). London: Putnam. ISBN0 85177 802 X.
A. J. Jackson (1988). British Civil Aircraft 1919-1972: Volume II (1988 ed.). London: Putnam (Conway Maritime Press). ISBN 0-85177-813-5

Living Warbirds: The best warbirds DVD series.
Source: WikiPedia