De Havilland Flamingo Video -
De Havilland Flamingo Video -
De Havilland Flamingo Aircraft Information
De Havilland Flamingo
DH.95 Flamingo

Picture - de Havilland Flamingo c. 1943
Role: Airliner Troop carrier Communications aircraft
Manufacturer: de Havilland
First flight: 22 December 1938
Introduced: 15 July 1939
Retired: 1950
Primaryusers: Royal Air Force BOAC
Number built: 14

The British de Havilland DH.95 Flamingo was a high-wing, twin-engined monoplane passenger airliner of the Second World War period, also used by the Royal Air Force (RAF) as a troop-carrier and for general communications duties.
Design and development
The Flamingo was designed by de Havilland, lead by their chief designer, as an all-metal twin-engined civil airliner, the first all metal aircraft built by de Havilland. The metal framework was mostly metal-covered with fabric covered,control surfaces. Two pilots were seated side-by-side with a radio operator behind them in the cockpit, with the cabin accommodating 12-17 passengers. It featured a retractable undercarriage, slotted flaps and variable pitch propellers, and was considered a highly promising sales prospect for the de Havilland company capable of competing with the American Douglas DC-3 and Lockheed Model 10 Electra.
The first prototype flew on 22 December 1938, powered by 890hp (660kW) Bristol Perseus engines. Even with these, performance was excellent with a takeoff at maximum weight in 750ft (230m) and the ability to maintain height or climb at 120mph (190km/h) on a single engine. Testing was successful, with the Flamingo being granted a certificate of airworthiness on 30 June 1939, with an initial production run of 20 aircraft being laid down.
Operational service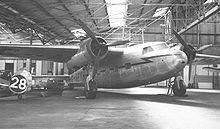 Picture - DH.95 Flamingo G-AFYH of British Air Transport at Redhill airfield, Surrey, in June 1953
The prototype was delivered to Jersey Airways in 1939 for evaluation and became the first revenue-earning Flamingo. It was later transferred to RAF duties. A further order from Jersey was frustrated by the outbreak of war, but with BOAC denied the credit needed to buy the Douglas DC-5 it ordered eight Flamingoes instead. The BOAC Flamingoes were based in the Middle East throughout the war. A further five aircraft were delivered to the RAF and one to the Fleet Air Arm. Flamingoes were mostly withdrawn from service by 1950, the last was scrapped in 1954.
A single military transport variant was built to Specification 19/39 as the DH.95 Hertfordshire. It had oval cabin windows instead of rectangular ones, and seating for 22 paratroopers. A proposed order for 40 was cancelled to leave de Havillands free to produce Tiger Moth trainers. The sole Hertfordshire crashed with the loss of 11 lives at Mill Hill, Hertfordshire on 23 October 1940, apparently due to jamming of the elevator.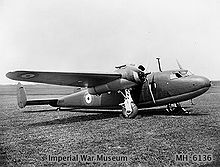 Picture - DH 95 in RAF service
Production
Flamingo to Specification 21/39 for use by the King's Flight (VIP transport) - two
Flamingo to Specification 20/39 for use by No. 24 Squadron RAF as communications aircraft - one
Flamingo civilian specification - 11, three for No. 24 Sqdn and FAA, remainder to BOAC

Operators
Military operators
United Kingdom
Royal Air Force
No. 24 Squadron RAF
Fleet Air Arm

Civilian operators
United Kingdom
BOAC
British Air Transport
Jersey Airways

Specifications (de Havilland Flamingo)
Data from
General characteristics
Crew: 3
Capacity: 17 passengers
Length: 50 ft 7 in (15.4 m)
Wingspan: 70 ft (21.4 m)
Height: 15 ft 3 in (4.7 m)
Wing area: 651 ft² (60.5 m²)
Empty weight: 12,020 lb (5,450 kg)
Loaded weight: 17,600 lb (7,980 kg)
Powerplant: 2x— Bristol Perseus XVI radial piston, 930 hp (690 kW) each

Performance
Maximum speed: 239 mph (385 km/h) at 6,500 ft (1,980 m)
Range: 1,345 mi (2,160 km)
Service ceiling: 20,900 ft (6,370 m)
Rate of climb: 1,470 ft/min (450 m/min)

Avionics
Sperry Automatic Pilot

Bibliography
Bain, Gordon. De Havilland: A Pictorial Tribute. London: AirLife, 1992. ISBN 1-85648-243-X.
Green, William and Gordon Swanborough. "De Havilland's War Orphan." Air Enthusiast. Number 30, March-June 1996, pp.1-10. Bromley, Kent, UK: Pilot Press.
Jackson, A.J. De Havilland Aircraft since 1909. London: Putnam, Third edition 1987. ISBN 0-85177-802-X.

Living Warbirds: The best warbirds DVD series.
Source: WikiPedia