De Havilland Giant Moth Video - Tiger Moth Club's Annual International Moth Rally
De Havilland Giant Moth Video -
De Havilland Giant Moth Aircraft Information
De Havilland Giant Moth
DH.61 Giant Moth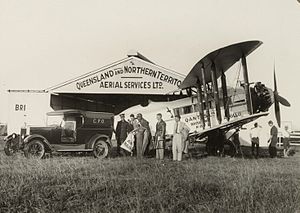 Picture - The arrival of DH.61 'Apollo' bringing the first aerial mail in Brisbane April 23, 1929. Notice the pilot's open cockpit behind the wings.
Role: Transport Biplane
Manufacturer: de Havilland
First flight: 1927
Introduced: 1928
Number built: 10

The de Havilland DH.61 Giant Moth was a 1920s British large single-engined biplane transport built by de Havilland at Stag Lane Aerodrome, Edgware.
History
Picture - The interior of the De Havilland DH.61 showing 4 passengers in the 8 passengers capacity cabin. QANTAS 1929
Following the success of the de Havilland DH.50 in Australia, the company was asked to design a larger replacement using a Bristol Jupiter engine. The cabin had room for up to eight passengers with the pilot in an open cockpit behind the wings. The aircraft took only ten weeks to design and the prototype first flew in December 1927. Following test flights in England the aircraft was sent to de Havilland Australia in Melbourne. It first flew after reassembly on 2 March 1928 and was used on scheduled services between Adelaide and Broken Hill by MacRobertson Miller Aviation. The prototype was originally called Canberra which was used as a type name until changed to Giant Moth.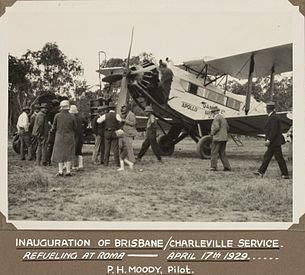 Picture - Inauguration of DH.61
Ten aircraft were built (including one in Canada built from components). Two aircraft for Canada were fitted with Short Brothers floats at Rochester before delivery to Western Canada Airlines Ltd. Three aircraft were used in Australia on air mail services by Australian Aerial Services Ltd and QANTAS. Another aircraft G-AAAN was bought by the Daily Mail to carry a photographer and his motorcycle around the United Kingdom, the aircraft would land at the nearest airfield to the story. This aircraft was also equipped with a dark room to enable the photographs to be developed on the return journey. One aircraft G-AAEV named Youth of Britain was used by Alan Cobham in an aviation promotional tour of the United Kingdom in 1929. During the tour the aircraft carried 10,000 schoolchildren free of charge.
Operators
Australia
Guinea Airways Ltd
Holden Air Transport Ltd
MacRobertson Miller Aviation Company Ltd
QANTAS
West Australian Airlines Ltd

Colombia
Avianca

Canada
London Air Transport Ltd
Ontario Provincial Air Services
Western Canada Airways Ltd

United Kingdom
Alan Cobham Aviation Ltd
Associated Newspapers Ltd
Imperial Airways Ltd
National Flying Services Ltd

Specifications
Data from
General characteristics
Length: 39 ft 0 in (11.89 m)
Wingspan: 52 ft 0 in (15.85 m)
Height: 13 ft 1 in (3.99 m)
Wing area: 613 ft² (56.95 m²)
Empty weight: 3,650 lb (1,656 kg)
Max takeoff weight: 7,000 lb (3,175 kg)
Powerplant: 1x— Bristol Jupiter XI radial piston engine, 500 hp (373 kw)

Performance
Maximum speed: 132 mph (212 km/h)
Range: 450 mi (724 km)
Service ceiling: 18,000 ft (5,485 m)

The Illustrated Encyclopedia of Aircraft (Part Work 1982-1985). Orbis Publishing.
Jackson, A.J. (1973). British Civil Aircraft since 1919 Volume 2. London: Putnam. ISBN0 370 10107 X.

Living Warbirds: The best warbirds DVD series.
Source: WikiPedia