De Havilland Hercules Video and Pictures
De Havilland Hercules Video -
De Havilland Hercules Aircraft Information
De Havilland Hercules
DH.66 Hercules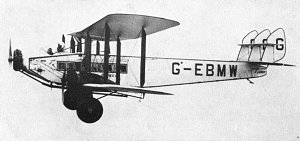 Picture - Imperial Airways de Havilland Hercules
Role: Airliner
Manufacturer: De Havilland Aircraft Company
First flight: 1926
Introduced: 1926
Retired: 1942
Primaryusers: Imperial Airways West Australian Airways South African Air Force
Number built: 11

The de Havilland DH.66 Hercules was a 1920s British seven-passenger, three-engined airliner built by De Havilland Aircraft Company at Stag Lane Aerodrome. As a more modern replacement for the D.H.10s used on the RAF's air-mail service, Imperial Airways used the Hercules effectively to provide long-distance service to far-flung regions. Although the giant airliners were slow and cumbersome, they pointed the way for airliners in the future.
Design and development
The Hercules was designed for Imperial Airways when they took over the Air Mail Route from Cairo to Baghdad from the Royal Air Force. The design was a three-engined biplane with room for seven passengers and the ability to carry mail. The prototype first flew on 30 September 1926, and an order for five aircraft was received from Imperial Airways. The type name Hercules was chosen in a competition in the Meccano Magazine in June 1926.
Operational history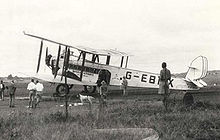 Picture - Imperial Airways DH.66 Hercules
An inaugural flight between Croydon and India left the United Kingdom on 27 December 1926, and arrived in Delhi on the 8 January 1927. West Australian Airways ordered four aircraft to replace the DH.50. On 2 June 1927, the first service on the Perth-Adelaide route was carried out. Imperial Airways ordered two more aircraft but it lost three aircraft in accidents between September 1929 and April 1930. To replace the lost aircraft, two were purchased from West Australian Airways. The Imperial Airways aircraft were withdrawn from service in December 1935 following another crash in Southern Rhodesia in November 1935. Three aircraft were sold to South African Air Force. One of the Australian aircraft survived until 1942 when it was destroyed by enemy action.
Operators
Australia
West Australian Airways

South Africa
South African Air Force

United Kingdom
Imperial Airways

Specifications (DH.66A)
General characteristics
Crew: 3
Length: 56 ft (17.08 m)
Wingspan: 79 ft 6 in (24.24 m)
Height: 18 ft 3 in (5.56 m)
Wing area: 1,547 ft² (143.7 m²)
Empty weight: 9,060 lb (4,110 kg)
Max takeoff weight: 15,600 lb (7,076 kg)
Powerplant: 3x— Bristol Jupiter VI radial piston engine, 420 hp (313 kW) each

Performance
Maximum speed: 129 mph (208 km/h)
Range: 525 mi (845 km)
Service ceiling: 13,100 ft (3,990 m)
Rate of climb: 635 ft/min (3.2 m/s)

Related development
De Havilland DH.72

Bibliography
The Illustrated Encyclopedia of Aircraft (Part Work 1982-1985). London: Orbis Publishing, 1985.
Jackson, A.J. British Civil Aircraft since 1919, Volume 2. London: Putnam, 1974. ISBN 0-370-10010-7.

Living Warbirds: The best warbirds DVD series.
Source: WikiPedia