De Havilland Hornet Moth Video - Tiger Moth Club's Annual International Moth Rally
De Havilland Hornet Moth Video -
De Havilland Hornet Moth Aircraft Information
De Havilland Hornet Moth
DH.87 Hornet Moth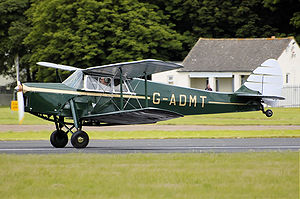 Picture - 1936 de Havilland DH87B Hornet Moth
Role: Trainer and Tourer
Manufacturer: de Havilland
First flight: 9 May 1934
Status: still in operation
Primaryuser: private owner pilots
Produced: 1935-1938
Number built: 164

The de Havilland DH.87 Hornet Moth was a single-engined cabin biplane designed by the de Havilland Aircraft Company in 1934 as a potential replacement for its highly successful de Havilland Tiger Moth trainer. Although its side-by-side two-seat cabin made it closer in configuration to the modern aircraft that military trainee pilots would later fly, there was no interest from the RAF and the aircraft was put into production for private buyers.
Design and development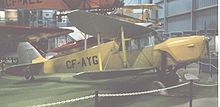 Picture - DH.87A Hornet Moth retaining the original tapered wing design. Wetaskiwin, Alberta, June 1996
The prototype first flew at Hatfield on 9 May 1934 and, with two other pre-production aircraft, embarked on an extensive test program that resulted in the first production aircraft (designated DH.87As) completed in August 1935 having wings of greater outboard taper. These were found to cause problems, especially when landing in three-point attitude: there was a tendency for the tips to stall, causing embarrassment to the pilot and often damage to the aeroplane. From early 1936 de Havilland offered owners of the DH.87A replacement wings of the new squarer shape at a reduced price in exchange for the original wings, while new aircraft built with the square wings (which reduced overall span by 8in/20cm) were designated DH.87Bs (from about Builder's Number 68). The alterations slightly increased overall weight at some penalty to performance.
Production was 164 aircraft, of which 84 were placed on the British Register. Many were impressed for military service during World War II, mostly being used by the RAF as liaison aircraft.
Small numbers survived the war and with time became highly prized by vintage aircraft enthusiasts. A small number are still flying over seventy years after production ceased.
Variants
DH.87 Hornet Moth: prototypes
DH.87A Hornet Moth: production model
DH.87B Hornet Moth: production model with wing modification

Operators
Civil charter operators and pilots 1935-2009
United Kingdom Australia Austria Belgium Canada France India South Africa Spain Switzerland
Military operators
Canada
Royal Canadian Air Force

Portugal
Portuguese Air Force

South Africa
South African Air Force

United Kingdom
Royal Air Force (1940-1945)
No. 24 Squadron RAF
No. 49 Squadron RAF
No. 116 Squadron RAF
No. 510 Squadron RAF
No. 526 Squadron RAF
No. 527 Squadron RAF
No. 528 Squadron RAF
No. 529 Squadron RAF

Specifications (DH.87B)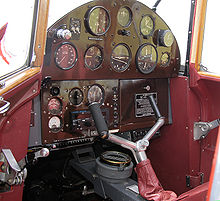 Picture - 1936 de Havilland DH87B Hornet Moth cockpit
Data from de Havilland Aircraft since 1909
General characteristics
Crew: 1, pilot
Capacity: 1, passenger or trainee
Length: 24 ft 11½ in (7.61 m)
Wingspan: 31 ft 11 in (9.73 m)
Height: 6 ft 7 in (2.01 m)
Wing area: 244.5 ft² (22.7 m²)
Empty weight: 1,241 lb (564 kg)
Loaded weight: 1,950 lb (886 kg)
Powerplant: 1x— de Havilland Gipsy Major 1 4 cylinder air-cooled inverted straight engine, 130 hp (97 kW)

Performance
Maximum speed: 124 mph (108 kn, 200 km/h)
Cruise speed: 105 mph (91 kn, 169 km/h)
Range: 620 mi (539 nmi, 998 km)
Service ceiling: 14,800 ft (4,500 m)
Rate of climb: 690 ft/min (3.51 m/s)
Wing loading: 7.97 lb/ft² (39.0 kg/m²)
Power/mass: 0.067 hp/lb (0.11 kW/kg)

In fiction
A Hornet Moth appears in Ken Follett's 2002 suspense novel Hornet Flight. It also appears in Jasper Fforde's 2005 mystery novel The Big Over Easy.
Bibliography
Jackson, A.J. de Havilland Aircraft since 1909. London: Putnam, Third edition, 1987. ISBN 0-85177-802-X.

Living Warbirds: The best warbirds DVD series.
Source: WikiPedia