De Havilland Leopard Moth Video - Tiger Moth Club's Annual International Moth Rally
De Havilland Leopard Moth Video -
De Havilland Leopard Moth Aircraft Information
De Havilland Leopard Moth
DH.85 Leopard Moth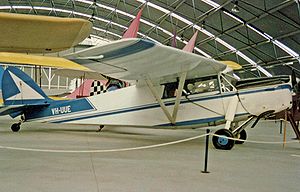 Picture - Leopard Moth exported to Australia in 1935, exhibited airworthy at the Drage Air World Museum at Wangaratta Airport Victoria in 1988
Role: Utility aircraft
Manufacturer: de Havilland
First flight: 27 May 1933
Introduced: 8 July 1933
Primaryusers: United Kingdom private pilots Australian pilots
Produced: 1933-1936
Number built: 133

The de Havilland DH.85 Leopard Moth is a three-seat high-wing monoplane designed and built by the de Havilland Aircraft Company in 1933. It was a successor to the DH.80 Puss Moth and replaced it on the company's Stag Lane and later Hatfield production lines. It was similar in configuration to the earlier aircraft, but instead of a fuselage with tubular steel framework, a lighter all-plywood structure was used which allowed a substantial improvement in range, performance and capacity on the same type of engine. The pilot is seated centrally in front of two side-by-side passengers and the wings can be folded for hangarage.
The prototype first flew on 27 May 1933 and in July won the King's Cup Race at an average speed of 139.5mph (224.5km/h), piloted by Geoffrey de Havilland. A total of 133 aircraft were built, 71 of them for owners in the British Isles, and 10 for Australia, before production ended in 1936.
44 Leopard Moths were impressed into military service in Britain and others in Australia during World War II, mostly as communications aircraft. Only a few managed to survive six years of hard usage although a small number were still airworthy seventy years after the last was completed. Six remained operational in the U.K. in 2009.
Operators
Military operators
Germany
Luftwaffe (small numbers)

Netherlands
Dutch Army Aviation Group

Portugal
Portuguese Air Force

South Africa
South African Air Force

Southern Rhodesia
Southern Rhodesian Air Force - One aircraft only.

Specifications (DH.85)
Data from De Havilland Aircraft since 1909
General characteristics
Crew: 1, pilot
Capacity: 2 passengers
Length: 24 ft 6 in (7.47 m)
Wingspan: 37 ft 6 in (11.43 m)
Height: 8 ft 9 in (2.67 m)
Wing area: 206 ft² (19.1 m²)
Empty weight: 1,290 lb (586 kg)
Loaded weight: 2,225 lb (1,011 kg)
Powerplant: 1x— de Havilland Gipsy Major 4 cylinder air-cooled inverted straight engine, 130 hp (97 kW)

Performance
Maximum speed: 137 mph (119 knots, 221 km/h)
Cruise speed: 119 mph (103 knots, 192 km/h)
Range: 715 mi (622 nmi, 1,151 km)
Service ceiling: 21,500 ft (6,560 m)
Rate of climb: 550 ft/min (2.8 m/s)

Related development
DH.80 Puss Moth

Comparable aircraft
RWD-13
Comte AC-12

A. J. Jackson (1987). De Havilland Aircraft since 1909 (Third ed.). London: Putnam. ISBN0 85177 802 X.
A. J. Jackson (1988). British Civil Aircraft 1919-1972: Volume II (1988 ed.). London: Putnam (Conway Maritime Press).

Living Warbirds: The best warbirds DVD series.
Source: WikiPedia