De Havilland Moth Minor Video - Tiger Moth Club's Annual International Moth Rally
De Havilland Moth Minor Video -
De Havilland Moth Minor Aircraft Information
De Havilland Moth Minor
DH.94 Moth Minor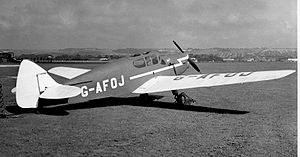 Picture - DH.94 Moth Minor Coupe at Portsmouth Airport in September 1954
Role: Tourer/Trainer
Manufacturer: de Havilland
First flight: 22 June 1937
Number built: c.140
Unit cost: £575

The de Havilland DH.94 Moth Minor was a 1930s British two-seat tourer/trainer aircraft built by de Havilland at Hatfield Aerodrome, England and by de Havilland Australia at Bankstown Aerodrome, Australia.
Design and development
The Moth Minor was designed as a low-wing monoplane to replace the biplane Moth series, intended to give similar performance on lower power, and not requiring rigging. Its predecessor was the DH.81 Swallow Moth monoplane of 1931, of which only one was built. The wooden prototype of the DH.94 was first flown by Geoffrey de Havilland on 22 June 1937 at Hatfield Aerodrome. Production started and nearly 100 examples had been built by the outbreak of World War II. With a selling price of only £575 the Moth Minor was popular with flying clubs keen to acquire modern monoplanes. Nine aircraft were specially-built with hinged coupe tops instead of the normally open cockpit.
As the factory at Hatfield was needed for the war effort the drawings, jigs, components and unfinished aircraft were delivered to the de Havilland factory at Bankstown, Sydney. More than 40 aircraft were produced in Australia.
Civil aircraft operated in the United Kingdom were impressed into wartime service with the Royal Air Force and Fleet Air Arm, one example was used by the United States Army Air Corps. A large number of civil aircraft from the UK were sent to Australia, where they and a handful of locally-built Australian civil aircraft were impressed into the Royal Australian Air Force.
After World War II, several Moth Minors have continued to fly with private owners in the United Kingdom.
Variants
DH.94 Moth Minor: Two-seat touring and training aircraft.
Moth Minor Coupe: Two-seat touring and training aircraft, with a built-up rear fuselage and hinged cabin top.

Operators
Military operators
Australia
Royal Australian Air Force

New Zealand
Royal New Zealand Air Force
No. 2 Squadron RNZAF
No. 20 Squadron RNZAF
No. 21 Squadron RNZAF
No. 22 Squadron RNZAF

South Africa
South African Air Force

United Kingdom
Royal Air Force
Royal Navy

United States
United States Army Air Corps

Specifications
Data from British Civil Aircraft since 1919, Vol 2
General characteristics
Crew: Two
Length: 24 ft 5 in (7.44 m)
Wingspan: 36 ft 7 in (11.15 m)
Height: 6 ft 4 in (1.93 m)
Wing area: 162 ft² (15.05 m²)
Empty weight: 983 lb (446 kg)
Max takeoff weight: 1,550 lb (703 kg)
Powerplant: 1x— de Havilland Gipsy Minor 4-cylinder inline piston engine, 90 hp (67 kw)

Performance
Maximum speed: 103 kn (118 mph, 190 km/h)
Cruise speed: 87 kn (100 mph, 161 km/h)
Range: 261 nmi (300 mi, 483 km)
Service ceiling: 16,500 ft (5,030 m)
Rate of climb: 620 ft/min (3.15 m/s)
Wing loading: 9.57 lb/ft² (46.7 kg/m²)
Power/mass: 0.058 hp/lb (0.095 kW/kg)

Comparable aircraft
Miles Hawk Trainer
Yakovlev UT-2
RWD-23

Bibliography
The Illustrated Encyclopedia of Aircraft (Part Work 1982-1985). Orbis Publishing.
"Moth Successor: The New Moth Minor Described" Flight 1939

Living Warbirds: The best warbirds DVD series.
Source: WikiPedia