De Havilland Puss Moth Video -
De Havilland Puss Moth Video -
De Havilland Puss Moth Aircraft Information
De Havilland Puss Moth
DH.80 Puss Moth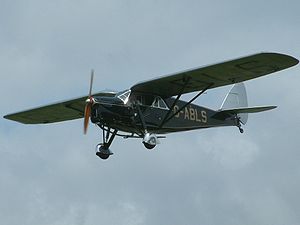 Picture - de Havilland DH.80A Puss Moth G-ABLS first registered in 1931
Role: Light utility aircraft
Manufacturer: de Havilland
First flight: 9 September 1929
Introduced: March 1930
Produced: 1929-1933
Number built: 284

The de Havilland DH.80A Puss Moth is a three seater high-wing monoplane aeroplane designed and built by the de Havilland Aircraft Company between 1929 and 1933. It flew at a speed approaching 124mph (200km/h), making it one of the highest-performance private aircraft of its era.
Design history
The unnamed DH.80 prototype which first flew in September 1929 was designed for the flourishing private flying movement in the United Kingdom. It was a streamlined all-wooden aircraft fitted with the new de Havilland Gipsy III inverted inline engine that gave unimpeded vision across the nose without the protruding cylinder heads of the earlier Gipsy II engine.
After the prototype was tested, the aircraft was redesigned with a fabric-covered steel-tube fuselage and as such redesignated the DH.80A Puss Moth. The first production aircraft flew in March 1930 and was promptly sent on a sales tour of Australia and New Zealand. Orders came quickly and in the three years of production ending in March 1933, 259 were manufactured in England. An additional twenty-five aircraft were built by de Havilland Canada. Most were fitted with the 130hp (97kW) Gipsy Major engine that gave slightly better performance.
Most DH.80As were used as private aircraft, though many also flew commercially with small air charter firms for both passenger and mail carrying. Seating was normally two although in commercial use two passengers could be carried in slightly staggered seats allowing the rear passenger's legs to lie beside the forward passenger seat. The wings folded backwards for storage, pivoting on the rear spar root fitting and the V-strut root fitting, a system used on other De Havilland light airplanes of the period.
It was replaced on the production line by the DH.85 Leopard Moth that, with a plywood fuselage, was both cheaper to build and, being lighter, had better performance on the same rather modest 130hp (97kW) Gipsy Major engine.
Surviving British civilian aircraft were impressed into service during World War II to act as communication aircraft. A small number survive into the early 21st century.
Record breaking flights
DH.80s were used for a number of record breaking flights during the early 1930s. Early in 1931 Nevill Vintcent made the first flight from England to Ceylon in G-AAXJ. In July-August 1931 Amy Johnson made an eight-day solo flight to Tokyo in G-AAZI Jason II. Late in 1931, the Australian Bert Hinkler piloted a Canadian-built CF-APK on a series of important flights including New York-Jamaica, Jamaica to Venezuela, and a 22-hour west-east crossing of the South Atlantic, only the second solo transatlantic crossing. Most famous of the record breaking Puss Moths was Jim Mollison's G-ABXY The Heart's Content which included the first solo east-west Atlantic crossing in August 1932 and the first east-west crossing of the South Atlantic from Lympne Aerodrome to Natal, Brazil in February 1933. His wife Amy Johnson made record flights between England and Cape Town using G-ACAB Desert Cloud in 1932. It was also used in a number of World War II battles, including D-day. C.J. Melrose flew VH-UQO, named 'My Hildegarde' in the 1934 MacRobertson Air Race. They finished overall seventh and second on handicap in a time of 10 days 16 hours.
Technical faults
Early in its career, the DH.80A was plagued by a series of fatal crashes, the most famous being to Australian aviator Bert Hinkler while crossing the Alps in CF-APK on 7 January 1933. The cause was eventually pinned down to "flutter" caused by turbulence leading to wing failure - this was corrected by stiffening the front strut with a jury strut to the rear wing root fitting. One aircraft took part in the Challenge 1934 European tourist plane contest, but dropped out because of an engine fault on one of the last stages.
Variants
de Havilland DH.80: Prototype, 120hp (89kW) Gipsy III engine.
de Havilland DH.80A Puss Moth: Two or three seat light aircraft, mostly with 130hp (97kW) Gipsy Major engine.

Operators
Australia
Marshalls Airways

Canada
Royal Canadian Air Force

New Zealand
Royal New Zealand Air Force
No. 42 Squadron RNZAF

South Africa
South African Air Force

Spain
Spanish Republican Air Force

Spanish State
Spanish Air Force

United Kingdom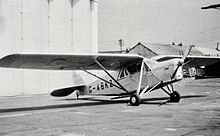 Picture - DH.80A taxi aircraft of East Anglian Flying Services at Manchester (Ringway) Airport in June 1948
Aberdeen Airways
Air Commerce
Air Taxis
Birkett Air Service
British Air Navigation
East Anglian Flying Services
Royal Air Force
No. 510 Squadron RAF

Germany
Luftwaffe (small numbers)

Specifications (DH.80)
Data from Jackson, 1974.
General characteristics
Crew: One
Capacity: 1 or 2 passengers
Length: 25 ft 0 in (7.6 m)
Wingspan: 36 ft 9 in (11.2 m)
Height: 7 ft 0 in (2.1 m)
Wing area: 222 ft² (20.6 m²)
Empty weight: 1,265 lb (575 kg)
Loaded weight: 2,050 lb (932 kg)
Powerplant: 1x— de Havilland Gipsy III 4-cylinder, aircooled inline engine, 120 hp (97 kW)

Performance
Maximum speed: 128 mph (196 km/h)
Range: 300 mi (483 km)
Service ceiling: 17,500 ft (3,335 m)
Rate of climb: 630 ft/min (192 m/min)

Related development
DH.85 Leopard Moth

Comparable aircraft
RWD-13
Desoutter Mk.II

Jackson, A.J. British Civil Aircraft since 1919 (Volume 2). London, Putnam, 1974. ISBN 0 370 10010 7
A. J. Jackson (1988). British Civil Aircraft 1919-1972: Volume II (1988 ed.). London: Putnam (Conway Maritime Press).

Living Warbirds: The best warbirds DVD series.
Source: WikiPedia