De Havilland Sea Venom Video - Takeoff - With Vampire
De Havilland Sea Venom Video - Overview
De Havilland Sea Venom Aircraft Information
De Havilland Sea Venom
Sea Venom / Aquilon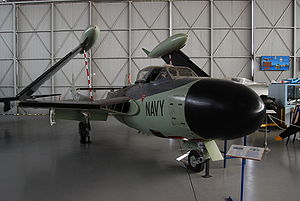 Picture - Sea Venom (WZ931) at the South Australian Aviation Museum, Port Adelaide
Role: Fighter-bomber
National origin: United Kingdom
Manufacturer: de Havilland Aircraft Company SNCASE
First flight: 2 September 1949
Primaryusers: Royal Navy French Navy Royal Australian Navy
Developed from: de Havilland Venom

The de Havilland Sea Venom was a British postwar carrier-capable jet aircraft developed from the de Havilland Venom. It served with the Royal Navy Fleet Air Arm and with the Royal Australian Navy. The French Navy operated the Aquilon, a version of the Sea Venom FAW.20 licence-built by SNCASE (Sud-Est).
Design and development
The Sea Venom was the navalised version of the Venom NF.2 two-seat night fighter, and was used as an all-weather interceptor by the FAA. The necessary modifications for use on the Royal Navy's aircraft carriers included folding wings, a tailhook (which retracted into a characteristic "lip" over the jetpipe) and strengthened, long-stroke undercarriage. The canopy was modified to allow ejection from underwater. The first prototype made its first flight in 1951, and began carrier trials that same year. A further two prototypes were built. The first production Sea Venom took the designation FAW.20 (Fighter, All-Weather). It was powered by a single de Havilland Ghost 103 turbojet engine and its armament was the same as the RAF version. The next variant was the FAW.21, which included the modifications introduced in the Venom NF.2A and NF.3. Some of these modifications included the Ghost 104 engine, a clear-view canopy and American radar. The final Royal Navy variant was the FAW.22 powered by the Ghost 105 engine. 39 of this type were built in 1957-58. Some were later fitted out with the de Havilland Firestreak air-to-air missile.
Seven FAW.21s were modified in 1958 for Electronic countermeasures (ECM) purposes, with the cannon replaced by the ECM equipment. These became the ECM.21. 831 Naval Air Squadron, the sole squadron to be equipped with it, was shore-based at RAF Watton from 1963 and disbanded in 1966. Converted FAW.22s were similarly known as the ECM.22.
A modernised Sea Venom project, the DH.116 with swept wings and upgraded radar was considered, but cancelled as the Royal Navy believed that any replacement needed two engines. The de Havilland Sea Vixen ultimately replaced the Sea Venom.
Operational history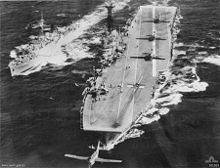 Picture -
The RAF fighter-bomber Venoms saw service during the Malayan Emergency which took place between 1948 and 1960, although they did not begin operations until the mid-1950s with Nos. 45 and 60 Squadrons RAF. While there, the Venom supported operations against Communist guerrillas as part of Operation Firedog, the codename for Royal Air Force operations in Malaya. Venoms were lent to the Royal New Zealand Air Force for use in the same conflict where they operated with No. 14 Squadron RNZAF.
The Venom, along with its Royal Navy counterpart, the Sea Venom, also saw service during the Suez Crisis being operated by Nos. 6, 8 and 249 Squadrons RAF flying from RAF Akrotiri, Cyprus. The Anglo-French invasion, codenamed Operation Musketeer, took place in response to the nationalisation of the Suez Canal by Egypt's leader, General Nasser. The air war began on the 31 October 1956 signalling the beginning of the Suez War. The Venoms launched a number of sorties, attacking a variety of military installations on the ground. They also saw much action in the Middle East, supporting operations against terrorists in Aden and Oman, losing some aircraft in the process. Venoms additionally saw service during the Mau Mau insurgency in Kenya.
All Venoms in RAF service were withdrawn from first-line service in 1962, having proven their worth in a variety of locations across the world, in peace and war, and in some of the most difficult climates the RAF has ever faced. The last non-RAF Venoms to leave active service were Swiss Air Force Venoms which retired in 1983. About 20 Venoms continue to fly as of 2004, performing at various air shows, while a number of examples are preserved in museums in the United Kingdom and abroad, in non-flying, static display condition.
Royal Navy service
The Sea Venom saw much service during its time with the Royal Navy. In 1956, they, alongside RAF Venoms, took part in the Suez War which began on 31 October. They were part of Nos. 809, 892 and 893 Naval Air Squadrons based on the light fleet carrier HMSAlbion and fleet carrier HMSEagle. The Sea Venoms launched many sorties, bombing a variety of targets in Egypt in the process. In 1958, during the Cyprus Emergency, Sea Venoms of 809 NAS, operating off Albion, flew a number of sorties against the Cypriot terrorists. The type also saw service during conflicts in the Middle East.
By 1959, the Sea Venom began to be replaced in Royal Navy service by the de Havilland Sea Vixen, an aircraft that also had the distinctive twin-boom tail. The Sea Venom would be withdrawn from frontline service soon afterwards.
Service with other nations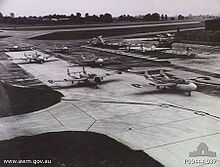 Picture - Royal Navy Sea Venom aircraft being handed over to the Royal Australian Navy, ca. 1955
Thirty-nine Sea Venom FAW.53s saw service with the Royal Australian Navy (RAN), replacing the Hawker Sea Fury. The Sea Venom entered service in 1956 and, during its service with the RAN, operated off the aircraft carrier HMAS Melbourne. It was taken out of first-line service in 1967, replaced by the American A-4 Skyhawk. The Aquilon saw service with the French Navy until being withdrawn in 1963.
Variants
Sea Venom
Sea Venom NF.20 Prototype Sea Venom, based on Venom NF.2. FAW.20 Initial production aircraft, based on Venom NF.2A. 4,850 lbf (21.6 kN) Ghost 103 turbojet engine, AI Mk 10 (US SCR 720) radar. 50 built. FAW.21 Improved version, equivalent to Venom NF.3. 4,950 lbf (22.1 kN) Ghost 104 engine, AI Mk 21 (US APS-57) radar, strengthened long-stroke undercarriage.
ECM.21 Six FAW.21s modified from 1957 for ECM purposes. No armament.
ECM.21 Six FAW.21s modified from 1957 for ECM purposes. No armament.
FAW.22 More powerful (5,300 lbf (23.6 kN)) Ghost 105 engine, giving improved high-altitude performance. 39 new built.
ECM.22 Equivalent of ECM.21, based on FAW.22
ECM.22 Equivalent of ECM.21, based on FAW.22
FAW.53 Australian designation for the Sea Venom FAW.21. 39 built.
SNCASE Aquilon
SNCASE (Sud-Est) licence-built 121 Sea Venom FAW.20 as the Aquilon for the French Navy.
Aquilon 20 - Assembled from the parts provided by de Havilland
Aquilon 201 - Single prototype built in France.
Aquilon 202 - Two-seat version with ejector seats, an American AN/APQ-65 radar and air-conditioning.
Aquilon 203 - Single-seat version with an American AN/APQ-94 radar and equipped with racks for air-to-air missiles.
Aquilon 204 - Two-seat training version without guns.

Operators
Sea Venom operators
Australia
Royal Australian Navy Fleet Air Arm
724 Squadron
805 Squadron
808 Squadron

United Kingdom
Royal Navy Fleet Air Arm
700 Naval Air Squadron
736 Naval Air Squadron
738 Naval Air Squadron
750 Naval Air Squadron
766 Naval Air Squadron
787 Naval Air Squadron
800 Naval Air Squadron
808 Naval Air Squadron
809 Naval Air Squadron
810 Naval Air Squadron
831 Naval Air Squadron
890 Naval Air Squadron
891 Naval Air Squadron
892 Naval Air Squadron
893 Naval Air Squadron
894 Naval Air Squadron

Aquilon operators
France
French Navy Aviation Navale

Survivors
In Australia, a number of Sea Venom FAW.53s have survived.
Sea Venom FAW.22 - XG680 on display at North East Aircraft Museum, Sunderland, United Kingdom.

Specifications (Sea Venom FAW.22)
Data from De Havilland's Sea VixenJackson 1978, pp.481-2
General characteristics
Crew: 2
Length: 36 ft 7 in (11.15 m)
Wingspan: 42 ft 10 in (13.06 m)
Height: 8 ft 6¼ in (2.60 m)
Wing area: 279.8 ft² (25.9 m²)
Max takeoff weight: 15,800 lb (7,167 kg)
Powerplant: 1x— de Havilland Ghost 105 turbojet, 5,300 lbf (23.6 kN)

Performance
Maximum speed: 575 mph (500 knots, 927 km/h) at sea level
Range: 705 mi (613 nmi, 1,135 km)
Service ceiling: 39,500 ft (12,040 m)
Rate of climb: 5,750 ft/min (29.2 m/s)

Armament
Guns: 4x— 20 mm (.79 in) Hispano Mk.V cannon, 150 rpg
Rockets: 8x— RP-3 "60 lb" (27 kg) rockets
Bombs: 2x— 1000 lb (450 kg) bombs

Related development
de Havilland Venom
de Havilland Vampire
de Havilland Sea Vixen

Comparable aircraft
Mikoyan-Gurevich MiG-9
F-84 Thunderjet
F2H Banshee
F9F Panther
Hawker Sea Hawk
Yakovlev Yak-25 (1947)

Bibliography
Green, William. The World's Fighting Planes. London: Macdonald, 1964.
Gunston, Bill. Fighters of the Fifties. Cambridge, UK: Patrick Stephens Limited, 1981. ISBN 0-85059-463-4.
Mason, Francis K. The British Fighter since 1912. Annapolis, Maryland, USA:Naval Institute Press, 1992. ISBN 1-55750-082-7.
Jackson, A.J. (1978). de Havilland Aircraft since 1909. London: Putnam Publishing. ISBN0 370 30022 X.
Jackson, A.J. De Havilland Aircraft since 1909. London:Putnam, Third edition, 1987. ISBN 0 85177 802 X.
Sturtivant, Ray. "De Havilland's Sea Venom...a Naval Twin Boomer". Air International, August 1990, Vol 39. No 2. pp. 81-90. ISSN 0306-5634.
Thetford, Owen (1958). British Naval Aircraft 1912-58. London: Putnam Publishing.
Winchester, Jim, ed. "De Havilland Sea Vixen." Military Aircraft of the Cold War (The Aviation Factfile). Rochester, Kent, UK: The Grange plc., 2006. ISBN 1-84013-929-7.

Living Warbirds: The best warbirds DVD series.
Source: WikiPedia