De Havilland Tiger Moth Video - How to Fly a Tiger Moth
De Havilland Tiger Moth Video - Tiger Moth Club's Annual International Moth Rally
De Havilland Tiger Moth Aircraft Information
De Havilland Tiger Moth
DH 82 Tiger Moth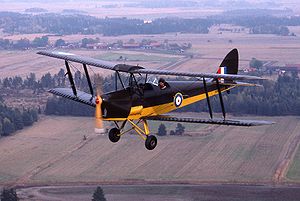 Picture - de Havilland DH 82A Tiger Moth
Role: Trainer
Manufacturer: de Havilland Aircraft Company
Designed by: Geoffrey de Havilland
First flight: 26 October 1931
Introduced: 1932
Retired: 1959
Status: Retired from military service, still in civil use
Primaryusers: Royal Air Force Royal Canadian Air Force Royal Australian Air Force Royal New Zealand Air Force-- only 3 operators given. See other military operators in article----;
Produced: 1931-1944
Number built: 8,868
Developed from: de Havilland DH.60 Moth
Variants: Thruxton Jackaroo

The de Havilland DH 82 Tiger Moth is a 1930s biplane designed by Geoffrey de Havilland and was operated by the Royal Air Force and others as a primary trainer. The Tiger Moth remained in service with the RAF until 1952 when many of the surplus aircraft entered civil operation. Many other nations used the Tiger Moth in both military and civil applications, and it remains in use as a recreational aircraft. It is still occasionally used as a primary training aircraft, particularly for those pilots wanting to gain experience before moving on to other tailwheel aircraft, although most Tiger Moths have a skid. Many are now employed by various companies offering trial lesson experiences. Those in private hands generally fly far fewer hours and tend to be kept in concours condition. The de Havilland Moth club founded 1975 is now a highly organized owners' association offering technical support and focus for Moth enthusiasts.
Design and development
The Tiger Moth trainer prototype was derived from the DH 60 de Havilland Gipsy Moth in response to Air Ministry specification 13/31 for an ab-initio training aircraft. The main change to the DH Moth series was necessitated by a desire to improve access to the front cockpit since the training requirement specified that the front seat occupant had to be able to escape easily, especially when wearing a parachute. Access to the front cockpit of the Moth predecessors was restricted by the proximity of the aircraft's fuel tank directly above the front cockpit and the rear cabane struts for the upper wing. The solution adopted was to shift the upper wing forward but sweep the wings back to maintain the centre of lift. Other changes included a strengthened structure, fold-down doors on both sides of the cockpit and a revised exhaust system. It was powered by a de Havilland Gipsy III 120hp engine and first flew on 26 October 1931 with de Havilland Chief Test Pilot Hubert Broad at the controls.
One distinctive characteristic of the Tiger Moth design is its differential aileron control setup. The ailerons (on the lower wing only) on a Tiger Moth are operated by an externally mounted circular bellcrank, which lies flush with the lower wing's fabric undersurface covering. This circular bellcrank is rotated by metal cables and chains from the cockpit's control columns, and has the externally mounted aileron pushrod attached at a point 45º outboard and forward of the bellcrank's centre, when the ailerons are both at their neutral position. This results in an aileron control system operating, with barely any travel down at all on the wing on the outside of the turn, while the aileron on the inside travels a large amount upwards to counter-act adverse yaw.
From the outset, the Tiger Moth proved to be an ideal trainer, simple and cheap to own and maintain, although control movements required a positive and sure hand as there was a slowness to control inputs. Some instructors preferred these flight characteristics because of the effect of "weeding" out the inept student pilot.
Operational history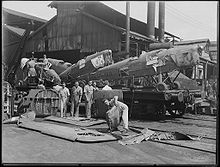 Picture - Tiger Moth aircraft under construction / maintenance, in the mid 20th Century, in Australia, at the Clyde Engineering works
The RAF ordered 35 dual-control Tiger Moth Is which had the company designation DH 82. A subsequent order was placed for 50 aircraft powered by the de Havilland Gipsy Major I engine (130hp) which was the DH 82A or to the RAF Tiger Moth II. The Tiger Moth entered service at the RAF Central Flying School in February 1932. By the start of the Second World War, the RAF had 500 of the aircraft in service and large numbers of civilian Tiger Moths were impressed to meet the demand for trainers.
During a British production run of over 7,000 Tiger Moths, a total of 4,005 Tiger Moth IIs were built during the war specifically for the RAF, nearly half being built by the Morris Motor Company at Cowley, Oxford.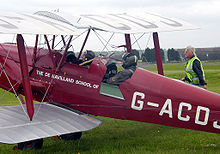 Picture - 1933 de Havilland DH.82A Tiger Moth
The Tiger Moth became the foremost primary trainer throughout the Commonwealth and elsewhere. It was the principal type used in the British Commonwealth Air Training Plan where thousands of military pilots got their first taste of flight in this robust little machine. The RAF found the Tiger Moth's handling ideal for training future fighter pilots. Whilst generally docile and forgiving in the normal flight phases encountered during initial training, when used for aerobatic and formation training the Tiger Moth required definite skill and concentration to perform well - a botched manoeuvre could easily cause the aircraft to stall or spin.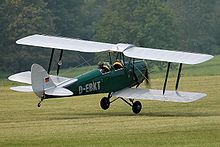 Picture - DH.82A Tiger Moth, 2005
A number of modified Tiger Moths were developed for special roles. A radio-controlled target tug version of the Tiger Moth II called the DH.82B Queen Bee was first built in 1935, with nearly 300 in service at the start of the Second World, (it is believed the name "Drone" derived from "Queen Bee"). These aircraft retained a normal front cockpit for test-flying or ferry flights, but had a radio-control system in the rear cockpit that operated the controls using pneumaticically-driven servos. Four-hundred were built by de Havilland at Hatfield, and a further 70 by Scottish Aviation.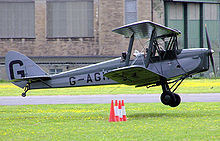 Picture - 1939 de Havilland DH.82A Tiger Moth
In the aftermath of Britain's disastrous campaign in France, in August 1940, three proposals involved beach defence systems; 350 Tiger Moths were fitted with bomb racks to serve as light bombers as a part of Operation Banquet. A more radical conversion involved the "paraslasher," a scythe-like blade fitted to a Tiger Moth and intended to cut parachutists' canopies as they descended to earth. Flight tests proved the idea, but it was not officially adopted. The Tiger Moth was also tested as a "human crop sprayer" intended to dispense Paris Green poisonous insecticide from powder dispensers located under the wings.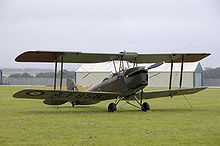 Picture - DH-82B Queen Bee, 2008. Built 1944.
In Canada, de Havilland manufactured 1,523 of the DH 82C, which had a 145hp D.H. Gipsy Major 1C engine and other modifications including a tail wheel replacing the original tail skid, a stronger undercarriage with wheels set farther forward and enclosed cockpit with a sliding canopy necessitated by the cold northern climate. The de Havilland Canada operation also supplied 200 Tiger Moths to the USAAF, which designated them the PT-24. A further 151 were built in Norway, Sweden and Portugal while 2,949 Tiger Moths were built by other countries of the British Commonwealth.
Postwar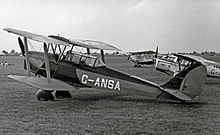 Picture - Tiger Moth Coupe with spatted undercarriage at Coventry Airport in 1955
In postwar use, surplus Tiger Moths were made available for sale to flying clubs and individuals. They proved to be inexpensive to operate and found enthusiastic reception in the civil market, taking on new roles including aerial advertiser, aerial ambulance, aerobatic performer, crop duster and glider tug. They were often compared with the Belgian-designed Stampe SV.4 aerobatic aircraft which had a very similar design layout. Several Tiger Moths were converted during the 1950s to Coupe standard with a sliding canopy over both crew positions.
After the invention of aerial topdressing in New Zealand, large numbers of ex-Royal New Zealand Air Force Tiger Moths built in that country and in the United Kingdom were converted into agricultural aircraft. The front seat was replaced with a hopper to hold superphosphate for aerial topdressing. From the mid 1950s, these topdressers were replaced by more modern types such as the PAC Fletcher, and a large number of New Zealand Tiger Moths in good flying condition then passed to enthusiasts.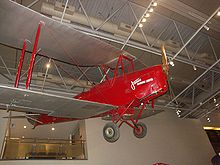 Picture - Early aerial topdressing conversion of the Tiger Moth exhibited in Te Papa Museum
Royal Navy Tiger Moths utilised as target tugs and "air experience" machines became the last military aircraft when the service purchased a batch of refurbished examples in 1956. One was the last Bi-plane to land on an Aircraft Carrier (HMS Eagle) in English Channel during the Summer of 1967. On take off the wind over the deck meant she took off but was slower than the carrier who turned hard starboard to avoid a possible collision. These remained in service until the early 1970s.
Tiger Moths were often modified to stand in for rarer aircraft in films. Notably, Tiger Moth biplanes were used in the crash scenes in The Great Waldo Pepper, standing in for the Curtiss JN-1.
Variants
Picture - de Havilland Canada DH.82C in Commonwealth Air Training Plan "trainer yellow" at the Western Canada Aviation Museum (note the skis)
DH.60T Moth Trainer/Tiger Moth Military training version of the De Havilland DH.60 Moth. First eight prototype DH.82 configuration aircraft were named Tiger Moth.
DH.82 Tiger Moth (Tiger Moth I) Two-seat primary trainer aircraft. Powered by a 120 hp (89 kW) de Havilland Gipsy III piston engine; renamed Tiger Moth I in RAF.
DH.82A Tiger Moth (Tiger Moth II) Two-seat primary trainer aircraft. Powered by a 130 hp (97 kW) de Havilland Gipsy Major piston engine. Named Tiger Moth II in RAF.
DH.82B Queen Bee Unmanned radio-controlled target drone; 380 built. As of 2008, the sole remaining airworthy Queen Bee resides at RAF Henlow, England.
DH.82C Tiger Moth Cold weather operations version for the RCAF. Fitted with sliding glass canopies and cockpit heating. Powered by a 145 hp (108 kW) de Havilland Gipsy Major piston engine; 1,523 built.
PT-24 Moth United States military designation for the DH.82C ordered for Lend-Lease to the Royal Canadian Air Force; 200 built by de Havilland Canada.
Thruxton Jackaroo
Four-seat cabin biplane, modified from existing DH.82A airframes.
Operators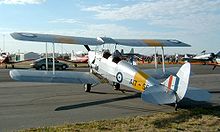 Picture - DH.82A Tiger Moth in RAAF markings
Military operators
Australia
Royal Australian Air Force
Royal Australian Navy - Fleet Air Arm (RAN).

Belgium
Belgian Air Force (31 operated from 1945)

Brazil
Brazilian Air Force, 5 delivered in 1932 and 12 in 1935.

Burma Canada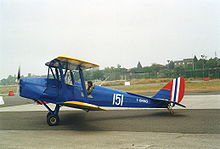 Picture - DH.82A Tiger Moth in Royal Norwegian Air Force markings
Royal Canadian Air Force

Ceylon
Royal Ceylon Air Force

Denmark Egypt Finland
Finnish Air Force

France Germany
Luftwaffe (small numbers)

Greece
Hellenic Air Force

India
Royal Indian Air Force
Indian Air Force

Iran
Imperial Iranian Air Force

Iraq Israel
Israeli Air Force
Sherut Avir

Jordan
Royal Jordanian Air Force

Malaya
Malaya Auxiliary Air Force

Netherlands
Royal Netherlands Air Force
Dutch Naval Aviation Service
Royal Netherlands East Indies Army Air Force

New Zealand
Royal New Zealand Air Force
No. 1 Squadron RNZAF
No. 2 Squadron RNZAF
No. 3 Squadron RNZAF
No. 4 Squadron RNZAF
No. 42 Squadron RNZAF

Norway
Norwegian Army Air Service

Pakistan
Pakistan Air Force

Poland
Polish Air Force
Polish Air Force in Great Britain

Portugal
Portuguese Army Aviation
Portuguese Naval Aviation
Portuguese Air Force

Rhodesia
Rhodesian Air Force

Spain
Spanish Republican Air Force

Spanish State
Spanish Air Force

South Africa
South African Air Force

Southern Rhodesia
Southern Rhodesian Air Force

Sri Lanka
Sri Lankan Air Force

Sweden
Swedish Air Force

Thailand United Kingdom
Royal Air Force
No. 24 Squadron RAF
No. 27 Squadron RAF
No. 52 Squadron RAF
No. 81 Squadron RAF
No. 116 Squadron RAF
No. 297 Squadron RAF
No. 510 Squadron RAF
No. 612 Squadron RAF
No. 613 Squadron RAF
No. 652 Squadron RAF
No. 653 Squadron RAF
No. 654 Squadron RAF
No. 656 Squadron RAF
No. 663 Squadron RAF
No. 668 Squadron RAF
No. 669 Squadron RAF
No. 670 Squadron RAF
No. 671 Squadron RAF
No. 672 Squadron RAF
No. 673 Squadron RAF
Fleet Air Arm

United States
United States Army Air Force

Uruguay
Uruguayan Air Force

Yugoslavia
SFR Yugoslav Air Force
2nd Training Aviation Regiment (1945-1948)

Civil operators
The aircraft is operated by many private individuals and flying clubs.
Survivors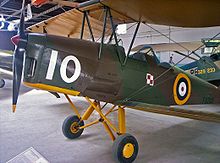 Picture - Tiger Moth II preserved at the Polish Aviation Museum
Numerous examples of the Tiger Moth are still flying today (an estimated 250). The number of airworthy Tiger Moths has increased as previously neglected aircraft (or those previously only used for static display in museums) have been restored. A number of aircraft have been preserved as museum displays (amongst others) at the:
Vliegend Museum Seppe in The Netherlands;
National Museum of Flight in Scotland;
Mosquito Aircraft Museum in England;
Malta Aviation Museum in Malta;
Polish Aviation Museum at the former Krakx³w-Rakowice-Czyżyny Airport in Poland;
Museo Nacional Aeronx¡utico y del Espacio de Chile in Chile;
Museo Aeronx¡utico del Uruguay in Uruguay;
Museu Aeroespacial- (Musal) in Brazil
Museum of New Zealand Te Papa Tongarewa;
Alberta Aviation Museum
Western Canada Aviation Museum in Winnipeg, Manitoba, Canada;
Shuttleworth Collection at Old Warden, England
Canadian Museum of Flight
Sri Lanka Air Force Museum, Sri Lanka
Yugoslav Aeronautical Museum, Serbia.
Pakistan Airforce Museum, Karachi, Pakistan
Israeli Air Force Museum, Hatzerim, Israel
Mackay Tiger Moth Museum, Mackay, Australia
RAAF Museum, RAAF Williams Point Cook, Australia
Temora Aviation Museum, Temora, Australia
Royal Aero Club of Western Australia, Jandakot, Australia
Museu do Ar, Portuguese Air Force, Portugal
Canadian Air & Space Museum - Toronto (www.casmuseum.org)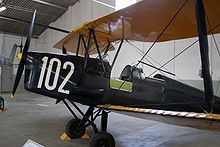 Picture - Portuguese de Havilland DH-82 Tiger Moth at the Portuguese Air Force Museum
Specifications (DH 82A)
Data from The Tiger Moth Story
General characteristics
Crew: 2, student & instructor
Length: 23 ft 11 in (7.34 m)
Wingspan: 29 ft 4 in (8.94 m)
Height: 8 ft 9 in (2.68 m)
Wing area: 239 ft² (22.2 m²)
Empty weight: 1,115 lb (506 kg)
Loaded weight: 1,825 lb (828 kg)
Powerplant: 1x— de Havilland Gipsy Major I inverted 4-cylinder inline, 130 hp (100 kW)

Picture - de Havilland Tiger Moth (A17-711) in Second World War training colours at the RAAF Museum.
Performance
Maximum speed: 109 mph at 1,000 ft (175 km/h at 300 m)
Range: 302 miles (486 km)
Service ceiling: 13,600 ft (4,145 m)
Rate of climb: 673 ft/min (205 m/min)

Thunderbird 6, a film which features the Tiger Moth prominently.

Comparable aircraft
Boeing-Stearman Kaydet
Bx¼cker Bx¼ 131 Jungmann
Fisher R-80 Tiger Moth
Stampe SV.4
Polikarpov Po-2

Bibliography
Bain, Gordon. De Havilland: A Pictorial Tribute. London: AirLife, 1992. ISBN 1-85648-243-X.
Bransom, Alan. The Tiger Moth Story, Fourth Edition. Shrewsbury, UK: Airlife Publishing Ltd., 1991. ISBN 0-906393-19-1.
Bransom, Alan. The Tiger Moth Story, Fifth Edition. Manchester, UK: Crécy Publishing Ltd., 2005. ISBN 0-85979-103-3.
Hotson, Fred. The De Havilland Canada Story. Toronto: CANAV Books, 1983. ISBN 0-9690703-2-2.
Ketley, Barry and Mark Rolfe. Luftwaffe Fledglings 1935-1945: Luftwaffe Training Units and their Aircraft. Aldershot, GB: Hikoki Publications, 1996. ISBN 0-9519899-2-8.
McKay, Stuart. Tiger Moth. New York: Orion Books, 1998. ISBN 0-517-56864-0.

Living Warbirds: The best warbirds DVD series.
Source: WikiPedia