Deperdussin TT Video - Picture
Deperdussin TT Aircraft Information
Deperdussin TT
Deperdussin TT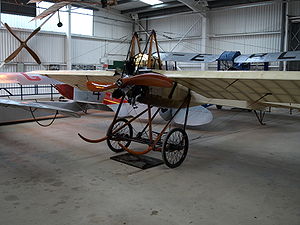 Picture - Airworthy 1910 Deperdussin Monoplane at the Shuttleworth Collection
Role: General-purpose monoplane
Manufacturer: Société Pour les Appareils Deperdussin
Introduced: 1912
Primary users: French Air Force Royal Flying Corps

The Deperdussin TT was a French mid-wing braced monoplane aircraft from 1914, the outbreak of World War I, built in small numbers by Société Pour les Appareils Deperdussin or S.P.A.D.. The type's use by the French Air Force (then Aviation Militaire) was very brief, due to its frailty and lack of weapons. In February 1914, an experiment was made to install a machine gun in the nose of the craft, but it was not followed up.
In addition to those supplied to the French Air Force a number were used by the Naval Wing of the British Royal Flying Corps. The Naval Wing called them the Deperdussin Monoplane and they were operated both in landplane and floatplane configurations.
Operators
Australia
Australian Flying Corps
Central Flying School, Point Cook, Victoria

Belgium France
French Air Force

Portugal Russia Serbia Spain Turkey United Kingdom
Royal Flying Corps
No. 3 Squadron RFC

Survivors
A flyable 1910-built Deperdussin Monoplane (G-AANH) is on display at the Shuttleworth Collection, Old Warden, England.
Specifications
General characteristics
Crew: Two
Length: 7.92 m (26 ft 0 in)
Wingspan: 10.97 m (36 ft 0 in)
Height: 2.69 m (8 ft 10 in)
Gross weight: 725 kg (1664 lb)
Powerplant: 1 x— Gnome Rotary, 60 kW (80 hp)

Performance
Maximum speed: 114 km/h (71 mph)
Endurance: 2 hours 20 min

The Illustrated Encyclopedia of Aircraft (Part Work 1982-1985), 1985, Orbis Publishing, Page 1434
Angelucci, Enzo (1983). The Rand McNally encyclopedia of military aircraft, 1914-1980. The Military Press. pp. p.p. 20 & 25. ISBN 0-517-41021 4.

Deperdussin TT Pictures
Living Warbirds: The best warbirds DVD series.
Source: WikiPedia