Dewoitine D.27 Video - At Duxford airshow - Mark Hanna
Dewoitine D.27 Video - Takeoff in Bonn-Hangelar
Dewoitine D.27 Aircraft Information
Dewoitine D.27
D.27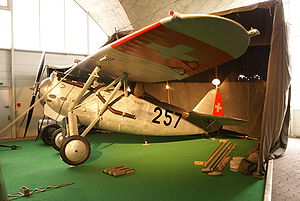 Role: Fighter
Manufacturer: Dewoitine
First flight: 1928
Introduction: 1931
Primary user: Swiss Air Force

The Dewoitine D.27 was a parasol monoplane fighter aircraft designed by x‰mile Dewoitine in 1928.
Design and development
After the end of World War I, the slump in demand for aircraft forced Dewoitine to close his company and move to Switzerland in 1927.
He produced the D.27 the following year, 66 of which were produced for the Swiss Air Force from 1931. It was also licence-built in Romania and Yugoslavia.
Operational history
Seven strengthened versions, designated the D.53, served experimentally with the French Escadrille 7C1, flying from the aircraft carrier Béarn.
Minor Variants
D.531 : One aircraft used for testing a Hispano-Suiza engine.
D.532 : A single aircraft used for testing a Rolls-Royce Kestrel inline engine.
D.535 : One aircraft fitted with a HS 12Xbis engine.
D.534 : Used for parachute trials.

Operators
France
Aviation Navale

Romania
Romanian Air Force

Switzerland
Swiss Air Force

Yugoslavia
Yugoslavian Air Force

Specifications (D.27)
Data from Encyclopedia of Military Aircraft
General characteristics
Crew: one, pilot
Length: 6.50 m (21 ft 4 in)
Wingspan: 9.80 m (32 ft 2 in)
Height: 2.79 m (9 ft 2 in)
Empty weight: 1,382 kg (3,046 lb)
Powerplant: 1x— Hispano-Suiza 12Mc liquid-cooled V12 engine, 373 kW (500 hp)

Performance
Maximum speed: 312 km/h (169 kn, 194 mph)
Range: 600 km (324 nmi, 373 mi)
Service ceiling: 9,200 m (30,185 ft)

Armament
2 x— fixed forward-firing 7.5 mm (.295 in) Darne machine guns

Dewoitine D.27 Pictures and Dewoitine D.27 for Sale.
Living Warbirds: The best warbirds DVD series.
Source: WikiPedia