Dewoitine D.500 Video - La Aviación de Combate en Venezuela
Dewoitine D.500 Aircraft Information
Dewoitine D.500
Dewoitine D.500/501/503/510/511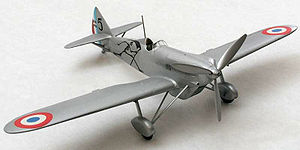 Picture - A scale model of D.510 in French Air Force markings.
Role: Fighter aircraft
Manufacturer: Dewoitine
Designed by: x‰mile Dewoitine
First flight: 1932-06-18
Introduced: July 1935
Status: Retired
Primary users: French Air Force Aviation Navale
Number built: 381

The Dewoitine D.500 was an all-metal, open-cockpit, fixed-undercarriage monoplane fighter aircraft, used by the French Air Force in the 1930s. Introduced in 1936, the design was soon replaced by a new generation of fighter aircraft with enclosed cockpits and retractable undercarriage, including the 510's successor, the Dewoitine D.520.
Development
The D.500, designed by x‰mile Dewoitine, was based on C1 specifications issued in 1930 by the French Air Ministry, and was to be a replacement for the Nieuport 62. The prototype first flew on 18 June 1932. In November 1933, sixty aircraft were ordered, with the first production D.500 flying on 29 November 1934. Aircraft armed with a 20 mm cannon firing through the propeller hub - instead of two nose-mounted machine guns - received the designation D.501.
A total of 381 D.500 and its derivatives were built.
Operational history
The D.500 and D.501 entered service in July 1935, with the more powerful D.510 joining them in October 1936. They were the primary fighters employed by the Armée de l'Air until replacement by the Morane-Saulnier M.S.406 in 1939. As of September 1939, the D.500/501 had been relegated to regional defense and training squadrons. At the start of World War II, D.510s were still in operation with three Groupes de Chasse (Fighter Groups), two Escadrilles Régionale de Chasse (Regional Fighter Squadrons in North Africa), and two Escadrilles de Aéronautique Navale (Naval Aviation Squadrons).
In Morocco, one escadrille of D.510s (ERC571) was activated in November 1939. These planes lacked cannon. In May 1940, this escadrille merged with ERC 573 to form GC III/4. This groupe was disbanded by the end of August 1940. At Dakar, one groupe designated GC I/6, remained in service until being replaced by Curtiss H-75s at the end of 1941.
Seven D.501s originally sold to Lithuania and two D.510s ostensibly intended for the Emirate of Hedjaz saw service in the Spanish Civil War, arriving in mid-1936. When the French government found out about the delivery of D.510s, they demanded return of the 12Y engines. The aircraft were then refitted with Klimov M-100s (a Soviet-built copy of 12Y) from a Tupolev SB bomber. The aircraft served with the Republican forces. The two 510s were posted to the 71st Coastal Defense Group. Neither engaged enemy fighters. In 1938, one was irreparably damaged while landing and the other was destroyed on a runway during a bombing attack.
In 1938, 18 Chinese D.510s saw action against the Japanese, including the defense of Chengdu and Chinese wartime capital Chongqing.
Variants
Source: Green
D.500.01
First prototype aircraft.
D.500
First production version with Hispano-Suiza 12Xbrs engine with 515 kW (690 hp), armed with 2 x— 7.7 mm (.303 in) Vickers machine guns or 2 x— 7.5 mm (.295 in) Darne machine guns in the nose, provision for 2 x— additional Darnes in the wings. 101 built.
D.501
Re-engined with Hispano-Suiza 12Xcrs engine, armed with a 20 mm Hispano-Suiza S7 cannon between the engine cylinder banks firing through the propeller hub and 2 x— wing-mounted machine guns. 157 built.
D.503
The sole D.511 prototype fitted with a 12Xcrs engine with a circular radiator in the nose, the same armament as D.501. First flight 15 April 1935, found to perform worse than D.500. The aircraft was briefly the personal mount of René Fonck.
D.510
Re-engined with Hispano-Suiza 12Ycrs producing 640 kW (860 hp), armed with a 20 mm Hispano cannon and 2 x— 7.5 mm (.295 in) MAC 1934 machine guns in the wings. First flight 14 August 1934, 120 built.
D.511
Prototype with D.500 fuselage and tail, smaller wings, cantilever undercarriage, 12Ycrs engine. One prototype built in 1934 but never flown, converted to D.503.
AXD1
A single Dewoitine D.510 supplied to the Imperial Japanese Navy Air Service for evaluation in 1935.
Operators
China
24 D.510
United Kingdom
1 D.510
France
French Air Force and Aviation Navale. 98 D.500, 130 D.501 (+30 for the Navy), 88 D.510
Japan
2 D.510 as AXD
Lithuania
14 D.501
Poland
Polish Air Forces on exile in France
Spain
Spanish Republican Air Force. 7 D.500 and 2 D.510 in the Escuadrilla Internacional.
Venezuela
3 D.500
USSR
1 D.510
Specifications (D.510)
Data from Green
General characteristics
Crew: 1
Length: 7.94 m (26 ft 1 in)
Wingspan: 12.09 m (39 ft 8 in)
Height: 2.42 m (7 ft 11 in)
Wing area: 16.50 m² (177.61 ft²)
Empty weight: 1,496 kg (3,298 lb)
Loaded weight: 1,929 kg (4,253 lb)
Powerplant: 1x— Hispano-Suiza 12Ycrs V12 engine, 640 kW (860 hp)

Performance
Maximum speed: 402 km/h (217 kn, 250 mph) at 5,000 m (16,405 ft)
Range: 700 km (380 nmi, 435 mi)
Service ceiling: 11,000 m (36,090 ft)
Rate of climb: 14.85 m/s (9,600 ft/min)
Wing loading: 117 kg/m² (23.9 lb/ft²)
Power/mass: 330 W/kg (0.20 hp/lb)
Time to altitude: 1.32 min to 1000 m (3,280 ft)

Armament
Guns: 1 x— 20 mm Hispano-Suiza HS.9 cannon, 60 rounds
2 x— 7.5 mm (.295 in) MAC 1934 machine guns, 300 rpg

List of aircraft of the Armée de l'Air, World War II

Comparable aircraft
Blériot S.510
Gloster Gladiator
Hawker Fury
Heinkel He 51
Fiat CR.32
P-26 Peashooter

Breffort, Dominique (April 2005). French Aircraft from 1939 to 1942: Volume 2. Histoire and Collections. ISBN 2-91523949-2.
Weal, Elke C.; Weal, John A., Barker, Richard F. (1977). Combat Aircraft of World War Two. Bracken Books. ISBN 0-94649543-2.

Dewoitine D.500 Pictures and Dewoitine D.500 for Sale.
Living Warbirds: The best warbirds DVD series.
Source: WikiPedia