Paris Airshow 2005
Paris Air Show 2005 - Part 4
Paris Air Show 2005 - Part 5
Paris Air Show 2005 - Part 6
Paris Air Show 2005 - Part 7
Paris Air Show 2005 - Part 8
Paris Air Show 2005 - Part 9
Paris Air Show
Paris Air Show Salon International de l'Aéronautique et de l'Espace, Paris-Le Bourget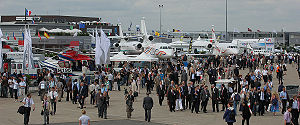 : Host airport:
: Location:
: Country:
: Coordinates:
: Established:
: Type:
: Held
: Operated by:
: Events
: Website:

The first day of the 2007 Paris Air Show
The Paris Air Show (Salon International de l'Aéronautique et de l'Espace, Paris-Le Bourget) is an international trade fair for the aerospace business. It is held at Le Bourget Airport near Paris, France every odd year, alternating both with the Farnborough International Exhibition and Flying Display and the Internationale Luft- und Raumfahrtausstellung Berlin (ILA).
The Paris Air Show is a commercial air show, organised by the French aerospace industry's body the Groupement des Industries Franx§aises Aéronautiques et Spatiales (GIFAS) whose main purpose is to demonstrate military and civilian aircraft to potential customers. It is one of the most prestigious in the world; traditionally, some major sales contracts are announced during the show as part of the corporate communication of the manufacturers. All major international manufacturers, as well as the military forces of several countries, attend the Paris Air Show.
In addition to industrial visitors, during the closing days of the salon, the show welcomes a large number of public visitors from France and many other European countries, when admission is not limited to visitors with industry affiliations.
History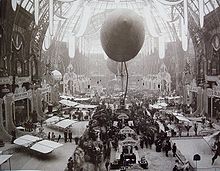 Picture - Salon de la locomotion aérienne, 1909, Grand Palais, Paris.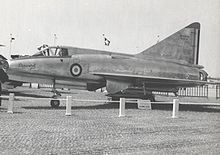 Picture - SNCASE SE-212 Durandal experimental jet/rocket fighter aircraft at the 1957 Air Salon
The Paris Air Show traces its history back to the first decade of the 20th century. In 1908 there was a section of the Paris Automobile Show dedicated to aircraft, and from 1909 there was an Air Show, held at the Grand Palais. There were four further shows before the First World War. The show re-started in 1919, and from 1924 they were held every two years. The shows were interrupted again by the Second World War, and they re-started again in 1946. Since 1949, they have been held in every odd-numbered year.
The air shows continued to be held at the Grand Palais, and from 1949 flying demonstrations were staged at Orly Airport. In 1953, the show was relocated from the Grand Palais to Le Bourget. During the late 1960s and early 1970s, the show emerged as a powerful international rival to the Farnborough Air Show. The 1971 show featured a full scale mock-up of an Airbus A300 and the 1973 show the new DC-10 and Lockheed Tristar. Among major accidents, there were two crashes of Convair B-58 Hustler bombers, in 1961 (during aerobatics) and 1965 (during landing). The show suffered its worst accident in 1973 when a Tupolev Tu-144 crashed killing the six crew and eight people on the ground.
Dates
The 48th International Paris Air Show took place from 15 to 21 June 2009. Recent past Paris Air Show took place on the following dates:
44. 17-24 June 2001
45. 15-20 June 2003
46. 13-19 June 2005
47. 18-24 June 2007
48. 15-21 June 2009

The next Paris Air Show will take place 20-26 June 2011.
1973 Paris Air Show
At the Paris Air Show on June 3, 1973, the first Tupolev Tu-144 production aircraft (reg 77102) crashed. While in the air, it undertook a violent downwards maneuver. Trying to pull out of the subsequent dive, the plane broke up and crashed, destroying 15 houses and killing all six on board and eight on the ground.
The causes of this incident remain controversial to this day. Theories include:
1989 Paris Air Show
A MiG 29 crashed during a demonstration flight with no loss of life. The Russian space shuttle Buran and its carrier Antonov An-225 was first publicly displayed outside of Russia at this show.
2005 Paris Air Show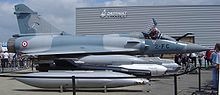 Picture - A Mirage 2000-5 at the Paris Air Show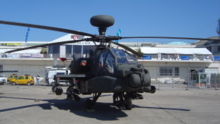 Picture - An AH-64 Apache at the 2005 Paris Air show
The 2005 show, held 13-19 June, witnessed the return of American companies in large numbers following the downscaling of their presence in 2003 in relation to the Iraq War. Another strain in relations in 2005 was the recently launched World Trade Organisation litigation, which involved action filed by the United States against the EU member States alleging WTO-inconsistent subsidies to Airbus.
Videos
An amateur video of static and flying aircraft at the 2005 edition of the Paris Air Show

Significant Events
Tuesday 14th
The Airbus A380 opens the show with a flying display

2007 Paris Air Show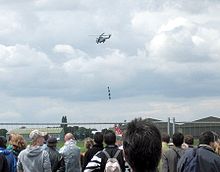 Picture - The 2007 Paris Air show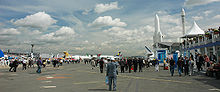 Picture - Paris Air Show 2007 - first day
The Airbus A330 MRTT tanker/transport, Antonov An-148 regional jet, Bell/Agusta BA609 tilt-trotor, Socata TBM 850 and the S4 Ehécatl unmanned aircraft were presented for the first time.
Significant Orders
Qatar Airways firms order for 80 Airbus A350 XWB and 3 additional A380 aircraft
Emirates Airline orders 8 additional A380 aircraft
US Airways orders 22 A350 XWB, 10 A330-200 and 60 A32X series (A319, A320, A321) aircraft
General Electric Commercial Aviation Services (GECAS) orders 6 Boeing 777 Freighter and 60 A32X series aircraft
Lion Air orders 40 additional 737-900ER aircraft
Lufthansa orders 30 Embraer 190 E-Jets
Japan Airlines orders 10 170 E-Jets
Jazeera Airways orders 30 A320 aircraft (+10 options)
Nouvelair orders 2 A320 aircraft
Aviation Lease and Finance Company (Kuwait) ("ALAFCO") orders 12 A350 XWB aircraft
S7 Airlines orders 25 A320 aircraft
Air France orders 18 A32X series and 2 A380 aircraft
Intrepid Aviation, Inc. orders 20 A330-200F aircraft
International Lease Finance Corporation (ILFC) orders an additional 50 787 (+2 options), 10 737 series, and 1 777-300ER aircraft
ItAli Airlines orders 10 (+10 options) Sukhoi Superjet 100 aircraft
Aeroflot orders 22 A350 XWB aircraft
Kingfisher Airlines orders 15 A350 XWB, 5 A340-500, 10 A330 and 20 A320 family aircraft
Afriqiyah Airways orders 6 A350 XWB aircraft
Etihad Airways orders 4 A340-600, 5 A330-200 and 3 A330-200 freighter aircraft
Aircastle Ltd. orders 15 A330-200F freighter aircraft and 5 A321 aircraft (for lease to Aeroflot)
KLM orders 7 737-700 aircraft
Air France orders 9 777-300ER aircraft
Libyan Airlines orders 7 A320, 4 A330 and 4 A350 XWB aircraft
CIT orders 25 A320 and 7 A350 XWB aircraft
Ural Airlines orders 5 A320 aircraft
MNG Airlines orders 2 A330-200F aircraft
Avianca orders 14 A320 and 5 A330 aircraft
Hong Kong Airlines orders 1 ACJ, 30 A320 and 20 A330 aircraft
BAA Jet Management orders 1 ACJ aircraft
Mandala Airlines orders 25 A350XA320 aircraft
Tiger Airways orders 30 A320 aircraft
Singapore Airlines orders 20 A350 XWB aircraft
National Air Service orders 20 A320 aircraft

2009 Paris Air Show
In 2009, the Show marked a hundred years of technological innovation in aeronautics and space conquest. The event was held June 19-21, 2009, at Le Bourget in Paris, France.
A memorial service was held at the air show for the victims of Air France Flight 447.
Air show
Berlin Air Show
Dubai Airshow
Farnborough Airshow
Air/Space America 88

Bibliography
Tags: world war ii documentary, world war two documentary, film documentary, documentary films, documentary dvd, documentary world war 2, world war 2 movie, world war 2 video, world war 2 dvd, world war ii dvd, world war ii video, world war ii films, world war 2 dvds, world war 2 documentaries, world war ii documentaries, world war two films
Living Warbirds: The best warbirds DVD series.
Source: WikiPedia