History of the Swedish Air Force - Part 1
History of the Swedish Air Force - Part 2
History of the Swedish Air Force - Part 3
History of the Swedish Air Force - Part 4
History of the Swedish Air Force - Part 5
Royal Swedish Air Force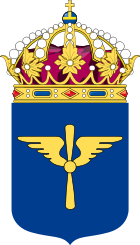 Founded: July 1, 1926
Country: Sweden
Part of: Swedish Armed Forces
Engagements: Winter War Congo Crisis
Commanders:
Current commander: Major General Anders Silwer
Insignia:
Roundels:
Aircraft flown:
Fighter: Saab JAS 39 Gripen
Trainer: Saab 105
Transport: C-130 Hercules, Bo 105, A109, NHI NH90, Eurocopter Super Puma , CH-46 Sea Knight

The Swedish Air Force (Swedish: Flygvapnet) is the air force branch of the Swedish Armed Forces.
History
The Swedish Air Force was created on July 1, 1926 when the aircraft units of the Army and Navy were merged. Because of the escalating international tension during the 1930s the Air Force was reorganized and expanded from four to seven squadrons. When World War II broke out in 1939 further expansion was initiated and this substantial expansion was not finished until the end of the war. Although Sweden never entered the war, a large air force was considered necessary to ward off the threat of invasion and to resist pressure through military threats from the great powers. By 1945 the Swedish Air Force had over 800 combat-ready aircraft, including 15 fighter divisions.
A major problem for the Swedish Air Force during World War Two was the lack of fuel. Sweden was surrounded by countries at war and could not rely on imported oil. Instead domestic oil shales were heated to produce the needed petrol.
Expansion during the Cold War
The Swedish Air Force underwent a rapid modernization from 1945. It was no longer politically acceptable to equip it with second-rate models. Instead, the air staff purchased the best it could find from abroad, e.g. P-51D Mustangs and de Havilland Vampires, and supported the development of top performance domestic models. When the Saab 29 Tunnan fighter was introduced around 1950, Sweden suddenly had planes that were equal to the best of the Royal Air Force, the Soviet Union's VVS, and the U.S. Air Force.
During the 1950s the air force started to build road bases after an idea taken from Germany. Built under the BASE 90 distributed airfield scheme, the bases were ordinary highways constructed in such a way that they could also serve as landing strips. In the early eighties road number 44 was rebuilt to contain four short runways (17 x 800 meters). Along the road a large number of turn-around-sites for reaming and refueling were built. These short runways are still used today for training, landing and taking off with Gripen and Hercules as preparation for international operations under adverse conditions.
During the Cold War large amounts of money (including all that had been reserved for Swedish nuclear weapons) were spent on the Swedish Air Force and domestic airplane production. In 1957 Sweden had the world's fourth most powerful air force, with about 800 modern planes in front-line service. During the 1950s, it introduced fighters such as the Saab J 29 Tunnan, Saab A 32 Lansen and Saab J 35 Draken.
War service
The Swedish Air Force has fought in two wars, the Finno-Soviet Winter War in 1939-40 and in the Congo Crisis 1961-64.
Finland 1940
When the Soviet Union attacked Finland in November 1939, Sweden came to its neighbour's assistance in most ways short of joining the war outright. A Swedish volunteer infantry brigade and a volunteer air squadron fought in northern Finland in January till March 1940. The squadron was designated F 19 and consisted of 12 Gloster Gladiator fighters and four Hawker Hart dive-bombers.
Congo 1961-64
The Swedish Air Force saw combat as part of the United Nations peace-keeping mission ONUC during the Congo Crisis in 1961 to 1964. It established a separate air wing, F 22, equipped with a dozen semi-obsolete Saab 29 Tunnans, which performed well under the rugged conditions in central Africa. The secessionist adversaries possessed only a small number of aircraft with poor combat capabilities, e.g. Fouga Magister trainers.
1990s - restructuring
The end of the Cold War saw the Swedish Armed Forces undergo a massive restructuring process. During that time, several air bases were deemed unnecessary and closed. In 1994 the air force had over 400 fighters and attack planes, by 2005 the number had sunk to fewer than 150.
Future
The future of the Swedish Air Force is today uncertain. With the collapse of the only military threat, the Soviet Union and the end of the Cold War, massive budget cuts have been made in the Swedish armed forces. The Swedish government have also decided to cut back on the Air Force and its fighters. Of the now 138 fighter planes in service about 100 will form the future Swedish Air Force. Some orders have been made on the helicopter side and about 40 new units will join the air force in the next coming years. Saab has also joined the primarily French project for the unmanned future stealth plane Dassault nEUROn.
In May 2008 further cuts in the Swedish armed forces were announced. Soon after this the Supreme Commander of the Swedish Armed Forces, Hx¥kan Syrén, stated that even more Gripen fighters could be retired. The suggested number of fighters in the future Swedish air force is now about 60.. If this becomes a reality the Swedish air force will have 144 Gripen fighters to retire. The price for one Gripen multirole fighter in 2006 was 76.1 million US$ which suggests that the Swedish armed forces would have spent more than 11 billion dollars (not including the development costs) on aircraft that were never used. One of Sweden's three existing fighter wings could also be closed. F 21 in Lulex¥ or F 17 in Ronneby is a suggested option for this .
However in 13 September 2008 the Swedish government announced that no further regiments in the Swedish armed forces would be closed in the next coming years . If this means that 100 Gripen fighters and not 60 will remain in active duty remains to be seen.
In March 2010 the armed forces again announched plans to close one of the fighter wings, this to relocate 800 milion SEK. However, this plan was once again rejected by the government.
List of aircraft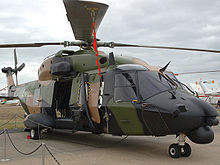 Picture - Hkp 14 mockup (NH90)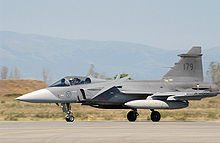 Picture - JAS 39 Gripen.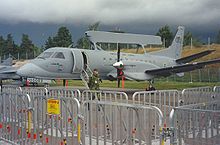 Picture - Saab 340AEW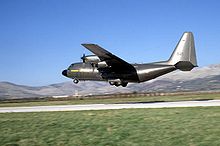 Picture - A Swedish C-130 Hercules in the 90's
Organization
Fighter units
There are three wings of fighters:
Skaraborg Air Force Wing (F 7 Sx¥tenx¤s)
Located at Sx¥tenx¤s outside Lidkx¶ping
Blekinge Air Force Wing (F 17 Kallinge)
Located at Kallinge in Ronneby
Norrbotten Air Force Wing (F 21 Lulex¥)
Located at Kallax in Lulex¥

Helicopter units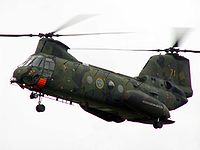 Picture - A Swedish Hkp 4 during the "Swedish Battle Camp 2006" event.
The aviation units that were formerly under the Swedish Army ("Arméflyget") and the Royal Swedish Navy ("Marinflyget") have been merged with the helicopter units of the Air Force to form the single Helicopter Wing (Hkpflj) for the entire Armed Forces. The wing has been placed under the authority of the Air Force and consists of:
1st Helicopter Squadron (1 Hkpskv)
Located at Boden (former Army Aviation unit) and F 4 Frx¶sx¶n
2nd Helicopter Squadron (2 Hkpskv)
Located at Berga (former Navy Aviation unit) and Uppsala (at LSS)
3rd Helicopter Squadron (3 Hkpskv)
Located at Ronneby (at F 17 Kallinge)
Helicopter Squadron Malmen (Hkpflj/Malmen), former 4th Helicopter Battalion (4. hkpbat)
Located at Linkx¶ping/Malmen (former Army Aviation unit)
5th Helicopter Squadron (5 Hkpskv)
Located at Gothenburg City Airport (former Navy Aviation unit) and F 7 Sx¥tenx¤s,

Aircraft
The Air Force is currently deploying the Saab Gripen for service. Gripen, designated JAS 39 Gripen-the designation JAS stands for Jakt (Air-to-Air), Attack (Air-to-Surface) and Spaning (Reconnaissance), and means every Gripen can fulfill all three mission types-is a modern multi-role fighter designed to replace Draken and Viggen. Capabilities of Gripen include a short runway requirement, advanced data link equipment, and canard delta design with lateral instability and fly-by-wire.
Sweden has ordered 204 Gripen aircraft. 28 of those, however, are leased to the Czech and Hungarian Air Force (14 each), with an option to acquire them when the lease period expires. Furthermore, six aircraft will be sold to the Royal Thai Air Force in 2011, with a possibility of another six later on.
Retired fighter aircraft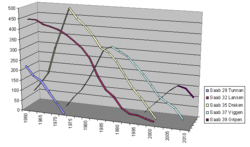 Picture - Graph showing the plane models that entered service in the Swedish Air Force from 1960-2010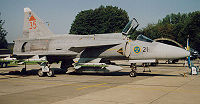 Picture - Saab 37 Viggen (1972-2005)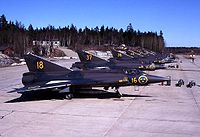 Picture - Saab 35 Draken (1960-1999)
Saab 37 Viggen (1972-2005)
Saab 35 Draken (1960-1999)
J 34 (1955-1969)
J 33 (1952-1960)
Saab 32 Lansen (1956-1998)
J 30 (1946-1954)
Saab 29 Tunnan (1950-1974)
J 28 (1946-1967)
J 26 (1945-1953)
J 22 (1943-1952)
Saab 21 (1945-1951)
Saab 18 (1945-1957)
Saab 17 (1942-1953)
J 20 (1941-1945)
J 11 (1940-1945)
J 9 (1940-1952)
J 8 (1938-1947)
J 7 (1930-1940)
J 6 (1932-1941)
J 4 Heinkel HD (1928-1937)
J 3 (1928-1943)
J 2 Nieuport 29 (1926-1930)
J 1 FMV/Phx¶nixwerke D.III (1919-1933)

Two J 32B are still flying taking high altitude air samples for research purposes
Living Warbirds: The best warbirds DVD series.
Source: WikiPedia