Dornier Do 214 Video - Picture
Dornier Do 214 Video - RC Model
Dornier Do 214 Aircraft Information
Dornier Do 214
Do 214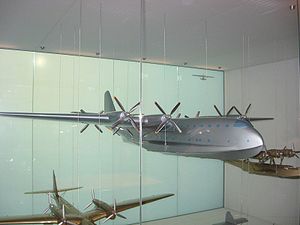 Picture - Do 214 model at Dornier's museum in Friedrichshafen
Role: Flying boat, Long range transport
Manufacturer: Dornier
Primary user: Luftwaffe
Number built: 0
Variants: Dornier Do 216

The Dornier Do 214 was a large long-range flying boat developed by Dornier in World War II.
Originally designed as the Do P.93 for passenger transatlantic service from Lisbon to New York, the Do 214 was redesigned as the P.192 for military service in early 1940. In 1941, a full-sized fuselage mockup was constructed in order to evaluate the interior layout. The fuselage was streamlined and of a round cross-section, with the interior consisting of two decks. Wings featuring a small amount of sweep on the leading edge, with straight trailing edges were shoulder mounted on the fuselage. Eight Daimler-Benz DB 613 24-cylinder double piston engines provided the power, with four tractor engines and four pusher engines. All eight engines provided power to four-blade VDM variable pitch propellers; the front propellers had a 5.00 m (16 ft 5 in) diameter, the rear propellers had a 4.60 m (15 ft 1 in) diameter.
The mammoth eight-engine design was intended for use as a military transport, with a large bow door admitting vehicles and bulky freight to the upper deck. It was also designed for use as a long-range bomber, flying tanker, aerial minelayer and U-boat supply vessel. By 1943, it was realized that long-range flying boats were not needed due to the worsening war situation, and the Do 214 project was canceled.
Specifications (Do 214)
General characteristics
Crew: 12-15
Length: 51.60 m (169 ft 3½ in)
Wingspan: 60.00 m (196 ft 10¼ in)
Height: 14.30 m (46 ft 11 in)
Wing area: 500.00 m² (5,381 ft²)
Empty weight: 76,000 kg (167,551 lb)
Loaded weight: 145,000 kg (319,670 lb)
Powerplant: 8x— Daimler-Benz DB 613A 24-cylinder liquid-cooled inline engine, 2,833 kW (3,800 hp) each

Performance
Maximum speed: 490 km/h (304 mph)
Cruise speed: 425 km/h (264 mph)
Range: 6,200 km (3,852 mi)
Service ceiling: 7,000 m (22,965 ft)

D. Herwig & H. Rode Luftwaffe Secret Projects - Strategic Bombers 1935-45. ISBN 1-85780-092-3

Dornier Do 214 Pictures
More aircraft.
Source: WikiPedia