Dornier Do 228 Video - Picture
Dornier Do 228 Aircraft Information
Dornier Do 228
Dornier 228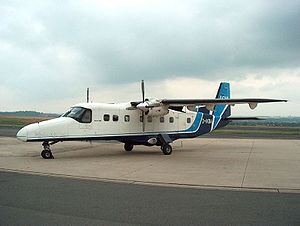 Picture - LGW Do 228-200
Role: Airliner
Manufacturer: Dornier GmbH
First flight: March 21, 1981
Introduced: 1982
Produced: 1981-1998
Number built: 270
Developed from: Dornier Do 28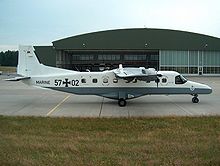 Picture - Do 228 of the German Navy in old livery.
The Dornier 228 is a twin-turboprop STOL utility aircraft, manufactured by Dornier GmbH (later DASA Dornier, Fairchild-Dornier) from 1981 until 1998. In 1983, Hindustan Aeronautics (HAL) bought a production licence and manufactures the 228 for the Asian market sphere. Approximately 270 Do 228 were built at Oberpfaffenhofen, Germany and Kanpur, India. In August 2006, 127 Dornier Do 228 aircraft (all variants) remain in airline service.
In 2009, RUAG started building a Dornier 228 New Generation in Germany with the fuselage, wings and tail unit manufactured by Hindustan Aeronautics Limited (HAL) in Kanpur (India) and transported to Oberpfaffenhofen near Munich, where RUAG Aviation carries out aircraft final assembly, customized equipment installation, product conformity inspection and aircraft delivery. It is basically the same aircraft with improved technologies and performances, such as a new five blade propeller, glass cockpit and longer range. The first delivery was in September 2010.
Design and development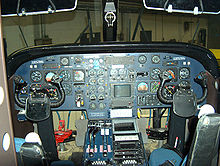 Picture - Flight deck.
In the late 1970s, Dornier GmbH developed a new kind of wing, the TNT ("Tragflx¼gel neuer Technologie"), subsidized by the German Government. Dornier tested it on a modified Do 28D-2Skyservant and with Pratt & Whitney Canada PT6A-110 turboprop engines. Finally, Dornier changed the engine and tested the new aircraft, which was named Do 128 with two Garrett AiResearch TPE-331-5 engines. The company developed a new fuselage for the TNT and TPE 331-5 in two variants (15- and 19-passenger) and named both project-aircraft E-1 (later Do 228-100) and E-2 (later Do 228-200). At ILA '80, Dornier presented the new aircraft in public. Both the prototypes were flown on 28 March 1981 and 9 May 1981 for the first time.
After German certification was granted on 18 December 1981, the first Do 228 entered service in the fleet of Norving Flyservice in July 1982. British and United States certification followed on 17 April and 11 May 1984 respectively. Over the years Dornier offered the 228 in upgraded variants and with special equipment for special missions. In 1998 the production line was stopped for better development of the successor Fairchild-Dornier 328.
Do 228 NG
The Dornier 228 NG was certified by EASA on 18 August 2010. First delivery, to a Japanese customer, took place in September 2010. The main changes from the previous Dornier 228-212 model are a new 5-blade propeller made of composite material, more powerful engines, and an advanced glass cockpit featuring electronic instrument displays.
Operators
Civilian operators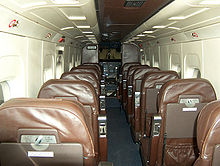 Picture - Cabin view.
The major operators of the 127 Do 228 aircraft remaining in service in August 2006 include:
A Soriano Aviation (3)
Olympic Airlines (9)
Aerocardal (2)
Aero Vip (Portugal) (2)
Agni Air (3)
African Air Services Leasing (2)
Air Carax¯bes (2)
Airlines of Tasmania (1)
Air Marshall Islands (1)
Bighorn Airways Inc (4)
Daily Air (4)
Divi Divi Air (1)
Dolphin Air (6)
Dornier Aviation Nigeria (15)
Gorkha Airlines ()
Jagson Airlines (2)
Indian Airlines (2)
Inter Island Airways (2)
Iran Aseman Airlines (5)
KaSas Limited (Kenya) (4)
LASSA (Chile)(1)
Luftfahrtgesellschaft Walter (6)
Mandarin Airlines (5)
Maldivian (1)
Manx2 (2)
New Central Airlines (3)
Sita Air (3)
Solar Air (2)
Summit Air (7)
Vision Airlines (8)
Yeti Airlines (2)
SATA Air Ax§ores (1)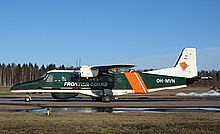 Picture - Finnish Border Guards Do 228 in Helsinki-Malmi Airport.
Some 35 other airlines operate smaller numbers of the aircraft. Lufttransport (Norway) operates 2 Dornier 228's and AeroVip (Portugal) operates 2 Do 228, also SATA (Portugal) operates these aircraft.
Accidents
Nigerian Airforce NAF 033
On September. 17 2006, an 18-seater Dornier 228 Air Force transport plane, carrying 15 senior army officers and three crew members crashed into a hillside, leaving only three surviving passengers and two crew members that sustained serious injuries. The plane with registration number NAF 033 crashed near a remote village in Benue State at about 10:30 a.m. The military officers were members of a committee setup by the government to reposition the Nigerian Army. The plane departed Abuja in the early morning hours of September 17, on its way to Obudu Cattle Ranch in Cross River State where the officers were to hold a retreat and crashed about 18 nautical miles from its destination.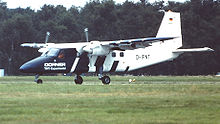 Picture - Do 28 TNT Experimental aircraft in 1980
Kato Airline Flight 603
On 4 December 2003, a Dornier 228 of Kato Air operating Flight 603 was struck by lightning, causing a fracture to the control rod that operated the elevator. The aircraft subsequently landed heavily just short of the runway at Bodx¸. Both crewmembers sustained serious injuries while both passengers sustained slight injuries. The aircraft, registered LN-HTA, was written off.

Polar 3
On 24 February 1985, the Polar 3, a Dornier 228 of the Alfred Wegener Institute, was shot down by guerrillas of the Polisario Front over West Sahara. All three crew members died. Polar 3, together with unharmed Polar 2, was on its way back from Antarctica and had taken-off from Dakar, Senegal, to reach Arrecife, Canary Islands.

Polar 4
Polar 4 was severely damaged in January 2005 during a rough landing at the British over-wintering station Rothera on the Antarctic Peninsula. As it was impossible to repair the plane, the aircraft had to be decommissioned. Since then, scientific and logistical tasks of polar flights have been performed by Polar 2.
TACV Flight 5002
TACV Flight 5002 crashed into a side of a mountain on Santo Antx£o Island, Cape Verde in rain and fog. The accident killed all 18 passengers and crew on the Dornier Do 228.
Royal Brunei Airlines Flight 238
Royal Brunei Airlines Flight 238 crashed at Lambir Hills National Park on approach to Miri Airport. The crash killed all 10 passengers and crew on flight 238.
Agni Air
Agni Air Flight 101 crashed outside of Kathmandu in heavy rain on 24 August 2010, killing all 14 people on board.
Accident summary
Hull-loss accidents: 23 with 123 fatalities
Other occurrences: 1 with 3 fatalities
Unfiled occurrences: 1 with 0 fatalities
Hijackings: 1 with 0 fatalities
Selection of incidents: 3 with 0 fatalities

Specifications (Do 228-212)
Data from Brassey's World Aircraft & Systems Directory 1999/2000
General characteristics
Crew: 2 pilots
Capacity: 19 passengers
Payload: 2,340 kg freight (5,158 lb)
Length: 16.56 m (54 ft 4 in)
Wingspan: 16.97 m (55 ft 8 in)
Height: 4.86 m (15 ft 11 in)
Wing area: 32.0 m² (344 sq ft)
Airfoil: A-5
Empty weight: 3,739 kg (8,243 lb)
Max takeoff weight: 6,600 kg (14,550 lb)
Powerplant: 2x— Garrett AiResearch TPE-331-5-252D or -10 variation turboprop, 578 kW (776 shp/715 shp flat rated for -10 powerplants) each

Performance
Never exceed speed: 472 km/h (255 knots, 293 mph)
Maximum speed: 433 km/h (234 knots, 269 mph) at 3,050 m (10,000 ft) (max cruise)
Cruise speed: 315 km/h (170 knots, 196 mph) at 610 m (2,000 ft) (long-range cruise)
Stall speed: 148 km/h (78 knots, 89.7 mph) with flaps
Range: 1,111 km (715 nmi, 823 mi) with full payload
Service ceiling: 8,535 m (28,000 ft)
Rate of climb: 7.5 m/s (1,870 ft/min)

Related development
Dornier Do 28
Dornier 328
Fairchild Dornier 328JET

Comparable aircraft
Antonov An-28
BAe Jetstream
Harbin Y-12
IAI Arava
GAF Nomad
LET L-410
Shorts SC.7 Skyvan
De Havilland Canada DHC-6 Twin Otter

"Dornier's Way With Commuters". Air International, October 1987, Vol 33 No 4. Bromley, UK:Fine Scroll. ISSN 0306-5634. pp. 163-169, 201-202.
Taylor, John W.R. (editor). Jane's All The World's Aircraft 1988-89. Coulsdon, UK: Jane's Defence Data, 1988. ISBN 0 7106-0867-5.
Taylor, Michael J.H. Brassey's World Aircraft Systems Directory 1999/2000. London:Brassey's, 1999. ISBN 1 85753 245 7.

Dornier Do 228 Pictures
More aircraft.
Source: WikiPedia