Douglas B-18 Bolo Video - Picture
Douglas B-18 Bolo Aircraft Information
Douglas B-18 Bolo
B-18 Bolo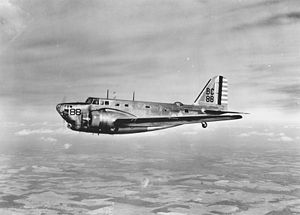 Picture - B-18A
Role: Light bomber
Manufacturer: Douglas Aircraft Company
First flight: April 1935
Introduced: 1936
Retired: 1940s
Primary users: United States Army Air Corps United States Army Air Forces Royal Canadian Air Force Brazilian Air Force
Produced: 1936-
Number built: 350
Unit cost: US$58,500 (1935)
Developed from: Douglas DC-2
Variants: Douglas XB-22

The Douglas B-18 Bolo was a United States Army Air Corps and Royal Canadian Air Force bomber of the late 1930s and early 1940s. The Bolo was built by Douglas Aircraft Company and based on its DC-2 and was developed to replace the Martin B-10. By 1940 it was considered to be underpowered, to have inadequate defensive armament and carried too small a bomb load. Many were destroyed during the Pearl Harbor Attack and in the Philippines in early December 1941. By 1942 the survivors were relegated to antisubmarine or transport duty. A B-18 was one of the first American aircraft to sink a German U-Boat, the U-654 on 22 August 1942.
Design and development
In 1934, the United States Army Air Corps put out a request for a bomber with double the bomb load and range of the Martin B-10, which was just entering service as the Army's standard bomber. In the evaluation at Wright Field the following year, Douglas showed its DB-1. It competed with the Boeing Model 299 (later the B-17 Flying Fortress) and Martin Model 146. While the Boeing design was clearly superior, the crash of the B-17 prototype (caused by taking off with the controls locked) removed it from consideration. During the depths of the Great Depression, the lower price of the DB-1 ($58,500 vs. $99,620 for the Model 299) also counted in its favor. The Douglas design was ordered into immediate production in January 1936 as the B-18.
The DB-1 design was essentially that of the DC-2, with several modifications. The wingspan was 4.5 ft (1.4 m) greater. The fuselage was deeper, to better accommodate bombs and the six-member crew; the wings were fixed in the middle of the cross-section rather than to the bottom, but this was due to the deeper fuselage. Added armament included nose, dorsal, and ventral gun turrets.
Operational history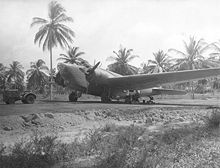 Picture - Douglas B-18 deployed at an airfield in Aguadulce Panama.
The initial contract called for 133 B-18s (including DB-1), using Wright R-1820 radial engines. The last B-18 of the run, designated DB-2 by the company, had a power-operated nose turret. This design did not become standard. Additional contracts in 1937 (177 aircraft) and 1938 (40 aircraft) were for the B-18A, which had the bombardier's position further forward over the nose-gunner's station. The B-18A also used more powerful engines.
Deliveries of B-18s to Army units began in the first half of 1937, with the first examples being test and evaluation aircraft being turned over to the Materiel Division at Wright Field, Ohio, the Technical Training Command at Chanute Field, Illinois, the Aberdeen Proving Ground, Maryland, and Lowry Field,Colorado. Deliveries to operational groups began in late 1937, the first being the 7th Bombardment Group at Hamilton Field, California.
Production B-18s, with full military equipment fitted, had a maximum speed of 217 mph, cruising speed of 167 mph, and combat range of 850 miles. Nevertheless, the B-18 was the most modern bomber design then available. By 1940, most USAAC bomber squadrons were equipped with B-18s or B-18As.
However, the deficiencies in the B-18/B-18A bomber were becoming readily apparent to almost everyone. In range, in speed, in bomb load, and particularly in defensive armor and armament, the design came up short, and the USAAF conceded that the aircraft was totally unsuited in the long-range bombing role for which it had originally been intended. To send crews out in such a plane against a well-armed, determined foe would have been nothing short of suicidal. However, in spite of the known shortcomings in the B-18/B-18A, the Douglas aircraft was the most numerous American bomber type deployed outside the Continental United States at the time of Pearl Harbor. It was hoped that the B-18 could play a stopgap role until more suitable aircraft such as the Boeing B-17 Flying Fortress and Consolidated B-24 Liberator became available in quantity.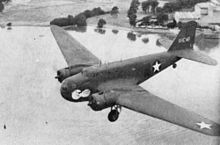 Picture - B-18 flying over Australia, 1943
When war came to the Pacific, most of the B-18/B-18A aircraft based overseas in the Philippines and in Hawaii were destroyed on the ground in the initial Japanese onslaught. The few Bolos that remained played no significant role in subsequent operations.
The Bolos remaining in the continental USA and in the Caribbean were then deployed in a defensive role in anticipation of attacks on the US mainland. These attacks never materialized. B-17s supplanted B-18s in first-line service in 1942. Following this, 122 B-18As were modified for anti-submarine warfare. The bombardier was replaced by a search radar with a large radome. Magnetic anomaly detection (MAD) equipment was sometimes housed in a tail boom. These aircraft, designated B-18B, were used in the Caribbean on anti-submarine patrol.
Two aircraft were transferred to Forx§a Aérea Brasileira in 1942 and used with a provisional conversion training unit set up under the provisions of Lend-Lease. They were later used for anti-submarine patrols. They were struck off charge at the end of the war. The Royal Canadian Air Force acquired 20 B-18As (designated the Douglas Digby Mark I), and also used them for patrol duties. On 2 October 1942, a B-18A, piloted by Captain Howard Burhanna Jr. of the 99th Bomb Squadron, depth charged and sank the German U-boat U-512 north of Cayenne, French Guiana. Bolos and Digbys sank an additional two submarines during the course of the war. RCAF Eastern Air Command (EAC) Digbys carried out 11 attacks on U-boats. U-520 was confirmed sunk by Flying Officer F. Raymes' crew of No 10 (BR) Sqn, on 30 October 1942. east of Newfoundland. However, the antisubmarine role was relatively short-lived, and the Bolos were superseded in this role in 1943 by the B-24 Liberator which had a substantially longer range and a much heavier payload.
Surviving USAAF B-18s ended their useful lives in training and transport roles within the continental United States, and saw no further combat action. Two B-18As were modified as unarmed cargo transports under the designation C-58. At the end of the war, those bombers that were left were sold as surplus on the commercial market. Some postwar B-18s of various models were operated as cargo or crop-spraying aircraft by commercial operators.
Variants
DB-1
Prototype, first of B-18 production run, 1 built.
B-18
Initial production version, 131 or 133 built.
B-18M
Bomb gear removed from B-18 to serve as trainer.
DB-2
Powered nose turret prototype; last of B-18 production run, 1 built.
B-18M
Bomb gear removed from B-18 to serve as trainer.
DB-2
Powered nose turret prototype; last of B-18 production run, 1 built.
B-18A
B-18 with more powerful Wright R-1820-53 engines and moved bombardier's station, 217 built.
B-18AM
Bomb gear removed from B-18A to serve as trainer.
B-18B
Antisubmarine conversion, 122 converted.
B-18C
Antisubmarine conversion, 2 converted. Fixed forward-firing .50 cal machine gun, starboard side of the fuselage near lower nose glass
XB-22
Improvement on B-18 using Wright R-2600-3 radial engines (1,600 hp/1,194 kW). Never built, largely due to better light bombers such as the B-23 Dragon.
C-58
Transport conversion.
Digby I
Royal Canadian Air Force modification of B-18A.
Operators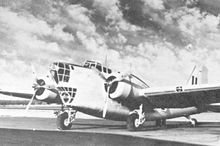 Picture - RCAF Digby c. 1942
Brazil
Brazilian Air Force

1st Bomber Group (3 examples) Canada
Royal Canadian Air Force

United States
United States Army Air Corps/United States Army Air Forces

1st Search Attack Group, Langley Field, Virginia (B-18A/B/C)
2d Bombardment Group, Langley Field, Virginia (B-18A)
3d Bombardment Group, Barksdale Field, Louisiana (B-18)
5th Bombardment Group, Hickam Field, Hawaii (B-18)**
6th Bombardment Group, Rio Hato Airfield, Panama, (B-18/B-18A/B)
7th Bombardment Group, Hamilton Field, California, (B-18)
5th Bombardment Group, Luke Field, Oahu, Hawaii Territory (B-18)**
9th Bombardment Group, Caribbean; Panama and South American air bases (B-18/B-18A/B)
11th Bombardment Group, Hickam Field, Hawaii Territory (B-18)**
13th Bombardment Group, Langley Field, Virginia (B-18A/B)
17th Bombardment Group, McChord Field, Washington (B-18)
19th Bombardment Group, Clark Field, Philippines Commonwealth (B-18)**
22d Bombardment Group, Muroc Field, California (B-18)
25th Bombardment Group, Caribbean (B-18/B)
27th Bombardment Group, Barksdale Field, Louisiana (B-18)
28th Bombardment Group, California, (B-18)
29th Bombardment Group, Langley Field (B-18A)
40th Bombardment Group, Panama, Pureto Rico (B-18/B)
41st Bombardment Group, California, (B-18)
45th Bombardment Group, Savannah Airfield, Georgia (B-18A)
47th Bombardment Group, McChord Field, Washington (B-18)
479th Antisubmarine Group, Langley Field, Virginia (B-18A/B)
**Note: Most aircraft destroyed 7-8 December 1941 at outbreak of World War II
Survivors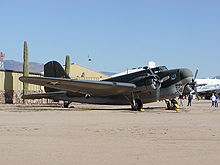 Picture - B-18B at Pima Air Museum
Only six B-18s still exist, five of which are preserved in museums in the United States:
B-18 s/n 36-446
Formerly of the 11th Bomb Group, on 25 February 1941, the aircraft crashed due to main bearing failure on port engine. The crew was rescued three days later. Since then, the aircraft has been sitting in a gulch on Laupahoehoe Nui LLC property, Hamakua, Hawaii. Acquired by Pacific Aviation Museum, the plan is to recover and restore the aircraft.
B-18 s/n 37-0029
On display at Castle Air Museum, Atwater, California. Dropped from USAAF inventory in 1944, it was registered as NC52056 in 1945, later to N52056. The B-18 was used by Avery Aviation and then Hawkins and Powers, as a firebomber, dropping borate for many years.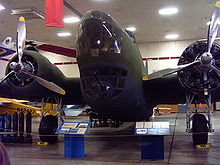 Picture - B-18A at Wings Museum
B-18A s/n 39-25
On display at Wings Over the Rockies Air and Space Museum, Denver, Colorado. This Bolo spent World War II bouncing around a number of airfields serving as a bombardier trainer and as a light transport. It was dropped from inventory on 3 November 1944, and was later sold, acquiring the civil registry NC62477. It spent 14 years on the civil registry before ending up in Cuba in 1958. In November 1958 the aircraft was seized in Florida by U.S. Treasury agents when it was discovered hauling guns to Fidel Castro. In 1960 the aircraft was parked at Cannon AFB, until being presented to the National Museum of the United States Air Force at Wright Patterson AFB in Dayton, Ohio. It flew to the Museum in April 1961. In 1988 the aircraft was transferred to the Wings Over The Rockies Aviation and Space Museum where it was restored though the 1990s. It is displayed there as 39-522.
B-18A s/n 37-469
On display at National Museum of the United States Air Force, Wright-Patterson AFB, Ohio. One of the first production Bolos, was delivered to Wright Field in 1937 for evaluation testing. Sold as N56847, converted to crop sprayer; by May 1969 stored derelict at Tucson, AZ. Sat outdoors for many years before being restored to static display condition. This aircraft has an incorrect dorsal turret. The museum has been attempting to locate a correct turret for this aircraft for many years.
B-18B s/n 37-505
On display at McChord Air Museum, McChord AFB, Washington. Sold as N67947, then Mexican registration XB-JAJ. Acquired by Tucson Air Museum Foundation of Tucson, AZ and stored at Watsonville, CA. This was the last flyable B-18, making its final flight to Tucson on 10 April 1971. At Pima county Air Museum by Oct 1973, it was subsequently acquired by US Air Force Museum in 1981 and moved to Davis-Monthan for storage, then in 1983 put on display at McChord Air Museum (museum not open to the general public).
B-18B s/n 38-593
On display at Pima Air & Space Museum Tucson, Arizona. This Bolo spent the early part of World War II on anti-submarine patrol. In 1943 began use a light transport. She was retired and struck from the inventory in 1945. Was operated as a firebomber as N66267 1954-1970. In storage at Litchfield, AZ by September 1969, then delivered to Pima on 5 September 1976. The aircraft sat outside in the desert heat and sun for many years before been restored and moved indoors for display. The aircraft is still equipped with antisubmarine search RADAR dome.
Specifications (B-18A)
Data from McDonnell Douglas Aircraft since 1920
General characteristics
Crew: 6
Length: 57 ft 10 in (17.63 m)
Wingspan: 89 ft 6 in (27.28 m)
Height: 15 ft 2 in (4.62 m)
Wing area: 959 ft² (89.1 m²)
Empty weight: 16,320 lb (7,403 kg)
Loaded weight: 24,000 lb (10,866 kg)
Max takeoff weight: 27,673 lb (12,552 kg)
Powerplant: 2x— Wright R-1820-53 radial engines, 1,000 hp (746 kW) each

Performance
Maximum speed: 216 mph (188 knots, 348 km/h) at 10,000 ft (3,050 m)
Cruise speed: 167 mph (145 knots, 269 km/h)
Range: 900 mi (787 nmi, 1,450 km)
Ferry range: 2,100 mi (1,826 nmi, 3,380 km)
Service ceiling: 23,900 ft (7,285 m)
Climb to 10,000 ft (3,050 m): 9.9 min

Armament
Guns: 3 x— .30 in (7.62 mm) machine guns
Bombs: 4,400 lb (2,000 kg)

Related development
Douglas DC-2
Douglas XB-22

Bibliography
Francillon, René J. McDonnell Douglas Aircraft Since 1920. London: Putnam, 1979. ISBN 0-87021-428-4.
Francillon, René. McDonnell Douglas Aircraft Since 1920: Volume I. Annapolis, Md. : Naval Institute Press, 1988. ISBN 0-87021-428-4.
Gradidge, Jennifer M. The Douglas DC-1, DC-2, DC-3 - The First Seventy Years (two volumes), Tunbridge Wells, Kent, UK: Air-Britain, 2006. ISBN 0-85130-332-3.
Kostenuk, Samuel and John Griffin. RCAF Squadron Histories and Aircraft: 1924-1968. Toronto: Samuel Stevens, Hakkert & Company, 1977. ISBN 0-88866-577-6.

Douglas B-18 Bolo Pictures
More aircraft.
Source: WikiPedia