Douglas B-23 Dragon Video - Picture
Douglas B-23 Dragon Aircraft Information
Douglas B-23 Dragon
B-23 Dragon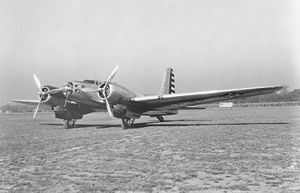 Picture - A B-23 Dragon in USAAC markings during the early 1940s
Role: Medium bomber
Manufacturer: Douglas Aircraft Company
First flight: 27 July 1939
Primary user: United States Army Air Corps
Number built: 38

The Douglas B-23 Dragon was a twin-engined bomber developed by Douglas Aircraft Company as a successor to (and a refinement of) the B-18 Bolo.
Design and development
Douglas proposed a number of modifications designed to improve performance of the B-18 initially was considered a new redesign, the XB-22 which featured 1,600 hp Wright R-2600-1 radials. Essentially a complete B-18 redesign was considered promising enough by the USAAC to alter the original contract to produce the last 38 B-18As ordered under Contract AC9977 as the B-23. The design incorporated a larger wingspan with a wing design very similar to that of the Douglas DC-3, a fully retractable undercarriage, and increased defensive armament. Notably, the B-23 was the first operational US bomber equipped with a glazed tail gun position.
The B-23 flew on 27 July 1939 with the production series of 38 B-23s manufactured between July 1939 and September 1940.
Operational history
While significantly faster and better armed than the B-18, the B-23 was not comparable to newer medium bombers like the North American B-25 Mitchell and Martin B-26 Marauder. For this reason, the 38 B-23s built were never used in combat overseas, although for a brief period, they were employed as patrol aircraft stationed on the west coast of the United States. The B-23s were summarily relegated to other duties primarily training although 18 of the type were converted into transport versions as the UC-67.
Another role for the B-23 was to serve as a test-bed for new engines and systems. The B-23's tall vertical tail was adapted by Ford for use on the B-24 Liberator and resulted in increased performance, but it was never adopted for production. The modification later became standard on the Navy's PB4Y Privateer, which was derived from the Liberator.
After World War II, Howard Hughes converted a B-23 for use as his personal aircraft and other examples were used for executive transportation.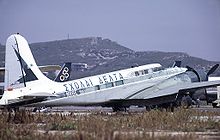 Picture - Douglas B-23 converted to executive transport role at Athens (Hellenikon) Airport in 1973
Operators
United States
United States Army Air Corps

Survivors
Five B-23s are known to survive today.
B-23 Dragon, s/n 39-0036 is on display at the McChord Air Museum in McChord AFB, Washington.
B-23 Dragon, s/n 39-0037 is under restoration at the National Museum of the United States Air Force in Wright-Patterson AFB, Ohio.
B-23 Dragon, s/n 39-0038 is under restoration to flyable condition at the 1941 Historical Aircraft Group in Geneseo, New York.
B-23 Dragon, s/n 39-0047 is on display at the Castle Air Museum in Atwater, California.
B-23 Dragon, s/n 39-0051 is on display at the Pima Air & Space Museum in Tucson, Arizona.

Specifications (B-23 Dragon)
Data from Joe Baugher's Encyclopedia of American aircraft
General characteristics
Crew: 6
Length: 58 ft 6 in (17.8 m)
Wingspan: 92 ft (28 m)
Height: 18 ft 6 in (5.6 m)
Wing area: 993 ft² (92.3 m²)
Empty weight: 19,089 lb (8,677 kg)
Loaded weight: 26,500 lb (12,000 kg)
Max takeoff weight: 32,400 lb (14,700 kg)
Powerplant: 2x— Wright R-2600-3 radial engines, 1,600 hp (1,194 kW) each

Performance
Maximum speed: 282 mph (245 kn, 454 km/h)
Range: 1,400 mi (1,200 nmi, 2,300 km) with 4,000 lb (1,800 kg) of bombs
Service ceiling: 31,600 ft (9,630 m)
Rate of climb: 1,493 ft/min (7.6 m/s)
Wing loading: 26.7 lb/ft² (130 kg/m²)
Power/mass: 0.17 hp/lb (200 kW/kg)

Armament
Guns:
3 x— 0.30 in (7.62 mm) machine guns
1 x— 0.50 in (12.7 mm) M2 Browning machine gun in tail turret
Bombs: 4,000 lb (1,814 kg)

Related development
Douglas DC-3
B-18 Bolo

Comparable aircraft
Douglas XB-22
B-25 Mitchell
B-26 Marauder

Bibliography
Mondey, David. The Hamlyn Concise Guide to American Aircraft of World War II. London, Hamlyn Publishing Group Ltd., 1982 (republished 1996 by the Chancellor Press, reprinted 2002). ISBN 1-85152-706-0.

Douglas B-23 Dragon Pictures
More aircraft.
Source: WikiPedia