Douglas DC-2 Video - Picture
Douglas DC-2 Aircraft Information
Douglas DC-2
DC-2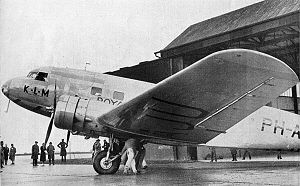 Picture - DC-2 PH-AJU Uiver came second in the MacRobertson Air Race
Role: Passenger & military transport
Manufacturer: Douglas Aircraft Company
First flight: May 11, 1934
Introduced: May 18, 1934
Primary users: United States Australia Germany United Kingdom
Produced: 1934 - 1939
Number built: 200
Developed from: Douglas DC-1
Developed into: Douglas DC-3

The Douglas DC-2 was a 14-seat, twin-propeller airliner produced by the American company Douglas Aircraft Corporation starting in 1934. It competed with the Boeing 247. In 1935 Douglas produced a larger version called the DC-3, which became one of the most successful aeroplanes in history.
Design and development
In the early 1930s, fears about the safety of wooden aircraft structures (responsible for the crash of a Fokker Trimotor) compelled the American aviation industry to develop all-metal types. With United Airlines having a monopoly on the Boeing 247, rival Transcontinental and Western Air issued a specification for an all-metal trimotor.
The response of the Douglas Aircraft Company was more radical. When it flew on July 1, 1933, the prototype DC-1 had a highly robust tapered wing, a retractable undercarriage, and only two 690 hp (515 kW) Wright radial engines driving variable-pitch propellers. It seated 12 passengers.
TWA accepted the basic design and ordered 20, with more powerful engines and seating for 14 passengers, as DC-2s. The design impressed a number of American and European airlines and further orders followed. Those for European customers KLM, LOT, Swissair, CLS and LAPE were assembled by Fokker in the Netherlands after that company bought a licence from Douglas. Airspeed Ltd. took a similar licence for DC-2s to be delivered in Britain and assigned the company designation Airspeed AS.23, but although a registration for one aircraft was reserved none were actually delivered. Another licence was taken by the Nakajima Aircraft Company in Japan; unlike Fokker and Airspeed, Nakajima built five aircraft as well as assembling at least one Douglas-built aircraft. A total of 156 DC-2s were built.
Operational history
Although overshadowed by its ubiquitous successor, it was the DC-2 that first showed that passenger air travel could be comfortable, safe and reliable. As a token of this, KLM entered their first DC-2 PH-AJU Uiver (Stork) in the October 1934 MacRobertson Air Race between London and Melbourne. Out of the 20 entrants, it finished second behind only the purpose built de Havilland DH.88 racer Grosvenor House. During the total journey time of 90 h 13 min, it was in the air for 81 h, 10 min, and won the handicap section of the race. (The DH.88 finished first in the handicap section, but the crew was by regulations allowed to claim only one victory.)
It flew KLM's regular 9,000 mile route making every scheduled passenger stop, a thousand miles longer than the official race route, carried mail and even turned back once to pick up a stranded passenger.
Variants
DC-2A Two civil DC-2s, powered by two Pratt & Whitney R-1690 "Hornet" radial piston engines. DC-2B Two DC-2s sold to LOT Polish Airlines, fitted with two 750 hp (560 kW) Bristol Pegasus VI radial piston engines.
Modified DC-2s built for the United States Army Air Corps under several military designations:
XC-32
16-seat transport aircraft, one built, later a flying command post,.
C-32A
Designation for 24 commercial DC-2s impressed at the start of World War II.
C-33
Cargo transport aircraft powered by 750 hp R-1820-25 engines, with larger vertical tail surfaces, a reinforced cabin floor and a large cargo door in the aft fuselage, 18 built.
YC-34
VIP transport, basically similar to XC-32, later designated C-34, two built.
C-38
The first C-33 was modified with a DC-3 style tail section and two Wright R-1820-45 radial piston engines of 975 hp (727 kW) each. Originally designated C-33A but redesignated as prototype for C-39 variant, one built.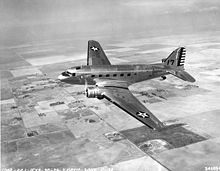 Picture - Douglas C-39 transport, a military modified version of the DC-2
C-39
A composite of DC-2 & DC-3 components, with C-33 fuselage and wings and DC-3 type tail, centre-section and undercarriage. Powered by two Wright R-1820-55 radial piston engines, of 975 hp (727 kW) each, 35 built.
C-41
A single aircraft similar to the C-39, but with 1,200 hp (895 kW) Wright R-1820-21 engines, built as a VIP transport for General Hap Arnold, the US Army Air Corps Chief of Staff. (The Douglas C-41A was a VIP version of the DC-3A)
C-42
VIP transport, Powered by two Wright R-1820-53 radial piston engines, of 1,000 hp (746 kW) each, one built in 1939 for the commanding general, GHQ Air Force, plus two similarly-converted C-39s procured in 1943.
R2D
One transport aircraft for the US Navy.
R2D-1
Four transport aircraft for the US Navy.
Operators
Civil operators
Australia
Australian National Airways

Brazil
Aerovias Brasil
Cruzeiro do Sul
Panair do Brasil

Republic of China
CNAC

Czechoslovakia
ČLS (Československx¡ Leteckx¡ Společnost, Czechoslovak Air Transport Company)

Finland
Aero O/Y

Honduras
SAHSA

Germany
Deutsche Lufthansa

Japan
Japan Air Transport
Imperial Japanese Airways

Manchukuo
Manchurian Airlines

Mexico
Mexicana

Netherlands
KLM ordered 18 aircraft.
KNILM operated DC-2s in the Dutch East Indies.

Poland
LOT Polish Airlines operated three DC-2B aircraft between 1935 and 1939

Spanish Republic
Lx­neas Aéreas Postales Espax±olas received five aircraft.

Switzerland
Swissair

United States
American Airlines used their DC-2s on their New York-Los Angeles route.
Braniff Airways
Delta Air Lines operated four aircraft during 1940-41
Eastern Air Lines received 14 aircraft and used them on East Coast routes
Pan American Airways received 16 aircraft, distributing many to its foreign affiliates; some flew under its own name on Central American routes.
Pan American-Grace Airways (Panagra) used their DC-2s on routes within South America.
Transcontinental & Western Air (TWA) was the first DC-2 operator, receiving 30 aircraft.

Uruguay
PLUNA operated two DC-2s acquired from Panair do Brasil

Military operators
Argentina
Argentine Naval Aviation - 5 (+1) DC-2 ex civilan Venezuelan

Australia
Royal Australian Air Force - Ten aircraft were in service with the RAAF from 1940 to 1946.
No. 8 Squadron RAAF
No. 36 Squadron RAAF
Parachute Training School RAAF
Wireless Air Gunners School RAAF

Finland
Finnish Air Force

Germany
Luftwaffe

Japan
Imperial Japanese Army Air Service - A single example of the DC-2 was impressed by the Imperial Japanese Army.

Spanish Republic
Spanish Air Force took over 5 DC-2 from LAPE inventory.

United Kingdom
Royal Air Force

United States
United States Army Air Corps
United States Army Air Forces
United States Marine Corps
United States Navy

Survivors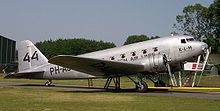 Picture - DC-2 - c/n 1404
There are currently no DC-2s in commercial service, however, several aircraft made it into the 21st century:
c/n 1404: The Aviodrome in Lelystad, the Netherlands, owns and operates one of the last flying DC-2s. This former United States Navy aircraft is painted in the Uiver's KLM colour scheme and is sometimes seen in European airshows. It is registered as NC39165 since 1945, though it now also wears PH-AJU as a fictional registration to match that of the historic Uiver aircraft. The aircraft was operated by Mercer Airlines of Burbank, California, and sold in the late 1960s to Colgate Darden, who restored it in General Air Lines colors and moved it to his private airport in South Carolina.
c/n 1288: Also located at the Aviodrome in the Netherlands though owned by the Dutch Dakota Association. It is far from airworthy and will not be restored to such a condition. Its first operator was Eastern Air Lines.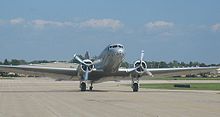 Picture - DC-2 - c/n 1368
c/n 1368: A former Pan Am aircraft from 1932 that was used by the Douglas historical foundation until the merger with Boeing in 1997. It is now housed at the Museum of Flight in Seattle, Washington. This aircraft (N1934D) was restored to flying condition in 2007 and flown to Santa Maria, California for a new paint job. It received a TWA "The Lindbergh Line" livery and interior trim.
One DC-2 is preserved at the Central Finland Aviation Museum. Another wingless fuselage (c/n 1562) is on display at the Finnish Aviation Museum.
c/n 1292: There are three DC-2s surviving in Australia as of 2006; this aircraft, c/n 1292, is one of ten ex-Eastern Airlines DC-2s purchased and operated by the RAAF during WW2 as A30-9. It is under restoration by the Australian National Aviation Museum. at Moorabbin Airport in Victoria, Australia
c/n 1376 is owned by Steve Ferris in Sydney, Australia, and has been under restoration to flying status for many years. It was originally delivered to KNILM in 1935. At the outbreak of World War II it was flown to Australia and was conscripted into use with the Allied Directorate of Air Transport. In 1944 it joined Australian National Airways and finished its flying career in the 1950s with Marshall Airways. It is registered as VH-CDZ. It is the most complete of all the Australian DC-2s as of 2008.
c/n 1286 Ex Eastern Airlines and RAAF, Preserved (dressed as the historic "Uiver", PH-AJU) at Albury, New South Wales as centrepiece of Uiver Memorial at Albury Airport. Removed from display late 2002 and into 2003 for preservation work.
C-39A (s/n 38-515) is at the National Museum of the United States Air Force in Dayton, Ohio. The aircraft was donated to the Museum in July 1970. During its service life it was based at Wright-Patterson Air Force Base between 1939 and 1942. The aircraft is currently in storage at the Museum.
Specifications (DC-2)
General characteristics
Crew: 2-3
Capacity: 14 passengers
Length: 62 ft 6 in (19.1 m)
Wingspan: 85 ft 0 in (25.9 m)
Height: 15 ft 10 in (4.8 m)
Wing area: 940 ft² (87.3 m²)
Empty weight: 12,455 lb (5,650 kg)
Loaded weight: 18,560 lb (8,420 kg)
Powerplant: 2x— Wright GR-1820-F53 Cyclone 9-cylinder radial engines, 730 hp (540 kW) each

Performance
Maximum speed: 210 mph at 6,800ft (338 km/h)
Range: 1,085 mi (1,750 km)
Service ceiling: 22,750 ft (6,930 m)
Rate of climb: 1,030 ft/min (310 m/min)

Related development
Douglas DC-1
Douglas DC-3
Douglas B-18 Bolo

Comparable aircraft
Bloch MB.220
Boeing 247
Junkers Ju 52

Bibliography
Francillon, René J. Japanese Aircraft of the Pacific War. London: Putnam, 1970. ISBN 0-370-00033-1.
Francillon, René J. McDonnell Douglas Aircraft since 1920. London: Putnam, 1979. ISBN 0-370-00050-1.
United States Air Force Museum Guidebook. Wright-Patterson AFB, Ohio: Air Force Museum Foundation, 1975.

Douglas DC-2 Pictures
More aircraft.
Source: WikiPedia