Douglas DC-6 Video - Picture
Douglas DC-6 Aircraft Information
Douglas DC-6
DC-6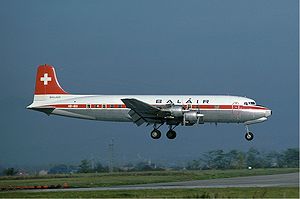 Picture - Douglas DC-6B of Swiss airline Balair in 1976
Role: Airliner/transport aircraft
Manufacturer: Douglas Aircraft Company
First flight: February 15, 1946
Introduced: March 1947
Status: 49 fully active
Primary users: United States Air Force United States Navy
Produced: 1946 - 1958
Number built: 704
Developed from: Douglas DC-4
Variants: Douglas DC-7

The Douglas DC-6 is a piston-powered airliner and transport aircraft built by the Douglas Aircraft Company from 1946 to 1958. Originally intended as a military transport near the end of World War II, it was reworked after the war to compete with the Lockheed Constellation in the long-range commercial transport market. More than 700 were built and many still fly today in cargo, military and wildfire control roles.
The DC-6 was known as the C-118 Liftmaster in United States Air Force service and as the R6D in United States Navy service prior to 1962 after which all U.S. Navy variants were also designated as the C-118.
Design and development
The United States Army Air Forces commissioned the DC-6 project as the XC-112 in 1944. The Air Force wanted an expanded, pressurized version of the popular C-54 Skymaster transport with improved engines. By the time the XC-112 flew the war was over and the USAAF had rescinded its requirement.
Douglas converted its prototype into a civil transport (redesignated YC-112A, having significant differences from subsequent production DC-6 aircraft) and delivered the first production DC-6 in March 1947. However, a series of mysterious in-flight fires (including the fatal crash of United Airlines Flight 608) grounded the DC-6 fleet later that year. The cause was found to be a fuel vent located adjacent to the cabin cooling turbine intake. All DC-6s in service were modified to correct the problem, and the fleet was flying again after just four months on the ground.
Operational history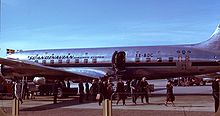 Picture - Passengers deplaning an SAS DC-6. Note the upper row of windows, indicating this was built as the optional sleeper variant of the original length DC-6
Pan Am used DC-6B aircraft to inaugurate its first trans-Atlantic tourist class flights, starting in 1952.
Douglas designed four basic variants of the DC-6: the "basic DC-6," and the longer fuselage, higher-gross-weight, longer range versions-the "DC-6A" with large cargo doors forward and aft of the wing on the port (left hand side) with a cargo floor, the "DC-6B" designed for passenger work, had passenger doors only and a lighter floor and the "DC-6C" a "convertible" aircraft built with the 2 cargo doors, but fitted with removable passenger seats. The DC-6B, originally powered by Pratt & Whitney R-2800-CB-16 engines with Hamilton Standard 43E60 constant speed reversing propellers, was regarded as the ultimate piston-engine airliner from the standpoint of ruggedness, reliability, economical operation and handling qualities. The military version, essentially similar to the DC-6A, was the USAF C-118 Liftmaster, and the USN R6D which used the more powerful R-2800-CB-17 engines. The more powerful engine was later used on the commercial DC-6B to accommodate international flights. The Navy version (in the late 1950s and early 1960s) had Curtiss Electric constant-speed reversing propellers.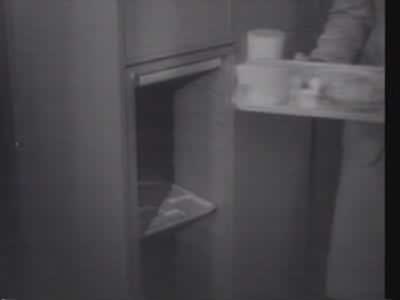 Picture - Universal Newsreel about the DC-6
The USAF and USN renewed their interest in the DC-6 during the Korean War, and ordered a total of 167 C-118/R6D aircraft, some of which later found their way into civilian service. Harry Truman's first presidential aircraft was an Air Force VC-118 called "The Independence".
Total production of the DC-6 Series was 702 including military versions.
In the 1960s, two DC-6s were used as transmitter platforms for educational television, based at Purdue University, in a program called MPATI (Midwest Program for Airborne Television Instruction).
Many older DC-6 aircraft were replaced in airline passenger service by the Douglas DC-7, but the simpler, more economical engines in the DC-6 has meant that this type has out-lived the more sophisticated DC-7. DC-6/7s surviving into the Jet Age were replaced in front line service by Boeing 707 and Douglas DC-8 aircraft.
2006 marked the 60th anniversary since the introduction of the DC-6.
Variants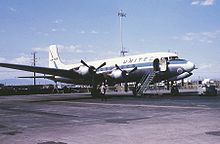 Picture - UAL DC-6 at Stapleton Airport, Denver, in September 1966
XC-112
United States military designation of an improved version of the C-54 (DC-4); became the prototype DC-6. Eventually designated YC-112A, pressurized, P&W R-2800-83AM3 engines
DC-6
Initial production variant.
DC-6A
Freighter variant; fuselage slightly lengthened from DC-6 ; fitted with cargo door.
DC-6B
All-passenger variant of DC-6A, without cargo door.
DC-6C
Convertible cargo/passenger variant.
VC-118
One DC-6 bought as a presidential transport with special 25 seat interior and 12 beds.
C-118A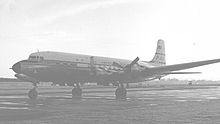 Picture - Pan Am DC-6B at London Heathrow in September 1954 on a tourist flight
Designation of DC-6As for the United States Air Force, 101 built.
VC-118A
C-118As converted as staff transports.
C-118B
R6D-1s re-designated.
VC-118B
R6D-1Zs re-designated.
R6D-1
United States Navy designation for the DC-6A, 65 built.
R6D-1Z
Four R6D-1s converted as staff transports.
Operators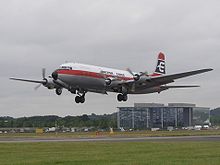 Picture - G-APSA in British Eagle scheme
Current operators of the DC-6 Today, most DC-6s have gone, with only a few left flying. Several of these are based in Europe and the United Kingdom. A few other DC-6s are still in operation for small carriers in South America.
In 2010, around 15 aircraft remain airworthy.
One DC-6A, G-APSA, is in use at Coventry, UK. There is also a DC-6B, G-SIXC. at the same site.
One DC-6B is in use by Red Bull in Salzburg, Austria.
One DC-6B V5-NCG "Bateleur" is in use with Namibia Commercial Aviation. This was the last DC-6 off the Douglas production line and the last DC-6 in the world in passenger configuration still flying commercially.
Several ( as of 2010 ) are in use as freighters or waterbombers in Canada. They are no longer used as retardant bombers in the western US.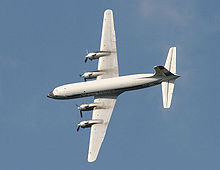 Picture - G-APSA displaying at Hamburg
Civil operators
Brazil
Lx³ide Aéreo Nacional
Panair do Brasil
Real Transportes Aéreos
Varig

Greece
Olympic Airways

Namibia
Namibia Commercial Aviation

Netherlands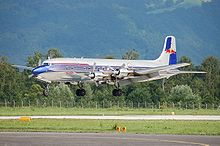 Picture - The Red Bull DC-6B landing at Salzburg
KLM

New Zealand
TEAL

United Kingdom
Air Atlantique,now West Atlantic; a former cargo carrier based in Coventry, England.

United States
American Airlines DC-6, DC-6A, DC-6B
United Air Lines DC-6, DC-6A, DC-6B
Delta Air Lines DC-6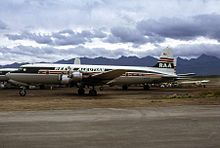 Picture - A DC-6B N7919C belonged to Reeve Aleutian Airways in 1972
Braniff International Airways DC-6, DC-6A, DC-6B
National Airlines DC-6, DC-6B
Western Airlines DC-6B
Pan American World Airways DC-6B
Northwest Orient Airlines DC-6B
Northeast Airlines DC-6A, DC-6B
Eastern Air Lines DC-6B
Pan American-Grace Airways DC-6, DC-6B
Alaska Airlines DC-6A, DC-6B
Continental Airlines DC-6B
Reeve Aleutian Airways DC-6B
Trans Caribbean Airways DC-6B
Flying Tiger Line DC-6A
Mackey Airlines DC-6, DC-6B
Everts Air Fuel
Everts Air Cargo
Yugoslavia
JAT Yugoslav Airlines
Adria Airways

Notable accidents and incidents
On October 24, 1947, United Airlines Flight 608 crashed near Bryce Canyon, Utah while attempting an emergency landing after an inflight fire broke out, killing all 52 on board.
On November 29, 1949, American Airlines Flight 157 crashed while attempting a three-engine landing in Dallas Texas; 28 people were killed.
On August 24, 1951, United Airlines Flight 615 crashed into Tolman Peak and into Dry Gulch Canyon below, 15 miles southeast of Oakland, California; all 44 passengers and six crew were killed.
On October 29, 1953, British Commonwealth Pacific Airlines flight 304 from Sydney, Nadi (Fiji), Canton Island, and Honolulu crashed in the Santa Cruz Mountains seven miles southeast of Half Moon Bay, California, while preparing to land at San Francisco Airport; all 19 on board were killed, including American pianist William Kapell, age 31, who was returning to the United States following a three-month concert tour in Australia.
On February 13, 1955, a Sabena DC-6 crashed on Monte Terminillo, near Rieti, Italy; 29 people died, including actress and 1953 Miss Italia winner Marcella Mariani.
On November 1, 1955, a time bomb exploded aboard United Airlines Flight 629, a DC-6 flying over Longmont, Colorado, killing all 44 people on board. A passenger's son was later tried and convicted of placing the bomb aboard.
On February 1, 1957, Northeast Airlines Flight 823, a DC-6A, crashed due to apparent pilot error onto Rikers Island shortly after taking off from LaGuardia Airport in conditions of poor visibility, killing 20 passengers and injuring many more.
On July 21, 1961, Alaska Airlines Flight 779, a DC-6, crashed on landing at Shemya, Alaska, after the airport failed to turn the landing lights on, killing all six on board.
On February 6, 1965, a LAN Chile DC-6 operating as Flight 107 flew into the side of a mountain near the San José Volcano in Chile. All 87 passengers and crew on board died in the crash.
On July 8, 1965, Canadian Pacific Airlines Flight 21 suffered an explosion in-flight and crashed in a forest in British Columbia, killing all 52 on board.
On February 20, 1967, Sahsa Flight 203, had an accident at Toncontin International Airport because of a reverse system failure, in the forced braking both back tires caught on fire, the DC-6 overran the runway and caught on fire, killing four passengers.
On July 24, 1977, a Chilean Air Force DC-6 crashed in a swamp while attempting to land at El Tepual Airport amidst heavy rainfall. All seven crew and 31 of the 75 passengers were killed.
On July 24, 1985, an engine fire occurred on a Colombian Air Force DC-6, which crashed into the jungle, killing all 80 people on board.
On May 1, 1986, an engine fire occurred on a Salvadoran Air Force DC-6 shortly after takeoff. The DC-6 crashed into a mountain, killing all 37 people on board.

Survivors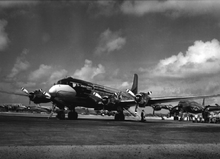 Picture - Harry Truman's C-118, The Independence
Several DC-6s are preserved in museums.
The most well-known is President Harry S. Truman's VC-118B Independence (s/n 46-505), which is preserved at the National Museum of the United States Air Force, Wright-Patterson Air Force Base in Dayton, Ohio. It was retired to the Museum in 1965. In 1977-1978 museum personnel restored "Independence" to its former presidential markings and eagle-like paint scheme. The aircraft is on display in the Museum's Presidential Hangar.
A DC-6B currently owned by Red Bull, was formally the private luxury transport of Yugoslav President Josip Broz Tito.
As of March 2010 there is a C-118 located in the "bone yard" of MCAS Cherry Point which was at one time the official aircraft of the Commandant of the Marine Corps. The aircraft is often left open to the weather and has deteriorated quite a bit, the interior is damaged, but the airframe is largely intact.
The Navy's initial R6D, #128424, was converted along with 6 other #128 series R6Ds to VC executive transport configuration with delivery of #424 to VR-21, NAS Barbers Point in February 1955 remaining in service 28 ½ more years until 1 October 1983 based at Barbers Point as flag transportation for CINCPACFLT. #424 is now located at the National Naval Aviation Museum, NAS Pensacola, FL.
A DC-6B ZS-MUL #45329 named Empress of Suva is preserved on a small holding at Wallmanstahl north of Pretoria South Africa. This aircraft was stored at Swartkops Air Force Base for over 10 years and after 2 years of restoration by enthusiasts was ferried to Wallmanstahl where a temporary runway had to be constructed.

Specifications (DC-6B)
Data from Airliners.net
General characteristics
Crew: 3: captain, copilot, flight engineer, plus attendants appropriate to number of passengers
Capacity: 54-102 passengers
Length: 105 ft 7 in (32.18 m)
Wingspan: 117 ft 6 in (35.81 m)
Height: 28 ft 5 in (8.66 m)
Wing area: 1,463 ft (135.9 m)
Empty weight: 55,357 lb (25,110 kg)
Max takeoff weight: 107,000 lb (48,500 kg)
Powerplant: 4x— Pratt & Whitney R-2800-CB-17 "Double Wasp" radial engine, 2,500 hp (1,700 kW) with water injection each
Propellers: Hamilton Standard 43E60 "Hydromatic" constant speed props with autofeather and reverse thrust

Performance
Cruise speed: 274 kn (315 mph, 507 km/h)
Range: 2,610 nmi (3,010 mi, 4,840 km)
Service ceiling: 25,000 ft (7,600 m)
Rate of climb: 1,070 ft/min (5.44 m/s)

Note of interest is that the diagram depicts the sleeper version. The very small windows above the standard ones permitted passengers in their Pullman-style bunks a view of the outside.
Related development
Douglas DC-4
Canadair North Star
Douglas DC-7

Comparable aircraft
Lockheed Constellation
Lockheed L-1649A Starliner
Boeing 377

Bibliography
Pearcy, Arthur. Douglas Propliners: DC-1-DC-7. Shrewsbury, UK: Airlife Publishing, 1995. ISBN 1-85310-261-X.
United States Air Force Museum Guidebook. Wright-Patterson AFB, Ohio; Air Force Museum Foundation , 1975.
Whittle, John A. The Douglas DC-6 and DC-7 Series. Tonbridge, Kent, UK: Air Britain (Historians) Ltd., 1971. No ISBN.
Yenne, Bill. McDonnell Douglas: A Tale of Two Giants. Greenwich, Connecticut: Bison Books, 1985. ISBN 0-517-44287-6.

Douglas DC-6 Pictures
More aircraft.
Source: WikiPedia