Douglas O-46 Video - Picture
Douglas O-46 Aircraft Information
Douglas O-46
O-46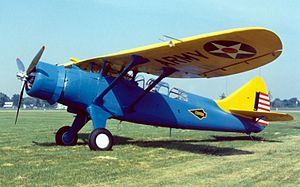 Picture - Douglas O-46A at National Museum of the United States Air Force
Role: Observation
Manufacturer: Douglas Aircraft Company
First flight: 1935
Introduced: 1936
Primary user: United States Army Air Corps
Produced: 1936-1937
Number built: 90
Unit cost: US $28,000

The United States Douglas O-46 was an observation airplane used by the United States Army Air Corps and the Philippine Army Air Corps.
Design and development
The O-46A, the last of a long line of Douglas observation planes, was a victim of progress. It was designed to operate from established airfields behind fairly static battle lines as in World War I. However, in 1939, a report was issued on the O-46A which stated that it was too slow and heavy to outrun and outmaneuver enemy pursuit planes, too heavy to operate from small, wet, unprepared fields, and too large to conceal beneath trees. This report was a forecast of the future, for World War II with its rapidly changing battle lines proved the need for light, maneuverable observation aircraft which could operate from unimproved airstrips. Consequently, in 1942, the "O" (observation) designation was changed to "L" (liaison).
The O-46 was a development of the earlier Douglas O-43. The 24th airframe of the O-43A contract was completed as the XO-46 prototype, with a revised wing and an engine switch, from the O-43's inline engine to a radial engine, the Pratt & Whitney R-1535-7. The Air Corps ordered 90 O-46As in 1935. They were built between May 1936 and April 1937.
Operational history
At least 11 O-46s saw overseas duty; two were destroyed in the Japanese raid on Clark Field in the Philippines on 8 December 1941. The Maryland Air National Guard operated O-46A's off the coast of New Jersey for anti-submarine duty. The remainder were declared obsolete in late 1942 and after that were used primarily in training and utility roles.
A proposed variant with a Wright R-1670-3 engine received the designation O-48 but was not built.
Survivors
The only surviving O-46A (s/n 35-179) is currently in storage at National Museum of the United States Air Force at Wright-Patterson AFB near Dayton, Ohio
Specifications (O-46A)
Data from McDonnell Douglas Aircraft since 1920
General characteristics
Length: 34 ft 6¾ in (10.54 m)
Wingspan: 45 ft 9 in (13.94 m)
Height: 10 ft 8½ in (3.25 m)
Wing area: 332 ft² (30.8 m²)
Empty weight: 4,776 lb (2,166 kg)
Loaded weight: 6,639 lb (3,011 kg)
Powerplant: 1x— Pratt & Whitney R-1535-7 14-cylinder radial engine, 725 hp (541 kW)

Performance
Maximum speed: 200 mph (174 knots, 322 km/h)
Cruise speed: 171 mph (149 knots, 275 km/h)
Range: 435 miles (378 nmi, 700 km)
Service ceiling: 24,150 ft (7,360 m)
Rate of climb: 1,765 ft/min (9.0 m/s)

Armament
2 x— .30 cal (7.62 mm) Browning machine guns (one wing mounted and one flexible)

Related development
Douglas O-43

Comparable aircraft
Henschel Hs 126

Bibliography
Armstrong, William M. Baltimore in World War II. Mount Pleasant, SC: Arcadia Publishing, 2005. ISBN 978-0738541891.
Francillon, René J. McDonnell Douglas Aircraft since 1920. London: Putnam, 1979. ISBN 0-370-00050-1.

Douglas O-46 Pictures
More aircraft.
Source: WikiPedia