Douglas T2D Video - Picture
Douglas T2D Aircraft Information
Douglas T2D
T2D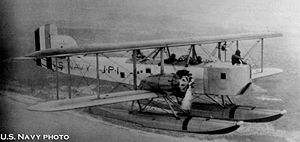 Picture - Douglas T2D-1 of VP-1
Role: Torpedo bomber
Manufacturer: Douglas Aircraft Company
First flight: 27 January 1927
Introduced: 1927
Retired: 1937
Primary user: United States Navy
Number built: 31

The Douglas T2D was an American twin engine bomber aircraft contracted by the military, and required to be usable on wheels or floats, and operating from aircraft-carriers. It was the first twin engined aircraft to be operated from an aircraft carrier.
Development and design
In 1925, the United States Navy's Bureau of Aeronautics designed a twin engined torpedo bomber aircraft, intended to have greater performance than contemporary single engined aircraft . A single prototype was built by the Naval Aircraft Factory as the XTN-1, which was quickly followed by three identical aircraft built by Douglas, the T2D-1.
The XTN/T2D was a large two bay biplane, capable of easy conversion between floats and wheels, and carrying a crew of four.
Operational history
The first three T2D-1's were delivered to the torpedo bomber squadron VT-2 on 25 May 1927 , being used for successful trials aboard the aircraft carrier USS Langley. A further 9 T2D-1's were ordered in 1927, these normally being operated as floatplanes, partly owing to criticism from the Army of the Navy operating large land based bombers , and partly as its large size prevented the Langley from embarking a full airwing.
A further 18 aircraft were ordered in June 1930 as patrol floatplanes, being designated P2D-1. These were operated by Patrol Squadron VP-3 in the Panama Canal Zone until they were replaced by PBYs in 1937.
Variants
XTN-1
Original prototype built by Naval Aircraft Factory. One built.
T2D-1
Production aircraft, convertible torpedo bomber/patrol floatplane, powered by Wright R-1750 Cyclone. 12 built.
P2D-1
Dedicated patrol floatplane. Fitted with twin tail for improved engine out performance and powered by two R-1820 Cyclones. 18 built.
Operators
United States
United States Navy

Specifications (DT-2)
Data from The Encyclopedia of World Aircraft
General characteristics
Crew: Four
Length: 42 ft 0 in (12.80 m)
Wingspan: 57 ft 0 in (17.37 m)
Height: 15 ft 11 in (4.85 m)
Wing area: 886 ft² (82.31 m²)
Empty weight: 6,011 lb (2,726 kg)
Max takeoff weight: 10,523 lb (4,773 kg)
Powerplant: 2x— Wright R-1750 Cyclone 9 cylinder single row radial, 525 hp (391 kW) each

Performance
Maximum speed: 109 kn (125 mph, 201 km/h)
Range: 397 nmi (457 mi, 735 km)
Service ceiling: 13,830 ft (4,215 m)
Wing loading: 12.2 lb/ft² (58.0 kg/m²)
Power/mass: 0.10 hp/lb (0.16 kW/kg)
Climb to 5,000 ft (1,520 m): 5 minutes

Armament
2 x— .30 in (7.62 mm) machine guns
1 x— 1,618 lb (734 kg) torpedo or equivalent bombload

Douglas T2D Pictures
More aircraft.
Source: WikiPedia